---
FAST FACTS HAWAII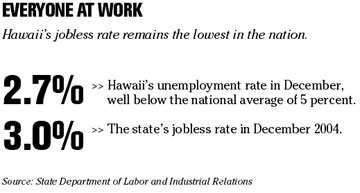 ---
HAWAII
Kauai OKs building Kukuiula bypass
A joint venture partnership between
Alexander & Baldwin Inc.
and
DMB Associates Inc.
has gained final county approval of plans for their western bypass road on Kauai, the first of the Kukuiula development's two major roadways.
Located on about 1,010 acres along Kauai's southern coast, Kukuiula is a master-planned resort residential community next to the Poipu Beach Resort and historic Koloa Town. Within Kukuiula will be approximately 1,200 custom home sites, cottages and a resort spa. Other amenities will include a Tom Weiskopf-designed championship golf course.
A construction contract valued at $13 million was awarded to Hawaii-based Kiewit Pacific Co. for the two-mile-long western bypass road, the north-south alternative road that runs from the entry of Kukuiula at Lawai Road north to Koloa Road. Construction is expected to begin in February and take 20 months.
Local Marriott leader promoted
Stan Brown,
Marriott International
's top executive in Honolulu for the past six year, will leave Hawaii to jump-start the company's expansion into the China region.
Brown, who previously served as vice president for the Pacific Islands and Japan, will relocate to Hong Kong in mid-March to serve as area vice president for China, Hong Kong, the Philippines, Vietnam, Malaysia and Korea. The move is a promotion for Brown, who will oversee Marriott International's fastest-growing global region.
Ed Hubennette, Marriott's area president for Southeast Asia overseeing Thailand, India, Indonesia, Singapore and Pakistan, will replace Brown in Hawaii. Hubennette is currently in Hong Kong.
During Brown's tenure here, Marriott has gone from four resort hotels and two timeshare properties to 10 resort hotels and four timeshare properties.
Bank of Hawaii stock downgraded
Bank of Hawaii Corp.
, whose fourth-quarter earnings on Monday beat analysts' estimates, was downgraded yesterday to "market perform" from "outperform" by analyst Frederick Cannon at San Francisco-based
Keefe, Bruyette & Woods
. The price target is $59 a share.
[HAWAII INC.]
NEW JOBS
»
American Savings Bank
has hired
Clint Hamabata
as a real estate loan officer. He will be responsible for assisting bank customers with residential mortgage needs.
» The state Department of Human Services has appointed Joe Cordova administrator for its Vocational Rehabilitation and Services for the Blind Division. Cordova, a blind rehabilitant, will lead a division that aims to empower disabled individuals through work training and educations. He has 27 years of experience working with the disabled.
» Castle & Cooke has hired the following personnel: Daryl Takamiya, project engineer for house construction; Daniel Costigan, loan officer; Juliette "Sweetie" Akao, project administrator; Anthony Morgan, customer orientation representative. The company has also promoted Garret Furukido to director of project sales and Lisa Izumi to project engineer.
PROMOTIONS
»
Architects Hawaii Ltd.
has promoted the following:
Mark Higa
, senior associate;
Ernest Shimizu
, senior associate;
Brian Takahashi
, associate; and
Garret Horimoto
, associate.
ON THE BOARD
» The Hawaii Hospitality Sales & Marketing Association has elected
Wendy Lam
president of its board of directors. She is Hawaii Pacific University's travel industry management program director and an assistant professor of marketing and economics. She has been a faculty member and administrator at HPU since 1988.
---
NATION
IBM rejected overtime, suit says
International Business Machines Corp.
, the world's biggest computer-services company, was accused in a lawsuit of improperly denying overtime pay to tens of thousands of workers who install and maintain computers.
A federal court complaint in California by one former and two current employees claims IBM falsely classified workers as exempt from overtime pay, said James Finberg, an attorney for the workers. The complaint asks for back pay and damages for tens of thousands of U.S. employees who had similar experiences.
Netflix's quarterly profit skyrockets
Netflix Inc.
's fourth-quarter profit surged almost sevenfold after it added about 600,000 subscribers and posted a tax gain. The shares rose 9.8 percent as the company raised its sales and subscriber forecasts for the year.
Net income at the largest mail-order movie-rental service climbed to $38.1 million, or 57 cents a share, from $5.57 million, or 9 cents, a year earlier. Sales for the quarter ended Dec. 31 rose 36 percent to $195 million, the Los Gatos, California-based company said today in a statement.
Netflix said today it expects to have 5.9 million subscribers in 2006, up from an earlier estimate of 5.65 million. The company raised its revenue forecast to $960 million. A tax gain of $30.2 million, or 45 cents, contributed most of the profit increase.
China's economy outsizes France's
China's economy grew 9.9 percent in 2005, overtaking France as the world's fifth largest, powered by exports and investment in factories, roads and power plants.
Gross domestic product rose to $2.3 trillion after expanding 10.1 percent in 2004, statistics bureau commissioner Li Deshui said today in Beijing. Investment in urban areas jumped 27.2 percent last year, he said. Exports have helped China's economy more than double in size over the past decade.