School centers to help inrush of immigrant kids
The programs will aid students in adjusting to Hawaii's public school system
Facing a growing influx of immigrant students ill equipped for Hawaii classrooms, the Department of Education plans to set up "newcomer centers" aimed at easing their transition into the public school system.
The centers would offer one year of academic instruction for high-schoolers with limited English proficiency as well as training on acculturation and getting used to the American school environment.
"We think this is a long time coming," said Dr. Gerry Madrazo, an educational specialist for immigrant and English as a Second-Language Learners students.
"Some of our immigrant students, particularly those from Micronesia, come from a very different, less formal school environment, and it's hard for them to adjust."
Initial DOE plans call for securing steady state funding by the 2007-08 school year for three permanent centers, each of which would serve students from several schools.
But amid dire need, the department is not waiting. Using federal funding, a limited program began at Maui High School in September, and two other centers are expected to be in place somewhere in the Honolulu and Leeward Oahu districts by this fall.
The plans are being driven by growing numbers of ESLL students -- now at more than 17,000 -- particularly those from the various Micronesian island groups, the fastest-growing segment of the ESLL program.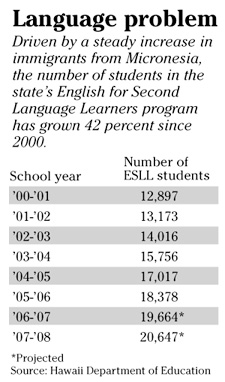 Newly arrived Micronesian students are often a disruption in classrooms because their language limitations divert teachers' attention and they do not know what is expected of them as students, said Wayne Yamashige, a Maui district ESLL resource teacher.
"It's a steep learning curve for them. Some have no experience with formal schooling, so they speak out in class, don't pay attention or they talk when the teacher is talking," he said.
The idea, modeled after a similar program in the San Francisco school district, is the latest sign of concern over the ability of Hawaii schools to handle such students. Already struggling to lift achievement in the general student population up to federal standards, schools also must raise ESLL students to the same level.
However, while ESLL numbers have surged in recent years, ESLL funding has stayed stagnant for the past decade.
The Lingle administration, in its budget proposal for the new legislative session, included funding for 29 new ESLL teaching positions to add to the current 140.
Without some sort of action to ease the burden on overwhelmed teachers and schools, school officials say, the state could be vulnerable to legal action for not providing federally required access to a free and appropriate public education for all students.
"We have to be proactive in providing this," Madrazo said.
Lani Kapolulu, a school renewal specialist heading up plans for the Honolulu district center, said immigrant kids will be tested, and those with the greatest need who have been in the country for less than a year would be invited to attend the center for up to a half-day daily.
Their travel would be subsidized, probably through issuance of a city bus pass, she said.
Students would receive individualized attention in reading, math and social studies and can earn credit toward graduation.
The one-year limit per student is necessary to make way for incoming kids, who amount to several hundred qualifying students a year in the Honolulu district alone, said Kapolulu, who is now looking for a site to begin operations in the fall.
She expects it to take two to three years for the program to begin expanding to include other centers.
"Hopefully, once we can show that schools are happy with the students we send back, we can get the funding sooner. We're really looking to expand this to the middle schools and elementary schools," she said.