---
FAST FACTS HAWAII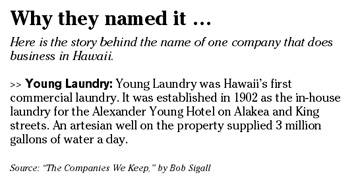 ---
HAWAII
Legal Aid Society offers free tax preparation
Trained volunteers will be standing by this tax season to help low- and moderate-income Hawaii households with their taxes.
The free service is being offered, as it has been for the past 10 years, by the Legal Aid Society of Hawaii, the state's oldest and largest nonprofit law firm.
The society defines low and moderate incomes as approximately $37,000 or less.
For more information about the tax preparation service, call Vivian Ho at 527-8050.
NATION
Many executives also are mentors
Maybe you had a mentor, or coach, of some sort as an intern or your first few years in the working world. Often, as our careers pass, so does the idea of a mentor for many people.
But that might be a mistake, and many companies are exploring how such programs might help shape their future leaders, according to "CEO Views," a newsletter published by accounting giant Grant Thornton LLP.
Seven of 10 business leaders said they have a mentor and 66 percent said they serve as a mentor to someone else, according to a survey last month of 300 business executives.
"Regardless of your position, if someone has walked down a road you have not traveled, their shared experience can help guide you on a more successful journey," said Tony Pisano, of the Grant Thornton Business Leaders Council.
Denver is tops as travel bargain
Hunting a bargain-minded weekend getaway? The travel Web site Hotwire.com evaluated 50 U.S. markets with a view toward value for the money destinations.
The company, a unit of Expedia Inc., based its selections on three areas: discounts offered to travelers, low published-rate prices and affordable entertainment and outdoor attractions.
Colorado's capital, Denver, ranked first, helped by three discount airlines that serve the city, the natural beauty of the nearby Rocky Mountains, a plethora of outdoor activities and lodging prices under $100 per night.
Greenville-Spartanburg, S.C., was second, followed by Raleigh-Durham, N.C. ; Knoxville, Tenn.; and the Tampa-St. Petersburg-Sarasota area of west-central Florida.
The rest of the top 10 were Albuquerque-Santa Fe, N.M.; Orlando-Daytona Beach, Fla.; Reno, Nev.; Dallas-Fort Worth; and Los Angeles.
How to get where you want to be
Many people feel distracted at home or work, flailing about in a joyless, makeshift job or seemingly unable to accomplish personal goals. Life is often a rat race. Personal commitments to family, bills, employers mount.
However, there are concrete steps to help you get where you want to be, said Leslie Groene, a Los Angeles motivational speaker, coach and author of "Picture Yourself & The Life You Want." Her tips:
» Plan. Break up lofty goals into manageable steps and your likelihood of success will increase.
» Focus on your strengths. Celebrate every accomplishment, keep the momentum, and look toward the future.
» Learn. There is no better way to evolve as a human being than to make a commitment to lifelong learning.
» Live gratefully. Be aware of the wonderful things in your life and find an outlet to give back a fraction of what you enjoy.
» Associate with positive people. Surround yourself with people who support your goals and endeavors.
» Relax. You can't achieve any goal if you're uninspired, overworked and out of balance.