Catholic Charities eyes Presbyterian property
The Makiki church plans to relocate to the site of a golf course
Catholic Charities Hawaii says it wants to buy First Presbyterian Church of Honolulu property in Makiki to consolidate its scattered services in one location.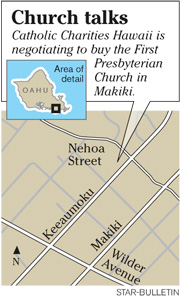 "Moving to the First Presbyterian Church site will allow us to increase our effectiveness in carrying out our mission and enhancing program services to all in need, regardless of their faith, by integrating most of Catholic Charities Hawaii's program services on Oahu at one campus location," Jerry Rauckhorst, chief executive officer and trustee of Catholic Charities Hawaii, said in a news release.
Having outgrown its location on Nehoa and Keeaumoku streets, First Presbyterian hopes to sell the building and acquire Koolau Golf Course in Kaneohe for about $20.5 million and turn the 100,000-square-foot clubhouse into offices, classrooms, dining areas and a sanctuary.
In Makiki, the roughly 2-acre property consists of three parcels. The first contains a 10,912-square-foot sanctuary on the corner of Nehoa and Keeaumoku, which would be converted to spaces to accommodate meetings and program services, the Catholic Charities news release said.
The second parcel includes meeting facilities, classrooms and offices. The third parcel includes a 12-unit apartment complex on Dominis Street and two houses.
"We also anticipate that our presence will lessen traffic and competition with residents for parking compared to current levels, especially on the weekends," Rauckhorst said in the news release. Catholic Charities generally operates between 8 a.m. and 4:30 p.m.
Executives of Catholic Charities told the Makiki/Lower Punchbowl/Tantalus Neighborhood Board on Thursday that the organization does not plan to change the building's exterior and that it expects parking congestion will decline if the charity takes over the building from the 1,200-member First Presbyterian Church.
For years the church has also opened up its facilities to police officers as a place to use the restroom and a room where they can write reports and make telephone calls. Catholic Charities will continue to invite police to use the property, Rauckhorst said.
The nonprofit organization is dedicated to helping those in need to help themselves, regardless of faith, providing a variety of services.
First Presbyterian Church officials would not comment on negotiations for both the Makiki properties and the golf course.
However, the church on its Web site and its senior pastor in a Nov. 6 service had revealed some of the details, saying it had an offer of about $15.6 million for its Makiki properties.