Number of union members rising in isles
Hawaii is bucking the national trend of declining membership
The percentage of union workers in Hawaii, where union membership is more than double the national average, rose last year in contrast to the nationwide results that showed continued declines.
In 2005, Hawaii ranked second only to New York in union membership, according to data released yesterday by the U.S. Bureau of Labor Statistics. Last year, union membership in Hawaii rose 2.1 percentage points to 25.8 percent. There were 141,000 union members in Hawaii in 2005, the BLS reported.
Nationally, union membership fell from a high of just more than 20 percent in 1983, the first year for which comparable data was available, to 12.5 percent in 2005.
Last year, nearly 15.7 million wage and salary workers were in unions, with the majority, 36.5 percent, in government jobs, BLS data showed. However, the membership rate among nongovernment workers fell to 7.8 percent from 7.9 percent, the lowest in more than seven decades, as manufacturing jobs continued to move overseas and infighting between unions resulted in fewer new members.
The percentage of union workers in Hawaii has eroded some in the past decade due to the demise of the sugar and pineapple industries, improved technology and the growth of the largely nonunion retail industry, but the state's strong economy has brought about a rebound in numbers, said Randy Perreira, president of the Hawaii AFL-CIO, which represents more than 40 unions with about 90,000 members.
Growth in tourism, construction, the military and the state Department of Education resulted in more union jobs, he said.
"Ten years ago we led the nation in union membership, and we have in fact lost some of that density," Perreira said. At one time, Hawaii's union participation was closer to 30 percent of the work force, he said.
Times have changed, but Perreira, who also serves as deputy director for the state's largest union, the Hawaii Government Employees Association, said he expects the state's strong economy to stem the losses.
"As long as the economy is good, it's unlikely in my view that we'll see a downward trend," Perreira said.
The people of Hawaii, many of whom are descendants of immigrants and plantation workers, have historically supported unions, said Perreira, whose grandparents lived in a plantation camp.
"Hawaii people have a greater tolerance for fairness," Perreira said.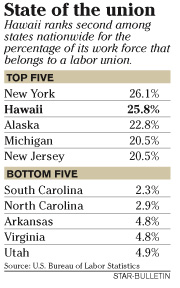 Last year, New York recorded the highest union membership, with 26.1 percent participation. Other top states, besides Hawaii, were Alaska at 22.8 percent and Michigan and New Jersey at 20.5 percent each.
Despite the growing percentage of union workers in Hawaii, job creation has not been sufficient in all sectors, union leaders have said. And in recent times there has been much debate over wages and benefits in union contracts, which have resulted in strikes by cement workers and bus drivers.
The state's tourism industry downsized union members after the Sept. 11, 2001, terrorist attacks and has since rehired them, but not at a rate sufficient to reflect the success of the industry, said Andy Lee, spokesman for hotel workers Local 5, which represents about 11,000 members.
"The hotel business has picked up rapidly, but we don't think the industry has added enough new employees to keep up with the level of staffing," Lee said.
Workers in Hawaii's labor-intensive visitor industry earn significantly more than their nonunion counterparts in other parts of the country, but many of them still have to work multiple jobs to survive the state's high cost of living, he said.
"It's our goal that hotel workers can make a decent living by working only one job," Lee said. Workers should be able to buy homes and put their children through college, he said.
While union members might like the increased pay that membership brings them, the proliferation of unions has larger consequences, said Don Newman, a senior analyst for the Grassroot Institute of Hawaii, a public think tank.
"The fact that we have such a high union membership means that the cost of living throughout the state is driven higher," Newman said.
For instance, Newman said Hawaii bus riders and residents pay higher fees and taxes because the state's unionized bus drivers earn about $44,000 annually, a sum that is about double the U.S. average.
"Those costs have to be passed on," he said.
Newman's arguments might sway some people, but not Kaleo Aarona, a reservationist at Hilton Hawaiian Village who said she earns more of a living wage than when she worked for a nonunion travel company.
"I make significantly more money, and I have a lot more benefits, including union protection," Aarona said.
"People just don't realize all that the unions do."