---
EATING HEALTHY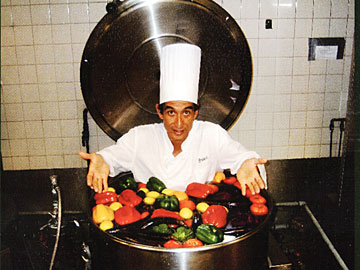 Vegan recipes included in Maui author's book
A new vegetarian cookbook by chef/author Brian Igarta offers an array of vegan-inspired dishes, from appetizers to desserts, for all those seeking to exclude all animal products (including dairy and eggs) from their diets.
The self-published cookbook, "The Maui Vegetarian: Cooking with Aloha," is intended to introduce people to the variety of dishes included in a vegetarian diet. Igarta writes, "People are always asking us what we eat, thinking that all we eat are vegetables or that we can't possibly get enough protein, being vegetarian."
Igarta's recipes incorporate a healthy array of whole grains, vegetables, fruits, legumes, seeds and nuts. The recipes also reflect a melting pot of cuisines, including Spanish vegetable paella, Puerto Rican rice, Chinese steamed buns and oriental noodle salad.
For more information on the cookbook and vegetarian cooking, visit www.themauivegetarian.com. The cookbook is available at select Maui stores and soon will be sold on Oahu for $18.95. It can also be purchased at the Web site.
---
Eleanor Nakama Mitsunaga
---
KEY INGREDIENT
Comforting couscous a staple of global diet
Couscous is a dietary staple throughout much of the world. In fact, in certain dialects, the word for "couscous" is the same as the word for "food."
This grain-like pasta is cooked by repeated steaming. Most of the couscous found in grocery stores has been steamed at least twice and then dried, so all you have to do is re-hydrate it. It's great under stews and comforting simply tossed with a little bit of melted butter and salt.
There's also the slightly larger Israeli couscous, also known as pearl couscous, an extruded semolina pasta with an interesting history: Cookbook author Joan Nathan writes that in the 1950s David Ben-Gurion, the first prime minister of Israel, asked Israel's largest noodle producer to create a pasta-like couscous for the waves of Sephardic and Asian immigrants used to those foods.
Known as orez Ben-Gurion (Ben-Gurion's rice) in Israel, these quick-cooking pasta pearls also are excellent with stews, in soups, or simply tossed with vegetables and herbs as a side dish.
---
Scripps Howard News Service