---
FAST FACTS HAWAII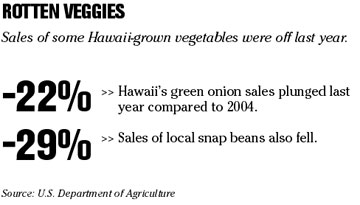 ---
HAWAII INC.
NEW JOBS
»
McNeil Wilson Communications
and
Laird Christianson Advertising
have appointed
Chris Caneda
information technology manager. He will be responsible for the development, control and maintenance of all information systems. He most recently served as senior systems analyst at
Hawaii Insurance Bureau Inc.
» ResortQuest Hawaii has appointed Gail Harding assistant marketing director. She will be responsible for managing the execution of marketing activities for the company's 28 properties. She has more than 25 years of experience in marketing and communications.
» AIG Hawaii has hired Stephen A. Kula as long-term care director. He will be responsible for developing and implementing a new software system that will provide a framework and a mechanism for coordinated long-term care in Hawaii. He previously served as executive director of the Arc in Hawaii.
» Case Bigelow & Lombardi has appointed Lauren R. Sharkey director and shareholder. She will be responsible for representing wide-ranging commercial matters including acquisitions and sales of real estate and business, development and leasing.
PROMOTIONS
»
Maui Divers Jewelry
has promoted
Jerry Tanaka
to manufacturing operations vice president. He will be responsible for overseeing production management, raw materials purchasing, shipping and facilities management. He most recently served as manufacturing operations director.
---
NATION
Northwest deadlocked with pilots, attendants
NEW YORK »
Northwest Airlines Corp.
told a New York bankruptcy court yesterday it has reached a tentative agreement with the union representing ground workers, but talks with pilot and flight attendants unions appeared to be deadlocked.
The nation's fourth-largest carrier, which filed for bankruptcy protection in September, also asked the judge overseeing the case for permission to reject labor contracts for pilots and flight attendants.
Northwest has said it needs to make cost cuts to match low-cost carriers. It also said the reductions are a step toward getting financing it needs to emerge from bankruptcy.
IBM presents optimistic outlook
BOSTON » Despite softness in its core services business
, International Business Machines Corp.
beat Wall Street's expectations for its fourth-quarter earnings and presented a moderately optimistic outlook for 2006.
IBM said yesterday that net profits rose 13 percent, although revenue was unimpressive in many areas and missed analysts' consensus estimate. Cost cuts and the sell-off of IBM's personal-computer business boosted profit margins, while positive trends in chips and mainframes helped the hardware division.
In the last three months of 2005, IBM earned $3.19 billion, or $1.99 per share, on revenue of $24.4 billion.
The results were pulled down 10 cents per share by a $267 million charge stemming from IBM's recent decision to freeze its pension plan for U.S. workers in 2008, and by 2 cents per share because of an accounting change.
Trade deficit is major threat, Buffett says
RENO, Nev. » The U.S. trade deficit is a bigger threat to the domestic economy than either the federal budget deficit or consumer debt and could lead to "political turmoil," billionaire investor Warren Buffett warned.
"Right now, the rest of the world owns $3 trillion more of us than we own of them," Buffett told business students and faculty Tuesday at the University of Nevada, Reno. "In my view, it will create political turmoil at some point. ... Pretty soon, I think there will be a big adjustment," he said without elaborating.
Buffett, head of Omaha, Neb.-based Berkshire Hathaway Inc., was in Reno for the opening of the company's R.C. Willey Home Furnishings store. He spoke the same day Berkshire Hathaway disclosed its purchase of Business Wire, a privately held distributor of press releases, for an undisclosed amount.
WORLD
Japan's stocks continue dive
TOKYO » Japan's stock market plunged for a second day today amid reports that prosecutors had opened another investigation into allegations Internet company
Livedoor Co.
concealed massive losses.
Kyodo News agency reported the fresh probe today following an initial investigation Monday evening into suspicions a Livedoor subsidiary violated Japan's securities law by spreading false information.
Neither Livedoor nor the Tokyo Prosecutors Office could confirm the report. But in reaction to the first probe, the company has denied any wrongdoing and pledged to cooperate with authorities.
The probe has sparked a sell-off of Japanese stocks, with the benchmark Nikkei 225 index plummeting 5.4 percent in the last two days.
The benchmark index fell 510.97 points, or 3.2 percent, to 15,294.98 points at the start of the afternoon trading session today. That surpassed its drop for all of yesterday, when it plummeted 2.8 percent, its biggest one-day drop since May 2004.
Livedoor offers various Internet services, including consulting, telecommunications, mobile sites and software development. It also has acquired stakes in other companies and raised capital by offering more of its own stock.
Indonesia's coffee sales rise, official says
Indonesia probably sold 14 percent more coffee beans overseas last year as farmers took advantage of higher prices and boosted output, a trade body official said.
The country, the world's fourth largest coffee exporter, likely exported 360,000 tons of beans last year, from 315,000 tons in 2004, said Rachim Kartabrata, executive secretary at the Association of Indonesian Coffee Exporters.
Robusta coffee prices in London jumped 77 percent in the past year on speculation that drought has damaged the crop in Vietnam, the world's No. 2 producer. The bitter-tasting Robusta beans are usually blended with the milder Arabica variety by companies such as Nestle SA and Kraft Foods Inc.