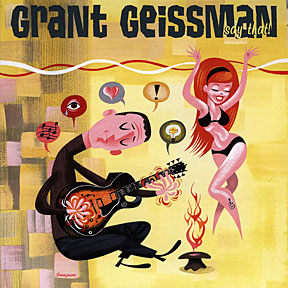 "Say That!"
Grant Geissman
(Futurism Records)
Guiarist Geissman's 'Say That!' CD is fun and infectious
THINGS don't gear up for corporate labels until next month, when new releases from their major artists trickle out into stores, but in the meantime, an independent self-release from a veteran musician like Grant Geissman (remember Chuck Mangione's pop instrumental of the late '70s "Feels So Good"? -- he played guitar on it) is well worth a listen for true jazz fans.
"Say That!" is a fun and infectious outing, and filled with solid musicianship courtesy Geissman, his core rhythm section of Trey Henry on bass and drummer Ray Brinker, hornman Brian Scanlon, and a cast of keyboard players that include the Yellowjackets' Russell Ferrante.
Some of these live-in-studio recordings are based on what Geissman calls "Wes Montgomery meets Horace Silver meets Jimmy Smith." The opening title track certainly has the soulful Silver in mind, with the confident "Wrong Is Right," "Spy Versus Spy" (a sneaky cool tribute to the Mad magazine cartoon strip), and "Below the Radar" all tips-of-the-hat to that mighty soul-jazz triumvirate.
The closing "Wes Is More" gets an extended 3 1/2-minute workout that definitely puts up the "musicians at play" sign. Geissman and Tom Ranier trade licks on their respective hollow-body Gibson electric guitar and Hammond B-3 organ, then the band switches up the tempo, and finally slows it down on an unresolved but teasing note.
Geissman and company also show their versatility with aplomb. "What's the Story?" put a mysterioso twist on a Thelonious Monk-inspired blues. A modernist "Point of View" wouldn't sound out of place on the aesthetic-minded ECM label. Antonio Carlos Jobim gets a nod with "Bossa," as guest Tierney Sutton vocalizes along with Geissman's acoustic classical guitar and Scanlon's tenor sax. And "Siete" takes its cue from Chick Corea's early years with Return to Forever, featuring a nice brush solo by Brinker.
Even Geissman pays tribute to the man who bought him his first guitar as a youngster in "Grandfather's Banjo." Throw in a easy swingin' version of the theme he co-wrote for the hit TV sitcom "Two and a Half Men," and it all makes for a pleasant affair.
---