---
FAST FACTS HAWAII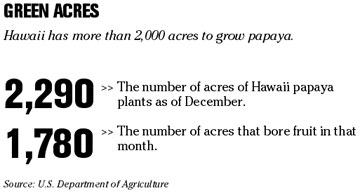 ---
HAWAII
Grace Pacific replaces Molokai quarry operator
Grace Pacific Corp.
said yesterday that it had selected
Tri-L Construction Inc.
to operate its rock quarry on Molokai, which supplies rock aggregate and concrete products for construction projects on the island.
Tri-L replaces Patterson Construction & Trucking Inc., which Grace Pacific removed as operator of the quarry in October because of environmental and operational concerns.
Grace Pacific will continue to operate an asphalt plant on the site, the company said.
Kapolei land deal closes
D.R. Horton -- Schuler Division has closed on its acquisition of 135 acres in Kapolei from the Estate of James Campbell, where the builder plans to construct 1,150 single-family homes in the newly acquired Mehana area.
D.R. Horton, the largest homebuilder in the country, plans to sell 350 of the houses as affordable homes under city guidelines.
Job fair runs tomorrow at Blaisdell
Employers from the banking, health care, hospitality, retail, construction and technology industries are among the companies planning to recruit workers tomorrow from 10 a.m. to 3 p.m. at the Neal Blaisdell Center.
Sponsored by Success Advertising and Oahu Worklinks, a local labor-force development agency, the Job Quest job fair has attracted 180 firms that are seeking a range of employees, including mid- and senior-level management and skilled technical workers, said Beth Busch, president of Success Advertising.
General admission is $3, while seniors and military personnel can pay $1.
NATION
Buyout bid for Nielsen's parent
LONDON »
VNU
, the Dutch publishing and market research company that owns ACNielsen, turned from predator to prey yesterday when it received a buyout offer from a group of private equity investors for as much as $8.9 billion.
VNU, which also owns Nielsen Media Research and trade publications like Billboard and the Hollywood Reporter, said it had been approached by a consortium of leading private equity firms: AlpInvest Partners, the Blackstone Group, the Carlyle Group, Hellman & Friedman, Kohlberg Kravis Roberts, Permira and Thomas H. Lee Partners.
The offer is worth $34.01 to $34.62 a share, a price that analysts said might be on the low side.
Business Wire bought by Buffett, source says
SAN FRANCISCO » Renowned investor Warren Buffett has agreed to buy San Francisco's
Business Wire
at a price in the hundreds of millions of dollars, according to a source close to the deal.
Lorry Lokey, who founded Business Wire as a way for companies to disseminate their news releases in 1961, had been entertaining offers for the company for the past four years, the source said.
Lokey and Cathy Baron Tamraz, a Business Wire veteran who was named chief executive last month, sealed the deal in December over lunch with Buffett at the Carnelian Room atop the Bank of America building.
Business Wire, with 500 employees and offices worldwide, had revenue of $127 million in 2005.
Buffett, the so-called oracle of Omaha, is the world's second-richest person, according to Forbes magazine, with a net worth estimated at $44 billion.
WORLD
JAL ordered to report on safety
TOKYO » Japan's government has ordered
Japan Airlines
to submit a new report by the end of the month detailing measures it will take to halt a series of glitches that have raised safety concerns, an official said yesterday.
The Transport Ministry issued its instruction following two recent incidents involving JAL, a ministry spokesman said on condition of anonymity, citing ministry policy.
A JAL spokesman said the company is preparing its response to the ministry's instruction. "We regret causing any public concern," said JAL spokesman Steve Pearlman. "We have been taking corrective measures to improve safety procedures."
An aircraft operated by a JAL affiliate on a Tokyo-to-Taipei flight on Dec. 26 took off with a latch on the emergency exit incorrectly positioned during takeoff. A crew member noticed and corrected the error, Pearlman said.
In the second incident on Jan. 7, a JAL aircraft on a domestic flight was discovered to have flown with the reverse thruster on one engine locked into the maintenance position, Pearlman said. The aircraft landed safely.
Arcelor increases bid for Canada's Dofasco
Arcelor SA
, the world's second-biggest steelmaker, raised its offer for Canada's
Dofasco Inc.
to $4.7 billion in cash, topping a rival bid from
ThyssenKrupp AG
.
Arcelor proposed paying 13 percent more than its previous offer and 4.4 percent more than ThyssenKrupp's bid Saturday. ThyssenKrupp has until Monday to respond, Dofasco said in a statement yesterday.
"We're approaching the critical level of what can be paid," said Salah Seddik, a fund manager in Paris at Richelieu Finance, which oversees the equivalent of $4.7 billion, including Arcelor shares.
Arcelor and ThyssenKrupp shares fell on concern the companies might be overpaying for Dofasco, which has 10 percent of North America's car-steel market and counts Ford Motor Co. among its customers.