HAWAII'S SICK HOSPITALS
Neighbor islands short-handed with surgeons
Factors such as reduced payments and insurance make recruiting difficult
Part two of a three-part series
Stan Berry, chief executive of the North Hawaii Community Hospital on the Big Island, said he shudders "every time there's a rodeo in Waimea, a keiki bike event or an Ironman competition."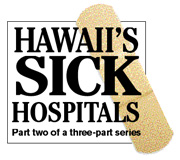 "Not only are there too few orthopedic surgeons, but virtually none want to take calls," he said.
With Ironman, he noted, "Several hundred participants are pushing their body to the limit, and no orthopedic surgeon is on call on the west side of the island.
"There is not much we can do except to stabilize and send these patients with injuries to Oahu."
Thomas Driskill Jr., president and chief executive of the Hawaii Health Systems Corp., said 10 of the 12 state hospitals that it manages on five islands do not have enough specialists to provide all the care needed. (The two with adequate coverage are Leahi Hospital and Maluhia on Oahu, he said.)
"Neighbor island physicians and medical staff face a greater challenge working in hospitals now because we don't have the density of specialists we see on Oahu," Driskill said.
Four years ago, five orthopedic surgeons practiced in Hilo, he said. Now there are two at the hospital. The second one joined the staff Nov. 14.
Maui has one "world-class" neurosurgeon who tries to be available 365 days a year and has "saved a lot of lives," Driskill said, adding that a plan is being developed for him to take cases from the other neighbor islands.
"I think everybody is suffering," he said, explaining physicians want to work in the hospitals, but many patients have no insurance -- and when they do have insurance, it does not pay what it used to.
Hawaii Health Systems Corp. facilities
» East Hawaii: Hilo Medical Center, Hale Ho'ola Hamakua and Kau Hospital

» West Hawaii: Kona Community Hospital and Kohala Hospital

» Maui: Maui Memorial Medical Center, Kula Hospital and Lanai Community Hospital

» Oahu: Leahi Hospital and Maluhia

» Kauai: Kauai Veterans Memorial Hospital and Samuel Mahelona Memorial Hospital
The HHSC hospitals have provided more than $50 million in free care in the last couple of years, Driskill said.
Malpractice costs have zoomed from $1.5 million two years ago to $4.9 million now, he said, noting Farmers Insurance pulled out of the malpractice market after providing insurance to HHSC hospitals for 15 years.
"The whole issue of specialty coverage is a combination of external forces, pressures on doctors and hospitals which are making it really difficult," Driskill said.
Berry said his major concern, shared by other hospital executives, "is not having enough doctors to cover the emergency department at any one of our hospitals."
Medical specialists must be available "to save life and limb" if a bad accident occurs with multiple injuries, he said. "There are too few, and physicians are less willing to provide call services for free because their costs are higher to be in business and reimbursements are lower."
The 40-bed North Hawaii Community Hospital, affiliated with Adventist Health, is paying more than $1 million a year to keep doctors on call, Berry said.
The hospital has two general surgeons who provide certain days free, he said. "I need them 30 days a month. We can't have a critically ill patient come into the hospital and say there is no surgeon here to save your life."
An anesthesiologist, radiologist and internal medical specialist also must be on call, he said.
The biggest crisis is in orthopedic coverage, he said, with only one orthopedic surgeon at his hospital and two in Kona, plus the two in Hilo. "We're constantly having to find an orthopedic surgeon who will voluntarily come in, or fly a patient to Honolulu at great expense.
"Local residents and visitors are just amazed when they break a bone that we may not have anybody here to take care of them and they have to go to Honolulu on an airplane."
Berry said he has been looking for another orthopedic surgeon, but he must pay $100,000 to $300,000 less than they are getting on the mainland.
Orthopedic surgeons are in high demand, and "there is a boutique trend in medicine" on the mainland, he said, noting they do not want to treat worker's compensation patients and eventually they might not want to see Medicaid patients.
"It's not that anybody's a villain. It's the economics of the marketplace," Berry said.
Driskill said many incentives have to be offered to attract specialists to the neighbor island hospitals. "You don't send them a postcard and say, 'Come to beautiful Hawaii.' You've got to do more than that. ... In some areas, it doesn't matter what you offer, you can't get them to come."
It is not just coverage at hospitals that is the problem, Driskill said, "It's a whole process." Every specialty cannot be covered at every hospital, he said, so they must be able to transport patients needing specialized care, and a tertiary care facility must be able to receive them.
"That's become a big issue, just as big as the other. Just as we are stressed (on the neighbor islands), Oahu hospitals specifically are stressed," he said.
Driskill is board chairman for the Healthcare Association of Hawaii, which represents all acute hospitals and most nursing, home care and hospice agencies.
The CEOs meet once a month, he said. "We're trying to come to grips with this thing, and it's really tough. Physicians are trying to work with the hospitals, and insurance companies also have a role to play.
"A really important aspect of all this is physicians and hospitals are experiencing ever-reduced revenue for services, ... It's going to take physicians, hospitals, insurance companies and the state working together to figure out where we're going from here.
"It's not just about money. It's quality of life and tort reform."
Driskill said the HHSC is working with the John A. Burns School of Medicine and looking at ways to enhance health-care work on the neighbor islands. An effort is under way to start a family practice residency in Hilo, he said.
The Office of Medicare/Medicaid Services also is working on an approach for a demonstration project to facilitate enhanced rural care, he said.
"We're going into physician recruitment big time," he said, noting HHSC is hiring a person to manage recruitment.
"It's not just all about physicians. We're talking about the whole spectrum of medical care," Driskill added. The HHSC hospitals have 1,250 beds and 3,400 employees, and they are short of nurses, he said. "We have over 900 working for us, and we're short 130 on top of that."