Legislative season critical
Both parties will be fighting in both houses for strategic advantage in the 2004 elections
WATCH for more than flowers, food and friends in the House and Senate chambers at 10 a.m. Wednesday. The opening of the Legislature at the State Capitol also signals the start of a critically important state election season.
The 41 Democrats in the 51-member House and the 20 Democrats in the 25-member Senate see the session as a continuation of their majority power, which has stretched unbroken since statehood in 1959.
But all 51 House members and 11 senators are up for election, along with Gov. Linda Lingle.
Democrats will look to the session to continue to drive home the differences between their party and the GOP governor.
Senate President Robert Bunda says it will be critical for the Democrats to hold to a "common agenda."
Key Democratic issues, such as the price cap on the wholesale price of gasoline, are areas that Bunda says the Democrats cannot waiver.
"The majority has said this is going to be policy, in reference to state energy policy," Bunda said.
Gov. Lingle, who campaigned against the gas cap four years ago, is again calling for a repeal of the plan.
Both Republicans and Democrats are predicting that the state Legislature will remain in Democratic hands after the November elections, but how individual legislators compete is at issue.
Both houses face challenges to leadership. Sen. Robert Bunda was elected president in 2001 after former president Norman Mizuguchi declined to run for re-election in 2000. Bunda's position at the head of a coalition was tested at the end of the session last year when a resolution passed regarding Senate rules.
The vote was opposed by Bunda's own faction, and it served as something of a test vote of confidence on Bunda's leadership.
With the defeat of two supporters -- former Sens. Cal Kawamoto and Melodie Aduja in 2004 -- Bunda has spent time during the interim trying to shore up his position.
Rivals now include Senate Vice President Donna Kim and Senate Judiciary Chairwoman Colleen Hanabusa. But no one has put together a coalition with the 13 votes needed to defeat Bunda's presidency.
Instead, Bunda's adversaries are saying privately that they expect to support new Democratic candidates in the Senate who would oppose Bunda's Senate presidency in 2007.
Bunda is also expected to help candidates or incumbents who would support him, if the 24-year legislative veteran decides to seek the presidency again in 2007.
In the House, Calvin Say has represented the Palolo-St. Louis Heights area since 1976, and served as House Speaker since 1999, when he ousted Maui Democrat Joe Souki. After last year's election, Say survived a threat to his leadership as younger Democrats led by Reps. Scott Saiki and Brian Schatz attempted to take over.
Under Say's leadership, the Democrats in the House have gone from 32 to 41 -- a serious defeat for Republican Lingle. The governor's chances of positioning bills for debate on the House floor were hurt in the 2004 election when the number of GOP representatives fell below the one-third needed to call for debate.
Now House GOP leader Lynn Finnegan is hoping the 2006 election will bring in more Republicans.
"What we are trying to do is make government a better process, and you can do that by having more of a balance in the House. It will mean better debate, and we will be able to force members to talk about issues," Finnegan said.
Before she can start increasing GOP numbers, Finnegan has to know who she has in the House. That was a mystery as of yesterday, as Lingle had not yet appointed a Republican to fill the vacancy created when Rep. Galen Fox resigned after his federal conviction for fondling an airline passenger.
Lingle yesterday said she hoped to be able to fill the Waikiki House seat before opening day.
State Senate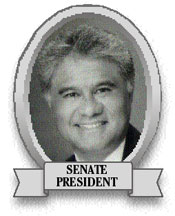 SENATE PRESIDENT
Robert Bunda (D)
22nd: Kaena, Wahiawa-Pupukea
Room:
003;
office:
586-6090
fax:
586-6091;
home:
622-8016;
e-mail
:
senbunda@capitol.hawaii.gov
Robert Bunda is leading the Senate for the eighth year. The chamber has 20 Democrats and five Republicans.
---
1st
Lorraine Inouye (D)
Hilo-Honokaa
Chairwoman: Transportation and Government Operations
Vice chairwoman: Higher Education
Member, Intergovernmental Affairs; Ways and Means
Room: 201; office: 586-7335; fax: 586-7339; home: unlisted; from Big Island, toll-free 974-4000 + 67335; e-mail: seninouye@capitol.hawaii.gov

2nd
Russell S. Kokubun (D)
Hilo-Naalehu
Chairman: Water, Land and Agriculture
Vice chairman: Energy, Environment and International Affairs
Member, Human Services; Ways and Means
Room: 213 ; office: 586-6760; fax: 586-6689; home: unlisted; from Big Island, toll-free 974-4000 +66760; e-mail: senkokubun@capitol.hawaii.gov

3rd
Paul Whalen (R)
Milolii-Waimea
Member: Health; Judiciary and Hawaiian Affairs; Transportation and Government Operations
Room: 223; office: 586-9385; fax: 586-9391; home: unlisted; from Big Island, toll-free 974-4000 + 69385; e-mail: senwhalen@capitol.hawaii.gov

4th
Shan S. Tsutsui (D)
Wailuku, Kahului
Majority caucus leader
Vice chairman: Ways and Means
Member: Education and Military Affairs; Health; Tourism
Room: 206; office: 586-7344; fax: 586-7348; home: unlisted; from Maui, toll-free 984-2400 + 67344; e-mail: sentsutsui@capitol.hawaii.gov

5th
Rosalyn H. Baker (D)
Honokohau-Makena
Chairwoman: Health
Vice chairwoman: Commerce, Consumer Protection, and Housing
Member, Higher Education; Intergovernmental Affairs; Transportation and Government Operations
Room: 220; office: 586-6070; fax: 586-6071; home: 667-2225 (Lahaina); from Maui, toll-free 984-2400 + 66070; e-mail: senbaker@capitol.hawaii.gov

6th
J. Kalani English (D)
East Maui, Lanai, Molokai
Chairman: Energy, Environment & International Affairs
Member, Intergovernmental Affairs; Judiciary and Hawaiian Affairs; Media, Arts, Science and Technology; Water, Land and Agriculture; Ways and Means
Room: 205; office: 587-7225; fax: 587-7230; home: unlisted; from Molokai and Lanai, toll-free 800-468-4644 + 77225, from Maui, toll-free 984-2400 + 77225; e-mail: senenglish@capitol.hawaii.gov

7th
Gary L. Hooser (D)
Kauai, Niihau
Vice chairman: Education and Military Affairs; Water, Land and Agriculture
Member, Energy, Environment and International Affairs; Human Services; Ways and Means
Room: 207; office: 586-6030; fax: 586-6031; home: 652-4279; from Kauai, toll-free 274-3141 + 66030; e-mail: senhooser@capitol.hawaii.gov

8th
Sam Slom (R)
Diamond Head-Hawaii Kai
Member: Intergovernmental Affairs; Labor; Tourism; Ways and Means
Room: 222; office: 586-8420; fax: 586-8426; home: 396-7566; e-mail: senslom@capitol.hawaii.gov

9th
Les Ihara Jr. (D)
Kahala-Palolo
Vice chairman: Human Services; Labor
Member: Judiciary and Hawaiian Affairs; Media, Arts, Science and Technology
Room: 217; office: 586-6250; fax: 586-6251; home: unlisted; e-mail: senihara@capitol.hawaii.gov

10th
Brian T. Taniguchi (D)
Moiliili-Manoa
Chairman: Ways and Means
Member: Labor
Room: 210; office: 586-6460; fax: 586-6461; home: unlisted; e-mail: sentaniguchi@capitol.hawaii.gov

11th
Carol Fukunaga (D)
Lower Makiki-Punchbowl
Chairwoman: Media, Arts, Science and Technology
Vice chairwoman: Business and Economic Development
Member, Human Services; Water, Land and Agriculture; Ways and Means
Room: 216; office: 586-6890; fax: 586-6899; home: unlisted; e-mail: senfukunaga@capitol.hawaii.gov

12th
Gordon Trimble (R)
Downtown-Waikiki
Minority policy leader
Member: Business and Economic Development; Higher Education; Human Services; Ways and Means
Room: 203; office: 586-7100; fax: 586-7109; home: unlisted; e-mail: sentrimble@capitol.hawaii.gov

13th
Suzanne Chun Oakland (D)
Kalihi-Liliha
Chairwoman: Human Services
Vice chairwoman: Health
Member: Education and Military Affairs; Higher Education; Judiciary and Hawaiian Affairs
Room: 226; office: 586-6130; fax: 586-6131; home: 550-4735; e-mail: senchunoakland@capitol.hawaii.gov

14th
Donna Mercado Kim (D)
Kalihi Valley-Halawa
Vice president
Chairwoman: Tourism
Vice chairwoman: Intergovernmental Affairs
Member: Ways and Means
Room: 231; office: 587-7200; fax: 587-7205; home: unlisted; e-mail: senkim@capitol.hawaii.gov

15th
Norman Sakamoto (D)
Salt Lake-Foster Village
Majority policy leader
Chairman: Education, Military Affairs
Member: Business and Economic Development; Commerce, Consumer Protection and Housing; Higher Education; Ways and Means
Room: 230; office: 586-8585; fax: 586-8588; home: 833-6734; e-mail: sensakamoto@capitol.hawaii.gov

16th
David Y. Ige (D)
Aiea-Pearl City
Chairman: Intergovernmental Affairs
Vice chairman: Media, Arts, Science and Technology
Member: Business & Economic Development*
Room: 215; office: 586-6230; fax: 586-6231; home: unlisted; e-mail: sendige@capitol.hawaii.gov

17th
Ron Menor (D)
Mililani
Chairman: Commerce, Consumer Protection and Housing
Member: Business and Economic Development; Transportation and Government Operations
Room: 219; office: 586-6740; fax: 586-6829; home: unlisted; e-mail: senmenor@capitol.hawaii.gov

18th
Clarence K. Nishihara (D)
Waipahu
Vice chairman: Tourism
Member: Education and Military Affairs; Intergovernmental Affairs; Ways and Means
Room: 208; office: 586-6970; fax: 586-6879; home: unlisted; e-mail: sennishihara@capitol.hawaii.gov

19th
Brian Kanno (D)
Kalaeloa-Makakilo
Chairman: Labor
Member: Transportation and Government Operations; Ways and Means
Room: 202; office: 586-6830; fax: 586-6679; home: unlisted; e-mail: senkanno@capitol.hawaii.gov

20th
Will Espero (D)
Ewa, Kapolei, Ewa Beach
Chairman: Business and Economic Development
Vice chairman: Transportation and Government Operations*
Room: 228; office: 586-6360; fax: 586-6361; home: 685-5628; e-mail: senespero@capitol.hawaii.gov

21st
Colleen Hanabusa (D)
Nanakuli-Makua
Majority leader
Chairwoman: Judiciary and Hawaiian Affairs
Member: Energy, Environment and International Affairs; Health
Room: 214; office: 586-7793; fax: 586-7797; home: unlisted; e-mail: senhanabusa@capitol.hawaii.gov

23rd
Clayton Hee (D)
Kahuku-Kaneohe
Majority floor leader
Chairman: Higher Education
Vice chairman: Judiciary and Hawaiian Affairs
Member: Tourism; Transportation*
Room: 218; office: 586-7330; fax: 586-7334; home: unlisted; e-mail: senhee@capitol.hawaii.gov

24th
Bob Hogue (R)
Kaneohe, Kailua
Minority floor leader
Member: Commerce, Consumer Protection and Housing; Education and Military Affairs; Media, Arts, Science and Technology
Room: 204; office: 587-7215; fax: 587-7220; home: unlisted; e-mail: senhogue@capitol.hawaii.gov

25th
Fred Hemmings (R)
Lanikai-Waimanalo
Minority leader
Member: Energy, Environment and International Affairs; Water, Land and Agriculture; Ways and Means
Room: 221; office: 587-8388; fax: 587-7240; home: 371-3577; e-mail: senhemmings@capitol.hawaii.gov




---




State House

The chamber has 41 Democrats and 10 Republicans.


SPEAKER OF THE HOUSE
Calvin K.Y. Say (D)
20th: St. Louis Heights-Wilhelmina Rise-Palolo Valley
Room: 431; office: 586-6100
fax: 586-6101; home: 732-0221;
e-mail: repsay@capitol.hawaii.gov
Calvin Say is in his 10th year as speaker.

---




1st
Dwight Y. Takamine (D)
Hawi-Hilo
Chairman: Finance
Room: 306; office: 586-6200; fax: 586-6201; home: unlisted; e-mail: reptakamine@capitol.hawaii.gov

2nd
Jerry L. Chang (D)
Piihonua-Kaumana
Chairman: Tourism & Culture
Member: Agriculture; Economic Development & Business Concerns; Education; Higher Education
Room 435; office: 586-6120; fax 586-6121; home: unlisted; from the Big Island, toll-free 974-4000 + 66120; e-mail: repchang@capitol.hawaii.gov

3rd
Clift Tsuji (D)
Hilo-Glenwood
Vice chairman: Agriculture
Member: Economic Development & Business Concerns; Finance; Tourism & Culture
Room: 326; office: 586-8480; fax: 586-8484; home: 938-2018; e-mail: reptsuji@capitol.hawaii.gov

4th
Helene H. Hale (D)
Pahoa-Kalapana
Chairwoman: International Affairs
Member: Education; Health; Human Services; Housing; Higher Education
Room: 331; office: 586-6530; fax: 586-6531; home: unlisted; e-mail: rephale@capitol.hawaii.gov

5th
Robert N. Herkes (D)
Volcano-Kainaliu
Chairman: Consumer Protection and Commerce
Member: Agriculture; Economic Development & Business Concerns
Room: 320; office: 586-8400; fax: 586-8404; home: 985-8901; e-mail: repherkes@capitol.hawaii.gov

6th
Dr. Josh Green (D)
Keauhou-Honokohau
Vice chairman: Health
Member: Education; Higher Education; Housing; Human Services; International Affairs
Room: 327; office: 586-9605; fax: 586-9608; home: unlisted; e-mail: repgreen@capitol.hawaii.gov

7th
Cindy Evans (D)
Makalawena-Waimea
Vice chairwoman: Energy & Environmental Protection
Member: Finance; Hawaiian Affairs; Water, Land Use & Ocean Resources
Room: 311; office: 586-8510; fax: 586-8514; home: 883-9029; e-mail: repevans@capitol.hawaii.gov

8th
Joseph Souki (D)
Waihee-Wailuku
Chairman: Transportation
Member: Consumer Protection & Commerce; Judiciary; Labor & Public Employment; Public Safety & Military Affairs
Room: 433; office: 586-9444; fax: 586-9499; home: unlisted; e-mail: repsouki@capitol.hawaii.gov

9th
Bob Nakasone (D)
Kahului-Paia
Vice chairman: Labor & Public Employment
Member: Finance; Public Safety & Military Affairs, Transportation
Room: 424; office: 586-6210; fax: 586-6211; home: 871-7734; e-mail: repnakasone@capitol.hawaii.gov

10th
Kameo Tanaka (D)
Olowalu-Kapalua
Member: Public Safety & Military Affairs; Transportation; Finance
Room: 319; office: 586-6160; fax: 586-6161; home: 281-3010; e-mail: reptanaka@capitol.hawaii.gov

11th
Chris Halford (R)
Makena-Kihei
Minority policy leader
Member: Agriculture; Legislative Management; Hawaiian Affairs; Housing
Room: 305; office: 586-8525; fax: 586-8529; home: unlisted; e-mail: rephalford@capitol.hawaii.gov

12th
Kyle T. Yamashita (D)
Pukalani-Ulupalakua
Vice chairman: Tourism & Culture
Member: Agriculture; Economic Development & Business Concerns; Finance
Room: 442; office: 586-6330; fax: 586-6331; home: unlisted; e-mail: repyamashita@capitol.hawaii.gov

13th
Mele Carroll (D)
Lanai-Molokai
Vice Chairwoman: Hawaiian Affairs
Member: Energy & Environmental Protection; Finance; Water, Land Use & Ocean Resources
Room: 405; office: 586-6790; fax: 586-6779; home: unlisted; e-mail: repcarroll@capitol.hawaii.gov

14th
Hermina M. Morita (D)
Hanalei-Kapaa
Chairwoman: Energy & Environmental Protection
Member: Water, Land Use & Ocean Resources; Hawaiian Affairs; Consumer Protection and Commerce; Judiciary
Room: 314; office: 586-8435; fax: 586-8437; home: unlisted; toll-free on Kauai: 274-3141 + 68435; e-mail: repmorita@capitol.hawaii.gov

15th
Ezra R. Kanoho (D)
Wailua-Koloa
Chairman: Water, Land Use & Ocean Resources
Member: Consumer Protection & Commerce; Hawaiian Affairs; Energy and Environmental Protection; Judiciary
Room: 432; office: 586-6270; fax: 586-6271; home: unlisted; toll-free on Kauai: 274-3141 + 66270; e-mail: repkanoho@capitol.hawaii.gov

16th
Bertha C. Kawakami (D)
Niihau, Poipu-Kokee
Vice chairwoman: Finance
Member: Human Services; Housing
Room: 434; office: 586-6280; fax: 586-6281; home: unlisted; toll-free on Kauai: 274-3141 + 66280; e-mail: repkawakami@capitol.hawaii.gov

17th
William "Bud" Stonebraker (R)
Kalama Valley-Hawaii Kai
Member: Consumer Protection & Commerce; Human Services; Public Safety & Military Affairs; Hawaiian Affairs; Housing
Room: 322; office: 586-6420; fax: 586-6421; home: unlisted; e-mail: repstonebraker@capitol.hawaii.gov

18th
Lyla Berg (D)
Hahaione Valley-Aina Haina
Vice chairwoman: Education
Member: Higher Education; Energy & Environmental Protection; Hawaiian Affairs; Water, Land Use & Ocean Resources
Room: 324; office: 586-6510; fax: 586-6511; home: unlisted; e-mail: repberg@capitol.hawaii.gov

19th
Barbara Marumoto (R)
Kalani Valley-Diamond Head
Member: Consumer Protection & Commerce; Economic Development & Business Concerns; Judiciary; Tourism & Culture
Room: 304; office: 586-6310; fax: 586-6311; home: 373-4535; e-mail: repmarumoto@capitol.hawaii.gov

21st
Scott Y. Nishimoto (D)
Kaimuki-Waikiki
Vice Chairman: Housing
Member: Finance; Health
Room: 441; office: 586-8515; fax: 586-8519; home: unlisted; e-mail: repnishimoto@capitol.hawaii.gov

22nd
Scott K. Saiki (D)
Moiliili-McCully
Chairman: Hawaiian Affairs
Member: Consumer Protection & Commerce
Room: 438; office: 586-8485; fax: 586-8489; home: unlisted; e-mail: repsaiki@capitol.hawaii.gov

23rd
Waikiki-Ala Moana
PENDING, AFTER THE RESIGNATION OF GALEN FOX

24th
Kirk Caldwell (D)
Manoa
Chairman: Labor & Public Employment
Member: Consumer Protection & Commerce; Judiciary; Transportation
Room: 406; office: 586-8475; fax: 586-8479; home: unlisted; e-mail: repcaldwell@capitol.hawaii.gov

25th
Brian Schatz (D)
Tantalus-Makiki
Vice chairman: Consumer Protection & Commerce; Water, Land Use & Ocean Resources
Member: Energy & Environmental Protection; Hawaiian Affairs
Room: 425; office: 586-9425; fax: 586-9431; home: unlisted; e-mail: repschatz@capitol.hawaii.gov

26th
Sylvia J. Luke (D)
Pacific Heights-Punchbowl
Chairwoman: Judiciary
Room: 302; office: 586-8530; fax: 586-8534; home: unlisted; e-mail: repluke@capitol.hawaii.gov

27th
Corinne W.L. Ching (R)
Nuuanu-Liliha
Member: Education; Higher Education; Economic Development & Business Concerns; Tourism & Culture
Room: 330; office: 586-9415; fax: 586-9421; home: 545-3080; e-mail: repching@capitol.hawaii.gov

28th
Bev Harbin (D)
Kakaako-Downtown
Member: Water, Land Use & Ocean Resources
Room: 332; office: 586-6180; fax: 586-6189; home: unlisted; e-mail: repharbin@capitol.hawaii.gov

29th
Felipe P. Abinsay Jr. (D)
Kalihi-Kapalama
Chairman: Agriculture
Member: Economic Development & Business Concerns; Tourism & Culture
Room: 402; office: 586-6010; fax: 586-6011; home: unlisted; e-mail: repabinsay@capitol.hawaii.gov

30th
Dennis A. Arakaki (D)
Alewa Heights-Kalihi
Chairman: Health
Member: Education; Higher Education; Human Services; Housing; International Affairs
Room: 436; office: 586-6050; fax: 586-6051; home: 271-0947; e-mail: reparakaki@capitol.hawaii.gov

31st
Glenn Wakai (D)
Moanalua Valley-Salt Lake
Vice chairman: Economic Development & Business Concerns
Member: Agriculture; Finance; Tourism & Culture
Room: 316; office: 586-6220; fax: 586-6221; home: unlisted; e-mail: repwakai@capitol.hawaii.gov

32nd
Lynn Finnegan (R)
Mapunapuna-Foster Village
Minority leader
Member: Education; Hawaiian Affairs; Higher Education
Room: 328; office: 586-9470; fax: 586-9476; home: unlisted; e-mail: repfinnegan@capitol.hawaii.gov

33rd
Blake K. Oshiro (D)
Aiea-Halawa
Majority floor leader
Vice chairman: Judiciary
Member: Legislative Management
Room: 422; office: 586-6340; fax: 586-6341; home: unlisted; e-mail: repboshiro@capitol.hawaii.gov

34th
K. Mark Takai (D)
Newtown-Pearl City
Vice speaker
Member: Legislative Management
Room: 403; office: 586-8455; fax: 586-8459; home: unlisted; e-mail: reptakai@capitol.hawaii.gov

35th
Alex Sonson (D)
Pearl City-Waipahu
Chairman: Human Services
Member: Consumer Protection & Commerce; Judiciary; Health; Housing; International Affairs
Room: 323; office: 586-6520; fax: 586-6521; home: unlisted; e-mail: repsonson@capitol.hawaii.gov

36th
Roy M. Takumi (D)
Pearl City, Pacific Palisades
Chairman: Education
Member: Higher Education
Room: 444; office: 586-6170; fax: 586-6171; home: unlisted; e-mail: reptakumi@capitol.hawaii.gov

37th
Ryan I. Yamane (D)
Waipahu-Mililani
Vice chairman: Legislative Management
Member: Finance; Public Safety & Military Affairs; Transportation
Room: 419; office: 586-6150; fax: 586-6151; home: unlisted; e-mail: repyamane@capitol.hawaii.gov

38th
Marilyn B. Lee (D)
Mililani, Mililani Mauka
Vice chairwoman: Transportation
Member: Finance; Public Safety & Military Affairs
Room: 421; office: 586-9460; fax: 586-9466; home: 623-6707 e-mail: replee@capitol.hawaii.gov

39th
Marcus R. Oshiro (D)
Wahiawa-Poamoho
Majority leader
Room: 439; office: 586-8505; fax: 586-8509; home: 622-9013; e-mail: repmoshiro@capitol.hawaii.gov

40th
Mark Moses (R)
Makakilo-Kapolei
Member: Finance; Transportation; Public Safety & Military Affairs
Room: 310; office: 586-8500; fax: 586-8504; home: 672-8550; e-mail: repmoses@capitol.hawaii.gov

41st
Jon Riki Karamatsu (D)
Waipahu-Waikele
Chairman: Economic Development & Business Concerns
Member: Agriculture; Tourism & Culture
Room: 427; office: 586-8490; fax: 586-8494; home: unlisted; e-mail: repkaramatsu@capitol.hawaii.gov

42nd
Rida T. R. Cabanilla (D)
Waipahu-Ewa
Majority policy leader
Vice chairwoman: Human Services; International Affairs
Member: Education; Health; Higher Education
Room: 303; office: 586-6080; fax: 586-6081; home: 681-0521; e-mail: repcabanilla@capitol.hawaii.gov

43rd
Kymberly Pine (R)
Ewa Beach-Iroquois Point
Member: Energy & Environmental Protection; Finance; Housing
Room: 317; office: 586-9730; fax: 586-9738; home: unlisted; e-mail: reppine@capitol.hawaii.gov

44th
Michael P. Kahikina (D)
Kalaeloa-Nanakuli
Chairman: Housing
Member: Education; Human Services
Room: 404; office: 586-8465; fax: 586-8469; home: 668-1033; e-mail: repkahikina@capitol.hawaii.gov

45th
Maile S.L. Shimabukuro (D)
Waianae-Makua
Vice chairwoman: Higher Education
Member: Education; Labor & Public Employment; Public Safety & Military Affairs; Transportation
Room: 315; office: 586-8460; fax: 586-8464; home: 349-3075; e-mail: repshimabukuro@capitol.hawaii.gov

46th
Michael Y. Magaoay (D)
Schofield-Kahuku
Chair: Legislative Management
Member: Agriculture; Economic Development & Business Concerns; Finance; Tourism & Culture
Room: 418; office: 586-6380; fax: 586-6381; home: unlisted; e-mail: repmagaoay@capitol.hawaii.gov

47th
Colleen R. Meyer (R)
Laie-Kahaluu
Minority floor leader Member: Finance; Labor & Public Employment; Water, Land Use & Ocean Resources
Room: 333; office: 586-8540; fax: 586-8544; home: unlisted; e-mail: repmeyer@capitol.hawaii.gov

48th
Ken Ito (D)
Heeia-Kaneohe
Chair: Public Safety & Military Affairs
Member: Consumer Protection & Commerce; Labor & Public Employment; Transportation
Room: 420; office: 586-8470; fax: 586-8474; home: unlisted; e-mail: repito@capitol.hawaii.gov

49th
Pono Chong (D)
Maunawili-Kaneohe
Vice chairman: Public Safety & Military Affairs
Member: Labor & Public Employment; Transportation; Finance
Room: 313; office: 586-9490; fax: 586-9496; home: unlisted; e-mail: repchong@capitol.hawaii.gov

50th
Cynthia Thielen (R)
Kaneohe-Kailua
Member: Energy & Environmental Protection; Judiciary; Water, Land Use & Ocean Resources; International Affairs
Room: 443; office: 586-6480; fax: 586-6481; home: 261-5608; e-mail: repthielen@capitol.hawaii.gov

51st
Tommy Waters (D)
Lanikai-Waimanalo
Chairman: Higher Education
Member: Education; Energy & Environmental Protection; Hawaiian Affairs; Water, Land Use & Ocean Resources
Room: 426; office: 586-9450; fax: 586-9456; home: unlisted; e-mail: repwaters@capitol.hawaii.gov





THIS ARTICLE




THIS EDITION

Local News

Features

Travel

Sports

Business

Editorial