DRAWN & QUARTERED
All-nighter of the comics world
Unless you've created comics yourself, here's the thing about them that no one understands: The simpler they are, the harder they are to do. Comics are all about essence. The pithiness of dialogue, the shrinking albedo of the ink on paper, the lean choreography of page design, the purity of tone and story arc ... That's why comics are the purest form of graphical interface.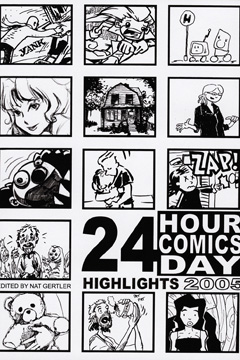 Accordingly, comic writers use few words but use them wisely; artists create worlds and emotions with a stroke or two; rough drafts are shaved down; pages are laboriously simplified and cleaned up. The clutter is banished. That's a major reason comics are produced on an assembly line, and a reason it takes months to produce one.
On the other hand, there's "24 Hour Comics Day."
Created more than a decade ago by comics philosopher Scott McCloud, one day a year, cartoonists are challenged to write and draw a 24-page comic book WITHIN 24 HOURS. Talk about pulling an all-nighter! Even esteemed pros like Neil Gaiman have tried and failed. He could whip out only 13 pages.
Last year, 24 Hour Comics Day fell on April 23, and more than 800 cartoonists around the world gave it a shot. Pictured here are pages from 24 stories chosen for the annual "highlights" book just released (About Comics, $24.95). Stories range from sketchy to fussily completist, the art from rough pencils to laboriously inked. It's fun to read, particularly if you've tried to do something like this yourself.
What's fascinating about the tales, though, is that the scrim of professional polish is off the page. It's like a rough cut of a movie. It seems a lot more personal, almost like true-confessions time, because the artist/writer hasn't had time for second thoughts, no opportunity to hammer up a screen between his soul and your eyes.
It can be cheap therapy. Has a psychologist looked at these stories? Artists are free to use their imaginations, but they're not given a theme. How much more interesting would it be if the cartoonists were given a theme right as the event begins -- like, tell a true story from childhood, or a myth in the neighborhood, or what would life be like in a mirror world, something that would strike creative sparks without dampening ideas -- and so the cartoonists would be forced to free-associate on similar tracks. And it gets groovier and weirder as the artist goes without sleep for a full day.
Suggested themes are generated by a funky database online at www.24hourcomics.com. Let's try it -- huh, the suggested titles are "I Need a Narrator," "My Worst Fear" and "An Encounter With Jerry the Jaguar."
Let's try again -- "The High Price of Success," "Word Fail" and "Spring Break Repair."
Are your creative wheels spinning yet?
Some cartoonists are on the honor system and do it in their own homes, but generally groups get together and have a work party, fueled by pizza and coffee. No such party is set up in Hawaii so far, but that's likely to change.
The event's Web site contain much useful information and blogs of cartoonists worldwide who have participated.
This year's 24 Hour Comics Day is Oct. 7.
Get a good's night's sleep the day before. Have vivid dreams.