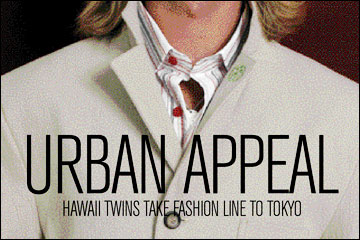 KAMAAINA fashion designers and identical twins Gerald John and John Alexander Polyascko, the creators of a street classy neostyle with an island finish, are ready to share with the world a vision of an urban gentleman that was crafted as college students in the basement of a San Francisco apartment.
The brothers, whose sportswear has been carried by high-end retailers like Neiman Marcus, leave today to launch their men's clothing line, Polyascko2 at the International Fashion Fair in Tokyo. Attended by more than 30,000 buyers from Asia and Europe, the fair is a springboard for any designer who wants to break into these markets.
The 26-year-old Radford High School graduates started their clothing line in 2002 while attending the San Francisco Academy of Arts. Their first designs took shape in the dump room of an apartment building. Despite the smell of trash and poor lighting, they perfected the signature hand-dyed textile print -- a badge of honor for the gentleman who stays true to his ideals while living in the urban jungle. The invention has made their designs sell out at trunk shows throughout North America.
"When we got to California, we had about $2,000 combined," said John, who with his spiky highlighted hair and slightly edgy style is the front guy for the team. "We had saved the money busing tables and catering at hotels in Hawaii so that we could pay for college."
After arriving in California, it took more than seven hours of pounding pavement to find an $1,100-a-month studio, which would become home to their dreams, said Gerald, who goes by the nickname Jerry and is the more reserved member of the Polyascko design team.
With his brashly cocked baseball cap, Jerry's appearance hints a little more of the urban boy next door -- all grown up.
"We thought that was a lot of money back then," Jerry said, adding that elder brother JonJon, a successful bartender, helped bankroll their design business in the days before they had managed to convince the rest of their eight-member family that there was cash to be made in the persona of the "Urbangentleman," their neostyle.
The twins' father, John Polyascko Sr., a retired marine mastery gunnery chief whose career took them from Hawaii to California, Arizona, Philadelphia, Maryland, the nation's capital and New Jersey, infused them with persistence and drive, while their mother Rea, a silk-flower designer and businesswoman, stoked their artistic side, they said.
Even with support from their brother, the early days weren't seamless for the designers. John took a job selling gym memberships and Jerry became a personal trainer so that they could afford to study in San Francisco and pay for their expensive fashion supplies. Their first set of labels alone cost $750.
"We were constantly calling JonJon for extra money," John said. "I remember one time, I had to wait for him to deposit money just to buy a turkey sandwich."
When he was real hungry, John, who is known for his determination, would suppress the urge to eat by doing crunches, he said.
Through they were big on self-confidence, the twins also were short on other basic resources like transportation, Jerry said.
"We'd lugged garage bags full of fabric and samples more than 11 blocks on foot so that they could start production," he said.
Between work, school and their business interests, the twins often slept less than four hours a day.
"Sometimes we'd ask ourselves, 'What are we doing?' Then, we'd say, 'I dunno, this is crazy, but let's keep doing it,'" John said.
Despite the hardships, the Polyascko twins never gave up on their vision.
"We had to live prematurely exactly what we were dreaming," John said. "We never said this is how it's going to be when we are successful fashion designers -- in our minds we were already there."
The Polyascko twins begin to see their network of dreams weave together after introducing their designs in California during a 2001 show called, "Counter Couture, the Bay Area's Best Designers."
"It was a sellout for us," Jerry said. "People were trying to buy everything we had right off the models."
Still they longed to return to Hawaii, where so many of the ideals they incorporated into their signature design persona of the Urbangentleman were rooted.
"The Urbangentleman is a man who conducts himself with the most composure and chivalry and all the principles of the Aloha spirit," said Mark Robinson III, one of the Polyascko2 principal investors, who as a longtime Oahu kamaaina and model for the line serves as the embodiment of everything that the collection represents.
Though the idea of launching a major fashion lifestyle movement in the all-too-casual islands was ambitious, it wasn't an insurmountable challenge for the fashion mavericks, better known in their home state for their high school sports records.
"You learn to leave doubt behind," said John, who believes in the mind-body spiritual connection and swears by a vegetarian and raw-foods diet. "People pay attention to negative signs all the time, but not to positive ones. I used to live that way, but I don't anymore -- it doesn't help to think that way."
In 2003, after moving back to Hawaii, the fashion-forward twins introduced their collection to island men at Neiman Marcus Ala Moana. The irony of selling their collection, which ranges from $75 to $1,500, to high-end shoppers after barely scraping by for so long is not lost on the design duo, who credit much of their success to the support of their friends and family and to God.
"Absolutely, I believe in the power of God," John said. "We've seen that what we put out there is what we get back."
The twins, along with their financial partners, who have made it possible for them to launch their newest collection, Religion and Style, in the world's second-largest retail market, say they believe in a pattern of frantic hard work and quiet reflection.
"We look for the symbols," said Robinson, who became a fan of the Polyascko's Urbangentleman lifestyle vision while modeling the collection to Neiman Marcus customers. For many years, Robinson called himself a friend to the designers and was greatly excited by their attempts to bring high fashion to the islands -- a lifestyle revolution that could cloth a man timelessly from student to beyond.
It wasn't until the death earlier this year of his father, Mark Alexander Robinson II, who had a passion for fashion, that the younger Robinson decided to financially back the Polyascko's international and nationwide launch.
"My father really believed in their vision," said Robinson, whose family can trace their roots from London through many generations of Hawaiian ancestry.
"In fact, when he died, he was wearing his favorite black, Polyascko2 pinstriped shirt," Robinson said. "I took that as a sign."
Robinson will accompany the fashion duo on their Asian launch, which is coming at a pivotal time for Japanese culture. Increasingly high energy costs have encouraged many Japanese companies, long known for their formality, to encourage employees to dress down to save resources, he said.
"They will be eager to receive the Polyasckos' lifestyle vision," Robinson said, who believes the Tokyo launch will bring a meteoric quality to the already successful careers of his business partners.
As they take their vision to the next level, once again, the Polyascko twins are surviving on little sleep. It takes unwavering coordination to get their designs, which are created in Hawaii and produced in Europe, ready for Asia.
Though neither twin speaks Japanese, they are confident that their designs and quality will speak for itself.
"It's the language of style and good fashion sense," Jerry said.
With their rollout into Tokyo, the twins say they're only about three-quarters of the way to their full dream of bringing their style vision of an Urbangentleman to the enlightened masses.
After their international launch, the twins plan to return to the United States and exhibit their designs to buyers nationwide at a top-fashion showcase in Las Vegas. And, in 2007, they're planning to showcase a women's collection.
"I figure that we're exactly where we need to be," John said.