| | |
| --- | --- |
| | Island Mele |
---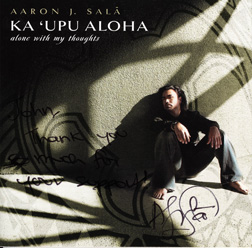 "Ka 'Upu Aloha"
Aaron J. Sala
(Hula)
Sala's long-anticipated album is a perfect debut. Traditionalists will applaud his commitment to Hawaiian music, while also embracing a judicious blending of Hawaiian and Western instrumentation. A violin line represents the life and death of the heroine of one song. The interaction between pahu and a brass section depicts the emotional arc of another tale of passion and intrigue. True, the music is beautiful in and of itself, but this is a rare Hawaiian album in which the arrangements are as important as the words.
All but two of the songs are in Hawaiian -- some are standards, while others are by contemporary composers Randie Kamuela Fong, Kihei de Silva and Frank Kawaikapuokalani Hewett. Every one of them is beautifully done.
Sala addresses national issues with de Silva's "Ehuehu mai nei 'o Manoa," and embraces pan-Polynesian concerns with "No vai teie reo," a Tahitian song protesting French nuclear testing. He also restores "He 'ono" to its original context by including the original rarely heard second verse -- and, no, it's not the one that mentions Kikkoman Shoyu!
Sala also comes across as a romantic balladeer with "My Romance," a Rodgers & Hart classic that breaks the format but fits in beautifully.
---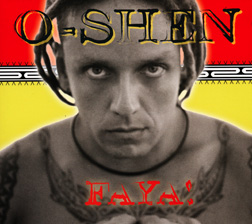 "Faya"
O-Shen
(Sharpnote)
O-Shen has been a uniquely original voice in the "island music" scene ever since he hit with his debut album "Iron Youth" in 1999. A caucasian raised in rural Papua-New Guinea, he speaks fluent Niugini Pidgin (the official national language) and several regional Melanesian languages, as well as standard English.
O-Shen and Fiji are thus far the only "island music" acts of note who can do reggae-style music in a language other than English or faux-Jamaican patois. On "Faya," O-Shen kicks it in eight languages, including English and Hawaiian, thereby making it a landmark release.
The tracks, which were recorded in PNG, have a distinctive stripped-down sound that includes an occasional hollowness in the vocal mix. Some feature the steady beat of traditional roots reggae, while others have edgier hip-hop rhythms. The song "For You" introduces O-Shen as a crosscultural, pan-Pacific artist. "Maoli Girl" is reminiscent of some of his previous English hits, and that makes it perfect for local radio play.
As on his previous albums, O-Shen addresses Hawaiian and third-world political issues. "It Ain't Easy" gives Hawaii's "young island warriors" a first-hand account of overcoming adversity. Several of the non-English songs may represent various PGN musical traditions, but without translations and cultural information, their significance will remain unknown outside New Guinea.
Reggae fans comfortable with Jamaican patois, however, may be able to guess the general meaning of "Ektin fensi."
---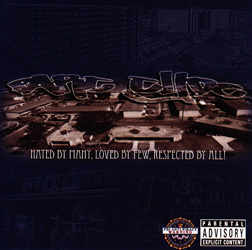 "Hated By Many, Loved By Few, Respected By All!"
Parccyde
(Tiki Entertainment)
Island hip-hop hasn't come harder than as heard on this under-promoted underground project by Parccyde. These "project dwellers" are "from the park they don't show on TV" -- Kuhio Park Terrace, in other words -- and represent public housing life in true hardcore style.
Give 'em extra credit for not posing as your stereotypical gang-bangers or "playas." On one track, the rapper actually admits to thinking about pimping, but not trying it. Other scenarios describe childhood poverty and coming "from the land of green bananas" to a life of thrift shop clothes and scavenged furniture.
While there are occasional references to their Samoan heritage, their producers Spookahuna and Elite Beats present them with sounds that are so mainstream that Parccyde comes off sounding like any other hip-hop act on the mainland.
Can these guys flow in Samoan? Are there traditional Samoan instruments that could bring a fresh sound to American hip-hop? Parccyde already has the skills, but it's time to show the rest of the country that Samoan rappers have something of their own to share.
Tiki Entertainment
46-217 (Bay 1) Kahuipa Str.
Kaneohe, HI 96744