---
FAST FACTS HAWAII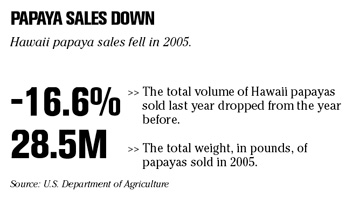 ---
HAWAII
Island Princess preps for major expansion
Island Princess, a unit of
Purdyco International Ltd.
that offers gourmet chocolate and macadamia confections, plans further expansion to coincide with a recent agreement to purchase 2 million pounds of nuts every year from
ML Macadamia Orchards LP
.
The agreement, which will go into effect in 2007, will increase the company's supply of the coveted Hawaii nuts by two-thirds. Island Princess currently uses all 3 million pounds of nuts grown on its Keaau Orchard on the Big Island.
Starting in 2007, Island Princess will begin upgrades to its processing facility to accommodate the increase. The company will spend approximately $1 million on capital improvements over the course of the contract.
Island Princess is making these investments in anticipation of new buyers in China and Malaysia, as well as new customers in the Asian countries that it already supplies, such as Japan and Korea. The company also plans to expand its presence on the U.S. mainland.
NATION
Musicland plans to close stores
Musicland Holding Corp.
, the operator of 867 Sam Goody, Suncoast and Media Play stores in the U.S., plans to close a third of them as it restructures under bankruptcy protection.
Musicland attorney James Stempel, at a hearing today, asked for court permission to begin going out of business sales at 284 stores by Feb. 1, said Brenda Adrian, a spokeswoman for the company. Musicland, based in Minnetonka, Minn., had said it plans to close its 61 Media Play stores in 18 states.
"There will be a scaled-down version of the chain," Stempel told U.S. Bankruptcy Judge Stuart Bernstein yesterday in New York. Bernstein approved a new $75 million financing package at the hearing. Wachovia Corp. is the primary lender, Stempel said.
Johnson & Johnson raises offer
Reacting decisively,
Johnson & Johnson
struck back last night in the biggest takeover battle ever in the medical device industry, raising its bid for the
Guidant Corp.
to $71 a share in cash and stock, or about $24.2 billion.
In doing so, Johnson & Johnson was able to dissuade Guidant from backing out of a previously announced merger and going with a higher bid from a rival Boston Scientific.
Johnson & Johnson's latest offer would give Guidant shareholders $40.52 in cash and 0.493 shares of Johnson & Johnson stock for each Guidant share. Although that offer fell short of the $73 a share bid by Boston Scientific, it was a $1 billion increase from its stock and cash offer of just over $68 a share on Wednesday.
And it was close enough to Boston Scientific's bid to persuade Guidant's directors to once again unanimously advise shareholders to vote for merging with Johnson & Johnson at a meeting scheduled for Jan. 31.
Microsoft halts Windows Media Player for Mac
SEATTLE »
Microsoft Corp.
will stop developing a version of its Windows Media Player for
Apple Computer Inc.
's Macs, and will instead offer free technology that lets people play Windows Media files using Apple's own software.
Kmart shifting to part-time jobs at stores nationwide
Kmart recently outlined a new plan to its store managers that calls for fewer full-time workers and more part-time staffers at its 1,400 stores nationwide.
At the same time, some recently fired full-time Kmart workers have been offered part-time jobs with the company with less generous benefits.
The Detroit News recently obtained an internal Kmart document detailing the new restrictions on full-time store employees.
"As we continue to build a great company, it is important that we enable our stores with the maximum organizational flexibility to serve our customers well," the document said. "In order to obtain this flexibility it is necessary to ensure that we have the correct mix of full-time and part-time hourly associates."
Hybrid-auto buyers can claim tax credits
Consumers who buy hybrid vehicles can claim tax credits of as much as $3,400, as long as they do it soon, partially offsetting the higher sticker prices of the gas-electric cars and trucks.
Buyers can claim a fuel economy credit of $400 to $2,400, depending on how much less fuel the vehicle uses over the standard 2002 model, according to guidelines issued yesterday by the U.S. Treasury. Drivers can also claim an additional "conservation credit" of $250 to $1,000, based on the estimated lifetime fuel savings.
Congress earmarked $874 million for buyers of fuel-efficient hybrid vehicles in the Energy Policy Act that passed in August. Toyota Motor Corp., Honda Motor Co. and Ford Motor Co. all sell hybrids in the United States.
Demand keeps gold prices at 24-year high
Gold rose to a 24-year high in New York and London, capping its third weekly gain, as investors bought the metal to diversify and seek higher returns. Shares of gold producers such as
Newmont Mining Corp.
surged.
Investment demand helped send gold up 90 percent in the five years ended Dec. 31. Prices reached a 24-year high of $551.65 an ounce on Jan. 9. The Standard & Poor's 500 Index returned 2.75 percent with dividends reinvested since 2000, and an index of Treasuries maturing in two years or more returned 30 percent, including interest reinvested, Merrill Lynch & Co. indexes show.
Gold is "becoming an insurance policy against any type of disruptive risk," Frederic Panizzutti, a senior vice president at MKS Finance, a Geneva-based precious-metals trading and refining company, said in a report. "Most portfolio managers believe that gold is an asset which should not be missed in their portfolios."
Video-game sales increase 6 percent in U.S.
Video-game industry sales in the United States rose 6 percent last year, driven by a 42 percent gain in software for portable devices such as the
Nintendo Co.
's DS and
Sony Corp.
's PSP.
Sales of games for portable machines reached $1.4 billion, pushing industry sales to a record $10.5 billion in 2005 including hardware, software and accessories, market researcher NPD Group said yesterday.