---
FAST FACTS HAWAII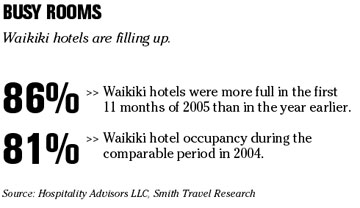 ---
HAWAII
Hawaiian Air's passenger count increases 4 percent
Hawaiian Airlines
' passenger traffic rose 14.1 percent last month compared with a year earlier and ended 2005 with a 4 percent gain over 2004.
The carrier, which emerged from bankruptcy protection in June, said 504,735 passengers flew last month, up from 442,424 in December 2004. For the year, the airline had 5.8 million passengers, up from 5.6 million in the previous 12 months.
The airline's total miles flown by paying passengers rose 11.3 percent last month and gained 8.7 percent for the year. Its seats were 89.1 percent full in December, a gain of 5 percentage points from December 2004. For the year, the so-called load factor was 87.5 percent, an increase of 1.8 percentage points from 2004.
[HAWAII INC.]
PROMOTIONS
>>
Bank of Hawaii
has promoted
Anthony D. "Tony" Goo
to senior vice president and manager of fiduciary asset management. He will be responsible for managing, supervising and directing investments activities for trust and private clients. He joined the bank in 2004 as portfolio manager.
» Century 21 All Islands has promoted Harry Lee to chief operating officer. He will be responsible for developing and improving the company's statewide operations. He previously served as the Waikiki office's broker-in-charge.
» Ko Olina Resort & Marina has appointed Tim Dietrich director of Ko Olina Clubs. He will be responsible for the day-to-day operations of the resort. He originally joined the resort as director of instruction for Ko Olina Golf Club.
» The Hawaii Medical Service Association has promoted Christian Fern to account executive in the marketing department. He will be responsible for maintaining business relationships and providing support to large employer groups in Hawaii. He most recently served as the company's corporate educator.
» Hawaii Community Federal Credit Union on the Big Island has promoted Linda Smallwood to information systems manager. She will be responsible for computer operations, technical support, systems analysis and programming for all of the credit union's branches and its administrative offices. She previously served as the company's information systems officer.
>> Island Insurance Cos. has appointed Nolan Kawano senior vice president and chief financial officer. He previously served as vice president and CFO. He will continue to be responsible for the development, implementation and management of financial policies.
ON THE BOARD
» The Hawaii Chapter of the American Physical Therapy Association has elected its executive committee for 2006:
Joanne Reid
, president;
Heather Fronk
, secretary;
Franz Yuen
, treasurer;
Ann Frost
, chief delegate;
Susan Lankford
, second delegate;
Ed Ho
, PTA Caucus representative.
>> Parker Ranch Inc. has appointed Harold S. Masumoto to the company's board of directors. He recently retired as the executive director of the Research Corporation of the University of Hawaii.
---
NATION
Sam Goody's parent files Ch. 11
MINNETONKA, Minn. »
Musicland Holding Corp.
, the parent company of Sam Goody music and Suncoast video stores, filed for Chapter 11 bankruptcy protection late yesterday.
Musicland has sustained years of losses at its mall-based stores, which were battered by competition from superstores such as Circuit City and its one-time owner, Best Buy, as well as the slump in the music business.
Its sales have plunged 42 percent, from $1.89 billion in 1999 to an estimated $1.1 billion in 2005. The company last made a profit in 2001.
The Minnetonka-based retailer operates more than 800 Sam Goody, Suncoast Motion Picture Co. and Media Play stores. It said Chapter 11 would enable it to exit some unprofitable leases.
"We have a number of stores in locations that aren't ideal," said president and chief executive Michael Madden. "We need to clean up and reposition our real estate portfolio."
Madden said the Sam Goody and Suncoast chains would continue to operate and it was too early to specify how many stores would close. The company has about 6,000 employees.
The impact on customers will be limited, the company said. The company asked for bankruptcy court permission to honor merchandise returns and all outstanding gift cards and loyalty programs.
The company began struggling a decade ago as big-box retailers siphoned customers away, luring them with music and movies often $3 to $4 cheaper.
Tenet to pay $215M settlement
Tenet Healthcare Corp.
, the second- largest U.S. hospital chain, agreed to pay $215 million to settle lawsuits accusing the company of misleading investors on Medicare claims.
Former Chief Executive Officer Jeffrey C. Barbakow and former Chief Operating Officer Thomas B. Mackey will pay $1.5 million of the settlement out of their own pockets, Dallas-based Tenet said yesterday in a statement. The class-action settlements await approval by the U.S. District Court in Los Angeles and a state court in Santa Barbara, Calif.
Tenet still faces federal probes of accusations of misconduct in billing and physician recruitment. The company is trying to restore investors' confidence and conclude government investigations into allegations it overcharged the federal Medicare health-insurance plan while under previous management.
L.A. ports to use radio to track truck drivers
LOS ANGELES » Cargo terminals at the nation's largest port complex are launching a new security program that uses tiny radio signaling devices and driver's license scanners to keep tabs on trucks and drivers entering the gates, port officials said yesterday.
Terminals at the adjacent ports of Los Angeles and Long Beach will begin distributing the signaling devices -- known as radio frequency identification tags -- and the license scanners to trucking firms beginning next month, said PierPASS Inc., which is implementing the program.
The program will cost terminal operators about $1.2 million in the first year.
Use of the tags isn't mandatory, but terminal operators are encouraging trucking firms to distribute them to drivers to bolster security at the ports.
Starbucks will add DVDs to sales mix
SEATTLE »
Starbucks Corp.
, seller of music CDs and co-producer of Ray Charles's triple-platinum "Genius Loves Company" album, will begin promoting movies and offering DVDs and soundtracks at its coffee shops to expand its entertainment offerings.
The largest U.S. coffee-shop chain is adding DVDs and soundtracks at its 5,500 company-operated U.S. and Canada stores and expanding its music offerings to boost sales beyond coffee. Starbucks sold nearly 3.5 million CDs in the fiscal year ended Sept. 30, the first time the company has disclosed sales figures.
Starbucks' first movie promotion will be "Akeelah and the Bee," a film produced by Lionsgate about a spelling bee featuring Laurence Fishburne and Angela Bassett that debuts in April.
In other news ...
» Tomatoes are available by request only at Wendy's restaurants, a short-term policy that began in late December because of crop damage from hurricanes in Florida.
Hurricanes made 2005 one of the worst years in recent memory for agriculture in Florida, which supplies more than half of the nation's fresh vegetables between November and February.
WORLD
Fujitsu stock jumps on expansion plans
TOKYO » Fujitsu's stock jumped nearly 5 percent today on news that the struggling company plans to expand its hard disk drive business and that the Tokyo Stock Exchange -- which uses Fujitsu software -- plans to boost trading capacity.
Fujitsu Ltd. is the main supplier for the exchange's computer trading system, which has been plagued by trading problems in recent months due to increased trading volume in view of Japan's economic recovery.