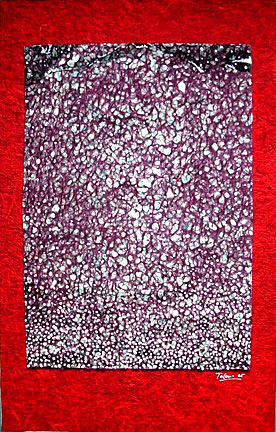 Takeo's "Snowstorm Coming."
Artist still basking in show's success
ASK TAKEO about his next show and you'd better be specific: Are you talking fashion or art? If it's the former, his next show will be for the Japanese Women's Society in May. If you're talking art, he doesn't know. He's still basking in the glow of his debut exhibition, "New Year, New Works," at the Louis Pohl Gallery. On opening night last Wednesday, all 14 of his illustrations, paintings and multimedia works sold.
"I was really shocked," he said. "Sandy (Pohl) at the gallery told me that was the first time that happened."
'NEW YEAR -- NEW WORKS'
Featuring the art of Takeo and Rich Richardson
On view: 11 a.m. to 6 p.m. Tuesdays to Saturdays through Jan. 25
Place: Louis Pohl Gallery, 1111 Nuuanu Ave.
Admission: Free
Call: 521-1812
The local fashion designer, long known for formal and beauty pageant gowns that sell for $3,000 and up, priced his artwork like a newbie, at $200 to $800.
"It's hard for many people to buy art. My goal was not to sell for a high price, but to share and communicate my vision.
"I think there's so many new condos coming up and there's so much empty wall space. I think people are looking beyond the wall space and trying to cover it with something with more meaning."
His works reflect not just a single style or methodology, but the rich variety of life experiences, including travels through Tibet, people he's met, the ephemeral beauty of snow and fleeting moods.
"I don't think I'm a great artist. I cannot compete with Leonardo da Vinci or other masters. All I can do is be myself, every step, be original."
TAKEO STUDIED art before trying his hand at fashion design. His parents were antiques dealers in Japan, and his sister also grew up to be a fashion designer.
"All my family was kind of artistic so that was the kind of environment I was surrounded by. Drawing, painting, fashion -- it didn't matter which I did. Everything was related."
While attending school in California, he was recognized for painting on fabric, and his work with fabric and draping continued when he moved to Hawaii in 1979. The pageant craze here meant there was never a lack of work dressing beauty queens for various ethnic and national pageants.
As much as he enjoys the excitement and theatrical aspects of the fashion world, he says art offers a more intimate and honest form of expression.
"With fashion you can have lighting coming in from one side and the other, or a fan blowing so it looks like wind movement, but with art you have to show that movement on a flat canvas. With fashion it's easy to fool the eye. With drawing, no. Everything is 'as is.' It's simple communication -- truth."