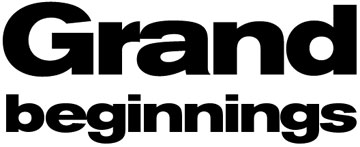 The new year marks a time of beginnings, for retailers as well as individuals. In just one week, Chanel reopened its newly renovated Ala Moana Center fashion and fine jewelry boutiques, Salvatore Ferragamo reopened its Royal Hawaiian Shopping Center boutique, and Vera Wang's first lifestyle boutique opened at Halekulani. Here's a peek:
---
Daily life luxurious with Wang
COUPLES plan their weddings down to the tiniest details to assure a day of perfection before drifting back to life as usual, chipped plates, plastic cups and all.
In Vera Wang's way of thinking, why couldn't every day be like one's wedding day, full of beauty and luxurious touches?
The designer, known around the world for her wedding gowns and celebrity clientele, has turned her eye for detail and finery to the home, and the results can be seen at the newly open Vera Wang Boutique at Halekulani. A grand opening week will take place late February to benefit five arts organizations.
The designer's first lifestyle boutique was a natural fit for the hotel, already home to an exclusive suite bearing her name and signature touches.
Gracing the boutique's shelves and showcases are silverware, china, crystal, fine stationery papers, jewelry, eyewear and fragrance. Many of the designs, from picture frames to vases and fine jewelry, feature Wang's signature love knot design.
"Her philosophy is that you should surround yourself with luxury, but it should be things that you can use every day," said boutique manager Lisa Konove. "It's not helpful if you have china that you put away on a shelf to gather dust."
While many are in the process of purging the clutter of the past year to simplify, streamline and make a new start in 2006, Konove takes to heart Wang's message of living well without compromise. While much of our materialistic society embraces the "buy a lot and buy often" mentality, Konove's a fan of limiting one's purchases to a few well-chosen objects.
"If you look at her things, a lot of it is so simple, but the beauty is in the simplicity and the quality of it," she said. "It's carrying that beautiful, wedding-day ambience through the life that you have with your partner and with your family.
"I don't have a fancy home and I don't entertain a lot, but I do use my wedding silver. You don't have to have the fancy house in Kahala to do it."
The boutique also carries ready-to-wear sweaters and throws, and will unveil Wang's first lingerie line in time for Valentine's Day. Boutique owner Donna Bebber is also aiming to host trunk shows of Wang's clothing collections a few times a year.
Wang's wedding gowns represent a personal aspect of her business handled in New York, but for those interested in her work, Bebber or Konove will be able to help make arrangements. And, to demonstrate their commitment to their clients, both have their cell phone numbers listed on their business cards, because there's no emergency more urgent than that of a bride in need.
For more information, call the boutique at 921-8100.