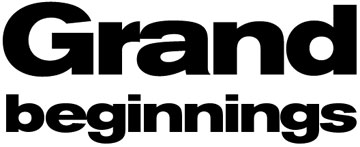 The new year marks a time of beginnings, for retailers as well as individuals. In just one week, Chanel reopened its newly renovated Ala Moana Center fashion and fine jewelry boutiques, Salvatore Ferragamo reopened its Royal Hawaiian Shopping Center boutique, and Vera Wang's first lifestyle boutique opened at Halekulani. Here's a peek:
---
Stars add even more sparkle to Chanel's gleaming redo
WITH "Lost" firmly homeported on the North Shore, Honolulu's sleekest parties have been getting a touch of star power.
The reopening of the newly renovated Chanel fashion and fine jewelry boutiques at Ala Moana Center saw the usual whirl of socialites and party girls and guys in Chanel black and white, as well as "Lost" stars Yunjin Kim and Emilie de Ravin, Japan actress Hitomi Kuroku and Hawaii's Brooke Alexander, taking a short break from the New York taping of "Real Simple," the TV version of the home organizer's bible, set to premiere Saturday on PBS.
The fashion boutique, still at 5,500 square feet, was masterfully transformed by architect Peter Marino to appear much larger, like a glass jewel box with an open floor plan that allow shoppers to seemingly view everything from accessories to ready-to-wear runway garments, presented on dramatic elevated catwalks, all at once before moving in for a closer inspection.
Making their way from a glowing wall of sunglasses to the handbag room, and across the mall to the fine jewelry boutique, Kim and de Ravin had the opportunity to try on handbags and jewelry with an eye toward Monday night's Golden Globe Awards, where "Lost" is up for a Best Television Series (Drama) award.
In the windows, models mixed it up with mannequins, with the spotlight on a powder blue, feather-embellished gown straight from Paris.
The Chanel Fine Jewelry Boutique has also been transformed, inspired by founder Gabrielle "Coco" Chanel's legendary Paris apartment at Rue Cambon, complete with a "fireplace" of hammered bronze and limestone, filled with varying heights of crystal columns in place of flames.
Inside the jewelry gallery, model Evita donned a facsimile of Nicole Kidman's black velvet dress plus the 18K white gold and 47.59 carat diamond necklace worn in the dreamlike Chanel No. 5 TV commercial created by "Moulin Rouge" director Baz Luhrmann.
Shoppers could also eye an exclusive Comet Ring of 18K white gold and diamonds, and a J12 limited-edition white ceramic watch offered to celebrate the gallery's opening.
Tallying the cost of a potential Chanel shopping spree:
» A tube of high-shine Glossimer lipgloss: $24.50
» A pair of metal-framed aviator sunglasses with baguette straws: $425
» A small Ultimate Soft lambskin handbag in black: $1,345
» The Nicole Kidman Chanel No. 5 diamond necklace: Literally, priceless.