10 TO WATCH IN '06
Harbin aims to win some supporters
Like most lawmakers heading into the 2006 legislative session, Rep. Bev Harbin has goals she wants to accomplish and proposals that she hopes will pass into law.
Harbin, however, has no illusions about how much support her proposals might have within the halls of the Legislature, and how much harder she will have to work to win supporters.
"The administration doesn't like me. Our caucus doesn't like me. Republicans don't like me. Democrats don't like me," Harbin (D, Kakaako-Downtown) said in an interview last week. "The only one (group) that seems to like me is the small-business community."
So Harbin, a longtime lobbyist and advocate for small businesses, plans to adapt.
"I'm going to be developing a process where I'm going to be sending information out" to small businesses, she said. "My job is going to be to educate them on how to talk to the legislators and try to educate the legislators on what the problems are with the small-business community.
"I plan on using this office to disperse information on a continual basis. I'm going to be completely Web-based."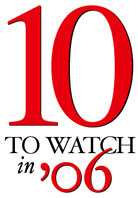 The Star-Bulletin's list of predicted movers and shakers for 2006.
While the rancor over her appointment appears to have subsided for now, it remains to be seen whether Harbin can be an effective legislator for a district that did not elect her.
Harbin was appointed in September by Gov. Linda Lingle to fill the seat vacated by longtime Rep. Ken Hiraki, a Democrat, who resigned with one year left on his term to take a job in the private sector.
Lingle was required by law to appoint another Democrat but drew the ire of the state party for appointing Harbin, who joined the party within days of Hiraki announcing his resignation.
The appointment drew further scrutiny when it was learned days later that Harbin did not tell Lingle that her defunct auto repair business shut down while owing the state $125,000 in back taxes and that she had a criminal record for three counts of passing bad checks, a misdemeanor.
Lingle said that had she known of Harbin's background, she would not have appointed her, and called for her to step down. But Harbin refused, saying she did not believe anything about her past was embarrassing to her or the administration.