| | |
| --- | --- |
| | Hawaii Beat |
---
SAY WHAT?!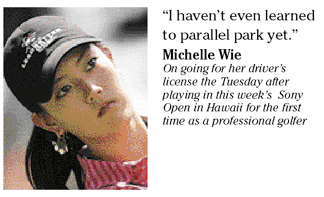 ---
Huang, Wiktorsson take diving titles
University of Hawaii's QiongJie Huang and Mats Wiktorsson won their respective events yesterday in the Hawaii Diving Invitational at the Duke Kahanamoku Aquatic Complex.
With a 307.45, Huang took first in the 1-meter springboard, the same event in which she is the reigning NCAA Division I champion. Wiktorsson won the men's 3-meter springboard, easily beating runner-up Thomas Ferguson of Connecticut, 325.40 to 277.80.
The two-day competition ends today.
Kim secures spot in SBS Open qualifier
Waiakea senior Christine Kim claimed the second of two amateur spots in the upcoming LPGA SBS Open at Turtle Bay Monday Qualifier with a two-hole playoff win yesterday on Turtle Bay's Arnold Palmer Course.
After Kim and Kristina Merkle tied with 7-over 79s, Kim claimed the amateur spot with a birdie on the second playoff hole.
The SBS Open is Feb. 13-18 at Turtle Bay.
Wilton, Bryant, Spencer to speak at QB Club
University of Hawaii men's volleyball coach Mike Wilton and assistant athletic director Bill Bryant and Nevada receiver Caleb Spencer are the guest speakers at tomorrow's Honolulu Quarterback Club.
The program starts at noon following an 11:30 luncheon at the Pagoda Hotel ballroom. The public is invited.
National Girls and Women in Sports Day set
The 18th National Girls and Women in Sports Day is scheduled for Feb. 11 at the University of Hawaii lower campus.
The event, for girls ages 5-17, will include a variety of physical activities and sports clinics ranging from basketball and volleyball to lacrosse and street dance. The cost is $2 prior to Feb. 11, $3 on Feb. 11.
For more information, call the Girl Scout Council of Hawaii at (800) 691-4333. The Web site is www.girlscouts-hawaii.org.