DISPATCHES FROM THE PHILIPPINES
Partners trade agricultural, health knowhow
Day 4 -- Jan. 7
DURING the past 100 years, since the first sakadas arrived in Hawaii to work on the sugar plantations, Filipinos have played an integral part in the advancement of Hawaii's agricultural sector.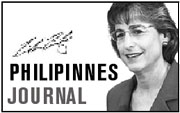 Editor's note: Gov. Linda Lingle is touring the Philippines in celebration of the 100th anniversary of Filipino immigration to Hawaii. She is writing a daily journal of her trip for the Star-Bulletin.
Today Philippine agriculture was highlighted at the inauguration of a new mango-processing plant in Ilocos Norte. The plant, which is under construction and scheduled to begin operating later this year, is a partnership between Hawaii and Filipino entrepreneurs that is a result of our Hawaii-Ilocos Norte Sister-State/Province Agreement. The plant will process dried mangoes and mango concentrate, juice and candies for export to Japan, Hong Kong, China, Hawaii and the mainland United States.
During this mission, Sandra Lee Kunimoto, director of the state Department of Agriculture, and Andy Hashimoto, dean of the University of Hawaii College of Tropical Agriculture and Human Resources (CTAHR), are meeting with Philippine agricultural officials, including Secretary of Agriculture Domingo Panganiban, and officials from the U.S. Department of Agriculture to explore partnership opportunities in agricultural technology, pest control, research and trade.
ACCORDING to Kunimoto, Filipino farmers have similar challenges in the area of tropical fruits and vegetables, as well as aquaculture, two sectors in which Hawaii farmers have been particularly successful recently. It will take ongoing research and technological advancements to ensure that farmers in both Hawaii and the Philippines can continue to produce quality agricultural products for the world market.
To this end, CTAHR is entering into two memorandums of understanding during our centennial mission -- one with the Mariano Marcos State University in Ilocos Norte Province, and a second with the University of the Philippines at Los Banos. These agreements will promote exchanges in agricultural research and education that ultimately will benefit farmers throughout Hawaii and the Philippines.
Another critical area in which Hawaii and the Philippines are working cooperatively is in health care. Today we visited the Ilocos Norte Provincial Hospital, which has been part of an ongoing joint humanitarian project involving doctors from Hawaii and Ilocos Norte. The hospital has been the recipient of valuable medical supplies donated from Hawaii hospitals and medical community, particularly Filipino doctors and health care workers. Over the years, Hawaii has donated ambulances, a CT scanner and other valuable medical equipment and supplies to Ilocos Norte Hospital.
THIS EVENING, Dennis Kawaharada, interim dean of business education, health, legal education and learning resources, represented Kapiolani Community College in the signing of a cooperative agreement with three universities -- Mariano Marcos University in Ilocos Norte, University of Northern Philippines in Ilocos Sur and Vigren Milagrosa University in Pangasinan -- to promote nursing education initiatives and exchange programs. The agreements will help address Hawaii's nursing shortage by helping nurses who are trained and educated in the Philippines pass licensing exams when they immigrate to Hawaii.
These partnerships in agriculture and health care will be mutually beneficial and provide opportunities for Filipinos to pursue their dreams, as well as strengthen these critical industries in both Hawaii and the Philippines. They build on the strengths of both of our communities and allow us to continue to work cooperatively as we enter the second century of friendship and partnership between Hawaii and the Philippines.
Tomorrow we will visit Port Salomague in Cabugao in Ilocos Sur Province, where the first 15 sakadas boarded a ship for Hawaii in 1906. I expect it will be a very emotional and inspiring visit for many in our delegation.