10 TO WATCH IN '06
Dems calm even without candidate
Although he and his party enter 2006 without a declared gubernatorial candidate in an election year, Democratic Party Chairman Brickwood Galuteria does not sound like a man with his finger on the panic button.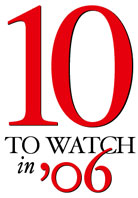 The Star-Bulletin's list of predicted movers and shakers for 2006.
"We're pretty optimistic," Galuteria said this week. "Obviously, we're still searching for our No. 1 candidate, but that's OK because as a party we feel re-energized."
As the rest of the state's political machine gears up for the Jan. 18 start of the legislative session, Galuteria said he hopes the party will have a challenger to Gov. Linda Lingle in place before then.
If not, the party will simply continue pushing its message without a messenger.
"I think, at the end of the day, if more people come to vote in Hawaii, the Democrats will win, regardless of how much money the other side has, because that's been historical," Galuteria added. "Our main thing is to make sure that our grass roots are prepared to come to the table when it's time. That's what we're preparing for as a party, irregardless of who runs."
That could be a tall order. The lack of a candidate for much longer will make it increasingly difficult for Democrats to win back the governor's office come November, said Neal Milner, a political scientist at the University of Hawaii.
"As I see this situation right now, it's either talking (Big Island Mayor) Harry Kim into running or not even having a candidate that's close to the horizon," Milner said. "The second is obviously a serious, serious problem -- the party going from what was a strong majority party to not even being able to field a gubernatorial candidate."
Kim, a former Republican, has not said whether he will run. Others considered as potential candidates include former Honolulu Police Chief Lee Donohue and even Galuteria himself.
As Lingle pushes forward with her goals for 2006 -- most notably a proposal to return $300 million to taxpayers -- not having a candidate poses some problems for the Democratic-controlled Legislature as well.
Even if lawmakers defeat Lingle's proposals and pass their own tax legislation, "It's hard to make hay of that issue as a statewide issue in a political campaign if there isn't a significant statewide political campaigner," Milner said.
"Political campaigns depend, to a great extent, on what happens in the particular districts, but there are some issues that you try to carry over -- that you try to use as a kind of transcending, defining issue -- and what you do with tax money is a pretty good one," he added. "But they're not going to have anybody carrying that message for them if they don't have a decent gubernatorial candidate."