Sky-diving accident leaves 1 dead, 1 hurt
A veteran sky-diving instructor died yesterday and his tandem passenger was taken to the hospital in extremely critical condition after they landed in the ocean about 300 yards off Mokuleia.
Skydive Hawaii owner Frank Hinshaw said the instructor was Max Mueller, 69, a tandem master with more than 10,000 jumps. A Honolulu Medical Examiner investigator said an autopsy will be done Monday.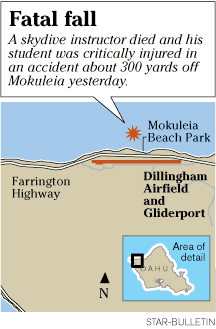 Hinshaw identified the passenger as Saori Takahashi, a 33-year-old woman visiting from Japan.
Mueller and Takahashi were the last of four tandem pairs to exit their plane at about 10 a.m. yesterday, Hinshaw said. He said Takahashi's boyfriend was among the other three pairs and had already landed. It was Mueller's first jump of the day and Takahashi's first with the company, he said.
Hinshaw said he was in his office near the landing zone on Dillingham Airfield when he heard there was a problem with a parachute. When he stepped outside, he saw Mueller going past the drop zone. He said he knew there was a problem "when Mr. Mueller flew his parachute past the normal turn for the base leg on his approach into the landing area."
The parachutists exit their airplane east of Dillingham Airfield and ride the wind toward the landing area.
They would normally go a little past the landing zone and, when they are about 300 feet in the air, turn into the wind for their final approach, Hinshaw said. But Mueller never made the turn.
He and Takahashi landed about a half-mile away from the landing zone, Hinshaw said.
He said four or five employees immediately jumped into a company van loaded with a kayak and surfboard and headed for the ocean.
When they reached Mueller and Takahashi, "they were entangled in the parachute lines (and) being pulled under water by the parachute lines," Hin- shaw said.
The company sent a second airplane to maintain sight of the parachutists until a Coast Guard helicopter arrived.
When Honolulu Fire Department rescue crews arrived, there were half a dozen people who had swum out to help the pair. Fire officials said the water was about waist deep, but both were tangled in rigging and parachute cords and had likely been knocked down by the waves.
"It was really rough out there. They were right in the impact zone where the waves were breaking," said Capt. Kenison Tejada, Honolulu Fire Department spokesman.
"They were still harnessed together, and the cords were tangled up in everything, on them, the reef, everything. It was a pretty difficult situation. ... We had to get a few knives out there."
The Fire Department's Air One helicopter airlifted the victims when they were clear of the ropes and rocks. They were taken by ambulance to Wahiawa General Hospital in "extremely critical condition," paramedics said.
Mueller was pronounced dead at 11:25 a.m., according to a Wahiawa General spokeswoman.
Federal Aviation Administration inspector Curtis Whaley said he would have liked to examine the parachute, but it was left in the ocean and was carried away by the wind and the waves.
After Mueller's parachute opened, witnesses said they did not see him operate any of the controls, Whaley said.
Whaley said he is also looking into whether Mueller or Takahashi struck the plane after they exited the aircraft. If they did, the investigation will involve the National Transportation Safety Board.
Hinshaw said Mueller has been with the company off and on for eight years, traveling between Hawaii and his native Germany. Last year, Mueller obtained a green card in a lottery in Germany and since then has considered himself a full-time Hawaii resident, Hinshaw said.
Mueller left no family contact information with Skydive Hawaii, but Hinshaw believes he has a daughter and a brother.
Skydive Hawaii halted operations after the accident yesterday but will resume flights today, Hinshaw said.
---
Star-Bulletin reporter Rod Antone contributed to this report.
Recent sky-diving accidents
Feb. 5:
Navy Petty Officer 2nd Class Jeremy Barrett, 24, was killed after his parachute failed to open. He had made 171 jumps with Skydive Hawaii before his death.
Feb. 14: Expert sky diver Bill Parson, 51, made a hard landing after jumping from a Pacific Skydiving Center plane. He died at the Queen's Medical Center two weeks after the accident, according to a report filed with the U.S. Parachute Association.
Nov. 22, 2003: A sky-diving student suffered broken bones after making a hard landing at Dillingham Airfield. It was the first jump the man in his 40s had made with Skydive Hawaii.
June 15, 2003: Eula Gonzales, an employee at Skydive Hawaii, made a hard landing and was taken to the Queen's Medical Center in serious condition. The 23-year-old woman had been on 150 jumps.
Dec. 22, 2002: Tandem sky divers died after their parachutes failed to open. Instructor Greg Hunter, 44, worked for Drop Zone Hawaii. Margaret Thomas, 18, was visiting from Nebraska.
May 10, 2001: A Skydive Hawaii video photographer landed on pavement at Dillingham Airfield. He was flown to the Queen's Medical Center. An initial report said he might have suffered a fractured pelvis.
April 13, 1998: Experienced sky diver Patrick De Gayardon, formerly part-owner of Pacific International Skydiving center, died after his parachute failed to properly open. The 38-year-old was using an experimental parachute, friends said.
---
Mary Vorsino, Star-Bulletin