| | |
| --- | --- |
| | Island Mele |
---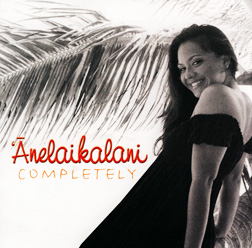 "Completely"
'Anelaikalani
(Maile)
This veteran Hawaiian falsetto singer has gotten relatively little exposure or radio play over the years, but this, her third album, should change that. 'Anela had grown tremendously as a vocalist since she released her first album at age 12. Of equal importance to her career as a recording artist, she has also, through trial and error, found a producer who suits her. So "Completely" is a big step for her album-wise in all respects.
'Anela and producer/musician Alden Levi have chosen to feature both Hawaiian and hapa-haole standards, with "Pua Carnation" and "A Hawaiian Lullaby" two noteworthy examples. "Makalapua," recorded as a duet with Nalani Olds, is the dramatic highlight amid all the romantic selections.
'Anela's father, Foa Jennings, is Tokelauan, and she acknowledges that part of her musical heritage by opening and closing the album with songs from the Polynesian island group, included in memory of her grandfather, Sione Jennings. Sentiment aside, including Tokelauan songs on "Completely" provides a better sense of 'Anela's range and capabilities. The sense of ohana is enhanced, as well, by the inclusion of family members on those two choral songs.
'Anela and Levi celebrate the wondrous feeling of true love in marriage with the one new song, "Once in a Lifetime," which could be the theme music for many local weddings to come.
The ill-advised use of tinny synth tracks as sonic filler, however, on an otherwise beautiful arrangement of "Pua 'Olena" is the album's only blemish.
www.pacifichawaiian.com
---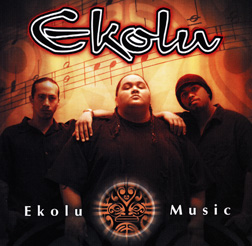 "Ekolu Music"
Ekolu
(Waiehu)
Ekolu has enjoyed such consistent success as a run-of-the-mill Jawaiian act that it would be no surprise if they'd opted to play it safe and simply recycle the ideas that made their previous album, "Back to the Valley -- The 3rilogy," a Hoku award-winner last year. Instead, they've come up with some challenging ideas and original material on this new album, as well as a few remakes and familiar "island music" stuff.
The first surprise comes with "Mistah Offisah." Expectations that this will be yet another clichéd tale of cops persecuting local dope smokers are dispelled when the narrator informs the "offisah" that he has in fact "never smoked a spliff" and that it is possible to enjoy reggae music without being stoned. A radical concept for most local "kanakafarians" indeed!
Adding a touch of steel guitar to a Jawaiian remake of "Do You Really Mean Goodbye," an obscure tune that Ekolu credits to the Manhattans, is an interesting idea musically. "Closer to Jesus," one of six selections written and arranged by group member Lukela Keala, eschews reggae rhythms entirely in his sharing a message of faith in Christ.
Not every song, however, is written to the same standards. The lyrics, for the most part, are awkward albeit earnest, expository and rhythmically haphazard, rather than the work of skilled writers. But they're good enough for "island music" audiences, and the liner notes identify the people and places that inspired the group's heartfelt efforts.
www.ekolulive.com
---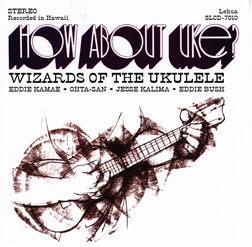 "How About Uke"
Various artists
(Lehua)
Reissues of vintage albums are always welcome, if only for making previously out-of-print recordings available on CD. That's the best that can be said about this low-budget reissue of a 1974 compilation project by Eddie Bush, Eddie Kamae, Jesse Kalima and Herb "Ohta-san" Ohta. The collection contains two recordings by Bush, five by Kamae, four by Kalima and two by Ohta, but no information worth mentioning about who they are or what distinguishes them as individual virtuosos. The author of the original notes uses vapid generalities about Kamae being "a son of Hawaii," describing Ohta as "ichi-ban," and Kalima, who evidently weighed about 270 at the time, as "a musical heavyweight."
It's unfortunate that more useful and updated information wasn't added to this reissue -- like, for instance, what brand of ukulele did each prefer? Which tunings did they use on these recordings? Oh well ...
Lehua Records
P.O. Box 1207
Honolulu, HI 96807-1207
John Berger, who has covered the local entertainment scene since 1972, writes reviews of recordings produced by Hawaii artists. See the Star-Bulletin's Today section on Fridays for the latest reviews. Contact John Berger at
jberger@starbulletin.com
.