The Bloomberg /
Star-Bulletin Index
---
The Bloomberg / Star-Bulletin Index is a price-weighted index designed to measure the performance of Hawaii-based companies. The index was developed with a base value of 100 as of December 31, 1999. A chart of the index which shows the weekly performance of its members is published weekly in the Honolulu Star-Bulletin.
Cyanotech rises
Cyanotech Corp.
was the top-performing stock in the Bloomberg Honolulu Star-Bulletin index this week, gaining 9 percent.
But that gain left the stock at 71 cents, still below the $1 threshold required to secure its right to trade on the Nasdaq SmallCap Market. And during the last 12 months, the stock lost 50 percent of its value, the worst in the Star-Bulletin index for that period.
Meanwhile, the worst performer in the index for the week, Barnwell Industries Inc., with an 11 percent loss to close at $22.40, is the best-performing stock in the index for the last 12 months, with a 71 percent gain.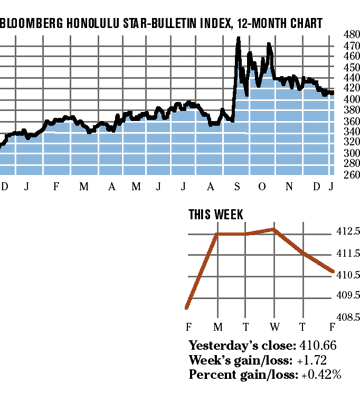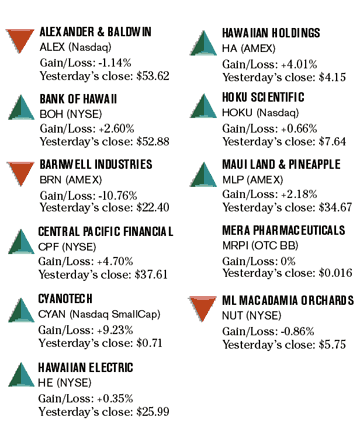 SOURCE: BLOOMBERG NEWS
STAR-BULLETIN GRAPHIC