---
Do it!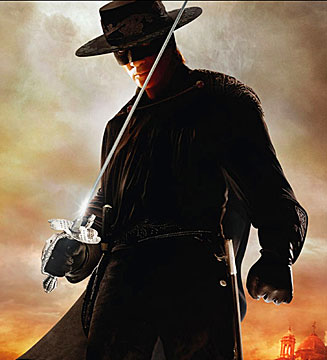 SONY PICTURES
Zorro on the beach
They'll be swinging swords, not golf clubs, but this weekend's Sunset on the Beach movie viewings are billed as the opening events of the Sony Open.
Featured films will be "The Legend of Zorro" tomorrow and "The Interpreter" on Sunday. Representatives of Sony and the Friends of Hawaii Charities, the Sony Open's beneficiary, will be onstage to talk about the golf tournament, which starts Monday.
Food booths open at 3 p.m., with entertainment at 4 p.m. and the movie at sunset, about 6:30 p.m. Featured performers are Justin tomorrow and Buckz Boyz on Sunday.
Watcha watching
The most rented videos, courtesy of Blockbuster Video, and the most bought DVDs, as listed by Billboard for last week:
Local video rentals
1. "Four Brothers" Paramount Home Entertainment
2. "40-Year-Old Virgin" MCA Home Video, Inc.
3. "Into the Blue" Sony Pictures
4. "Mr. & Mrs. Smith" FoxVideo
5. "The Brothers Grimm" Miramax Home Entertainment
6. "Must Love Dogs" Warner Bros. Entertainment Inc.
7. "The Island" DreamWorks Home Entertainment
8. "Serenity" Universal Studios Home Video
9. "Dark Water" Miramax Home Entertainment
10. "American Pie Presents -- Band Camp" Universal Studios Home Video
---
[ HOME & GARDEN ]
Foster Garden events
Foster Bontanical Garden is offering the following tours and classes in January:
» Learn about the medicinal value of plants as you enjoy a tour of the garden lead by docent Wayne Wong.
Tours will be held 1 to 2:30 p.m. Saturdays beginning Jan. 21. Admission is $5; kamaaina, $3; children ages 6 to 12, $1. Reservations are required. Call 522-7066.
» Lauhala, used for weaving floor mats and hats, can also be used to weave turtles and instructor Lucas Esdicul will teach how to weave an 8-inch one during classes Jan. 18 and 25. The 9:30 to 11:30 a.m. classes cost $12; members pay $10.
Reservations are required. Call 522-7064.
» Enjoy a tour of the garden with special emphasis on its history involving Dr. William F. Hillebrand, who sowed its first seeds in the mid 1800s.
The 1 to 2:30 p.m. Saturday tours begin Jan. 14, guided by Liesel Vander Leeden.
Admission is $5; kamaaina, $3; children ages 6 to 12, $1.
Reservations required. Call 522-7066.
Hotel perks at home
Now you can feel like you're on vacation in your own bedroom. And you won't even have to stuff a single hotel room towel or robe in your suitcase and then feel guilty about it.
Hilton Hotels is offering some of its custom-designed items -- beds, bedding, clocks and more -- for purchase at its Web site.
These are some of the same items that were used in the renovation of the U.S. Olympic Training Center in Colorado Springs. Hilton Hotels is calling it the Olympic "Competitive Advantage," as the dorm rooms will be inhabited by the U.S. Olympic athletes.
Check the Web site out at www.Hiltontohome.com.
---
Do it!
---
THU.
'Turner's Come and Gone'
The Actors' Group continues its current season with the production of "Joe Turner's Come and Gone" by the late, great playwright August Wilson, part of a historical cycle where Wilson chronicled the African American experience in the 20th century, decade by decade.
Directed by Russ Motter, it's the story of Herald Loomis who, after seven years of bondage at the hands of the notorious title character, is a man "who has done forgot this song, forgot how to sing it." Set in Pittsburgh of the 1910s during the the migration of Southern folk to the industrial North, Loomis' journey includes the search for his wife and the unexpected recovery of both his ancestral and regional roots.
» Place: Yellow Brick Studio, 625 Keawe St.
» Time: 7:30 p.m. Thursdays through Saturdays, and 4 p.m. Sundays, through Feb. 5
» Tickets: $12 to $15
» Call: 550-8457 or online at honoluluboxoffice.com
FRI.
Tribute and remembrance
In memory of the Ehime Maru tragedy, the Roppongi Japanese Male Chorus will join the men of the Honolulu Symphony Chorus in the North American premiere of contemporary classical composer Shigeaki Saegusa's "Tengai Cantata." Naoto Otomo will conduct the Honolulu Symphony.
» Place: Blaisdell Concert Hall
» Time: 8 p.m. Friday and 4 p.m. Sunday
» Tickets: $21 to $64
» Call: 792-2000 or go online at ticketmaster.com
SAT.
Plantation days
"Relive the Plantation Days 2006" kicks off with a focus on Puerto Rican heritage, and will include cooking demonstrations and games.
On the first Saturday of each month, Plantation Village will focus on a plantation heritage, and guides will be available at village homes to provide details about the ethnic groups that worked and lived on the plantations during the early 1900s.
» Place: Hawaii Plantation Village, 94-695 Waipahu St.
» Time: 10 a.m. to 2 p.m.
» Tickets: $7; children 11 and under admitted free
» Call: 677-0110
SUN.
Greeting the new year
The Japanese Cultural Center of Hawaii opens 2006 with its largest celebration of the year, the New Year's Ohana Festival.
Mixing traditional Japanese New Year's customs with local cuisine and entertainment, the festival is a great way for the community to come together as family.
» Place: JCCH, 2454 S. Beretania St. Free trolley available from UH.
» Time: 10 a.m. to 4 p.m.
» Call: 945-7633
Three Kings
The United Puerto Rican Association of Hawaii will hold its 32nd annual Three Kings celebration, marking the occasion with a Spanish-language Mass and Latin-themed entertainment to follow.
» Place: St. John's, 2324 Omilo Lane
» Time: Mass at noon ; festivities from 1:30 to 6 p.m. at UPRAH's Social Hall, 1249 N. School St.
» Donation: $5 for adults at UPRAH
» Call: 285-0072
Elmo and friends
Is your child at an age where Oscar, Elmo and Grover are a part of your vocabulary? Head on down to "Sesame Street Presents: The Body." Kids can learn about their skin and fun ways to stay healthy, through this interactive exhibit, which will be on display through April 2.
» Place: Bishop Museum, Castle Memorial Building, 1525 Bernice St.
» Time: 9 a.m. to 5 p.m.
» Admission: $3 for members and military and free for children under 3; $14.95 general adult; $11.95 seniors 65 and over and for children ages 4 to 12.
» Call: 847-3511 or go to www.bishopmuseum.org
Do It! At a Glance
» Saturday:
Rufio, Over It and two more bands to be announced. 7:30 p.m. at the Pink Cadillac, 478 Ena Road. Tickets are $12 in advance, $15 at the door. Go to
www.808shows.com/presale.html
.
» Sunday: Pali, Paul Shimomoto and Holunape for the Na Mele Nei Concert series. Noon at the Ward Warehouse stage. Free.
» Jan. 12: The New Shanghai Circus will dazzle audiences with jar juggling, dancing lions and trapeze stunts by more than 40 performers. At 2 and 7:30 p.m. Jan. 14 and 15, and 7:30 p.m. Jan. 12 and 13 at the Hawaii Theatre. Tickets are $20 to $30 with discounts available for children under 12, military and seniors. Call 538-0506.
» Jan. 12: Funkanometry Dance Company offers 20 workshops from Jan. 12 to 15. Cost is $15 per class plus a $5 workshop registration fee. Call 479-7237.
---
Coming Up
Jan. 14
This one's for you
Taking the stage one! more! time! is Led Zepplica, Southern California's answer to Led Zeppelin. Billed as the "Stairway to Heaven" concert -- what else? -- Led Zepplica will take requests and dedications in honor of military fans who cannot be at the show. (DVDs of the concert will be shipped off to the particular troops.) Ghost Band will open up the show.
» Place: Pipeline Cafe, 805 Pohukaina St.
» Time: 7 p.m.; doors open at 6 p.m.
» Tickets: $20 in advance, $40 for VIP members
» Call: 926-3000 or go to www.pipelinecafe.net
Get ready for the ball
If you're young and hip or have a youthful, hip perspective, the Honolulu Academy of Arts is holding a gala just for you: The "Starlight Ball -- Red: Celebrate Chinese New Year."
The museum will be transformed into a Chinese New Year festival for the black-tie event that features a lion dance, gourmet cuisine, music by DJ James Coles and a silent auction.
The "Starlight Ball" kicks off the academy's 2006 ARTafterDARK monthly events.
» Place: Honolulu Academy of Arts, 900 S. Beretania St.
» Time: 7 p.m.
» Tickets: $75 per person
» Call: 532-6099 for reservations or online at www.artafterdark.org
Jan. 21
Chinese New Year
The Wah Ngai Lion Dance Association, runners-up in the 2002 and 2004 freestyle dance portion of the Hawaii World Invitational Lion Kings Competition, will perform a lion dance at Hawaii Kai Towne Center in greeting the Chinese New Year.
The Lion Dance tradition, which dates back to the Han Dynasty (205 B.C. to A.D. 220), is thought to bring good luck and happiness. Who couldn't use more of that?
» Place: Hawaii Kai Towne Center
» Time: 11 a.m. to 1 p.m. Jan. 21
» Call: 396-0766
Jan. 27
Rock me, Amadeus
Wish Wolfgang a happy 250th birthday with the clarinet section of the Honolulu Symphony. James Moffit, Scott Anderson and Norman Fosterwill all play the uncommon basset horn. They will be joined by soprano Vicky Gorman, among others, in performing some of Wolfgang Amadeus Mozart's chamber music -- including some of the composer's personal pieces written especially for friends.
As Moffit says, "Basset horns do rock and we'll prove it! ... I don't think any of this music has ever been performed here in its original instrumentation."
» Place: Atherton Performing Arts Studio, 738 Kaheka St.
» Time: 7:30 p.m. Jan. 27
» Tickets: $10 to $17.50
» Call: 955-8821
Coming Up! At a Glance
>>
Jan. 13:
Folk blues singer-guitarist Keb' Mo', 8:30 p.m. Hawaiian Hut, Ala Moana Hotel. Tickets $40 advance. Call 941-5205, charge-by-phone 545-2980.
» Jan. 13: Jomel Sumira, 8 to 8:40 p.m. appearance at Borders Books & Music at Ward Center; noon to 1 p.m. Jan. 14 vocal and ukulele performance at Ala Moana CenterStage. Free.
>> Jan. 14: New York-based Jewish music group Shashmaqam performs 8 p.m. at the Imin International Conf. Center, East-West Center. Cost: $10 -$15. Call: 956-7235.
>> February: If you're a "know-it-all," "Jeopardy" representatives might like to talk to you next month, when the casting department comes to the island to interview applicants for the long-running TV quiz show. Register at www.jeopardy.com.
>> Feb. 11: The holiday shopping rush might be over, but stock up early for next year at the Honolulu Academy of Arts' annual Academy Shop clearance sale. Find such items as art books, folk art, posters, jewelry, stationery and ethnic clothing at bargain prices. 10 a.m. to 4:30 p.m. through Feb. 14, except Feb. 12, when hours are 1 to 5 p.m.