PHILIPPINES JOURNAL
History, pride connect the islands
Day 1 - Jan. 4
I ARRIVED last night in Manila and was greeted at Ninoy Aquino International Airport by Ilocos Sur Gov. Luis Singson, Mandaluyong Mayor Neptali "Boyet" Gonzales and Congressman Robito Albano.
Because we arrived at night, I was unable to see much on the way to the hotel. It wasn't until this morning that I got my first glimpse of this bustling, vibrant city and the people who call Manila home.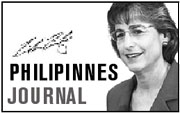 Editor's note: Gov. Linda Lingle is touring the Philippines in celebration of the 100th anniversary of Filipino immigration to Hawaii. She is writing a daily journal of her trip for the Star-Bulletin.
OUR FIRST STOP was a meeting with Archbishop Angel Lagdameo of the Catholic Conference of the Philippines and Mayor Gonzales. The archbishop was quite open and candid about the challenges facing the Philippines.
He and Mayor Gonzales spoke of the urgent need to find solutions to help the working poor. They shared how they are reaching out to Filipino communities in Hawaii and other places to find "sponsors" to assist in providing housing for the thousands of families who are living as squatters in slum areas of Philippine cities.
We also discussed the challenges of ensuring that all Filipinos have an opportunity to share in the nation's economic growth and prosperity.
After leaving the archbishop's office, we were running ahead of schedule. It gave us an opportunity to walk around the historic walled city of Intramuros. We came across St. Augustin Church, where Rep. Felipe "Jun" Abinsay Jr. (D, Kalihi-Kapalama), who is part of our mission's planning committee, informed me was where he was married in 1981. Adjacent to the church, that was built in 1587, was a museum which showcases the church's history in the Philippines, as well as Filipino, Spanish and Chinese art treasures.
Not far from the church, we also saw the former barracks and headquarters of Gen. Douglas MacArthur.
OUR SECOND meeting was with Secretary of Foreign Affairs Alberto Romulo, who shared that his first sense of the United States was Hawaii, and his first sense of Hawaii was our large Filipino community. The secretary was very familiar with our state, and said he was particularly impressed with the work of Father Damien, who ministered to the leprosy victims at Kalaupapa on Molokai. The Philippines had its own leprosy colony, which did not benefit from the compassion of individuals like Father Damien.
IN THE AFTERNOON, we met with Secretary of Defense Avelino Cruz Jr., when I was proud to join State Adjutant General Maj. Gen. Robert Lee and Maj. Geronimo Mateo of our state Department of Defense in presenting two large boxes of medical supplies that had been donated by Kaiser Medical Center and the Hawaii National Guard. This shipment is just the first of many medical supplies that Hawaii will be sending to the Philippines as part of a partnership between our National Guard and the Armed Forces of the Philippines.
This evening, we attended a dinner hosted by Mayor Gonzales, where we were treated to a Filipino cultural show. Entertainers from Hawaii's Tihati's Polynesian Review shared the stage and showcased our own unique culture with the people of Manila.
This first day has been a tremendous way to start our mission to the Philippines. As the honorary chairwoman of the Filipino Centennial Celebration Commission, I have two primary goals as we observe the Centennial throughout 2006. First, I hope the celebration will give the people of Hawaii who are not Filipino a better understanding of the Filipino culture and the significant achievements and contributions they have made to our state. Second, I hope the Centennial will instill an increased sense of pride in young Filipinos growing up in Hawaii about their culture and heritage.
I am confident that we will achieve these two goals. And this Centennial Celebration Mission, 178-members strong, will play a big part in the year-long celebration.