---
[ FAST FACTS HAWAII ]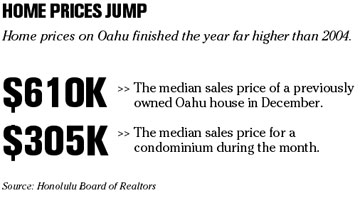 ---
BACK TO TOP


|


HAWAII
Hotel revenues will break 2004 record
Driven by tight supply of hotel rooms and continued travel demand, Hawaii hotel rates have enjoyed strong gains, which should lead the industry to another record-breaking year in hotel revenues, according to a report released this week by
Hospitality Advisors LLC
.
The local hotel industry generated more than $2.73 billion in room revenues through November, already matching the previous annual room-revenue record of $2.73 billion achieved for the full year of 2004, said Joseph Toy, president of Hospitality Advisors.
The statewide average daily rate for a hotel room increased 9.4 percent to $164.88 for the 11 months ended in November, while occupancy gained 3.3 percentage points to 81.6 percent.
Occupancy and room rates improved on all islands in November and for the year, with the exception of Kauai. The Garden Island recorded a slight drop in occupancy to 78.3 percent, although the average daily room rate increased to $182.63 from $176.23 the year earlier.
NATION
Scrushy must give back bonuses
BIRMINGHAM, Ala. » Fired
HealthSouth Corp.
CEO Richard Scrushy must repay more than $47 million in bonuses he received while running the medical rehabilitation chain amid a huge fraud, despite being acquitted in the scheme, a judge ruled. Scrushy plans to appeal.
The ruling by Jefferson County Circuit Judge Allwin E. Horn III came Tuesday in a shareholder lawsuit filed in 2002, when authorities were investigating allegations of insider trading by Scrushy, HealthSouth's main founder. While Scrushy was never charged with insider trading, the investigation exposed fraud at the company.
Federal jurors acquitted Scrushy on all criminal charges last year, but Horn said the ousted chief executive still must repay the company $47.8 million in bonuses and interest he earned while running HealthSouth from 1997 through 2002. While the company initially reported profits during the period, Horn wrote, HealthSouth really lost money, making Scrushy and other executives ineligible for any bonuses.
'Sober' worm may return tomorrow
Microsoft Corp.
released software to protect Windows operating system users from a fresh attack from the "Sober" e-mail worm, timed to begin this week during the 87th anniversary of the Nazi Party's founding.
A variant of the worm, a malicious program that can be used to slow Internet traffic, is scheduled to arrive tomorrow, Microsoft spokesman Erik Denny said.
The threat comes as Microsoft, the world's biggest software maker, works to shore up another weakness in Windows, which runs 95 percent of personal computers. The Redmond, Wash.-based company said yesterday that a flaw discovered last week won't be fixed until next week. The delay leaves computers vulnerable to hackers who can destroy files or use the machines for malicious purposes, according to anti-virus software maker Symantec Corp.
H&R Block creates Social Security snafu
KANSAS CITY, Mo. »
H&R Block Inc.
mistakenly mailed out free copies of its tax return software that included the recipients' Social Security numbers on the mailing label, a company spokes-woman acknowledged yesterday.
The Kansas City-based company estimates less than 3 percent of the mailings included the numbers, though spokeswoman Denise Sposato declined for competitive reasons to say how many copies of the TaxCut software went out.
The company began mailing letters to the recipients on Dec. 22 warning them about the mix-up and created a Web site for questions.
Wal-Mart CEO defends retailer's performance
BENTONVILLE, Ark. » Wal-Mart Chief Executive Lee Scott, taking issue with how Wall Street is judging the company's holiday sales performance, said yesterday he is pleased with the year's results and is counting on changes in merchandise, management and public relations to bolster growth in 2006.
The company estimates its December sales at stores open at least a year came in at about 2.2 percent, the low end of its original forecast. But Scott said he views that as being less important than the $2 billion increase in total sales last month at new and existing stores.