---
[ FAST FACTS HAWAII ]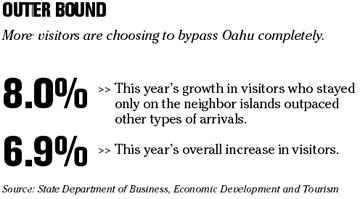 ---
BACK TO TOP


|


HAWAII
Bank to open branch in Hawaii
The state Division of Financial Institutions has granted the
Bank of the Federated States of Micronesia
approval to establish an intra-Pacific bank branch in Hawaii for commercial purposes. The proposed bank will not be open to the public or accept any deposits; its purpose will be to allow the company to maintain a federal routing number and access to the U.S. payment system.
The lender, which opened as a commercial bank in 1986, has branches in each of the four states of Micronesia including Kosrae, Pohnpei, Chuuk and Yap. The planned commercial banking branch in Honolulu will be at 614 South St.
The bank submitted an application with the state agency in October. The approval was granted Nov. 29.
[HAWAII INC.]
PROMOTIONS
»
Frank Lavey
has been promoted to vice president /managing director of the Hyatt Regency Maui Resort and Spa. He will be responsible for assisting with field operations for the company's Northwest Division and managing day-to-day activities within the Kaanapali Resort property. He previously served as general manager of the Hyatt Regency Maui and the Hyatt Regency Waikiki.
» Ko Olina Resort & Marina has appointed Tim Dietrich director of Ko Olina Clubs. He will manage the operation and oversee membership amenities for all Ko Olina Club facilities, including the Ko Olina Sports Club. He originally joined Ko Olina Golf Club as director of instruction and has over 20 years of experience as a resort manager.
AWARDS
» ResortQuest Hawaii has named
Danilo "Danny" Balantac
a recipient of Gaylord's President's Award, the highest award given by
Gaylord Entertainment Co.
Balantac is a bell attendant at the ResortQuest Pacific Monarch and was nominated and chosen from more than 12,000 employees. Earlier this year, he was also named the Outstanding Lodging Employee of the Year at the 2005 Hawaii Hotel & Lodging Association's Na Po'e Pa'ahana awards.
ON THE BOARD
»
Rex Johnson
, president and chief executive of the state Hawaii Tourism Authority, has been appointed to serve on the U.S. Travel and Tourism Advisory Board. He will be one of 15 travel and tourism industry executives from across the nation to serve on the board. His term will expire in September 2007.
» The Friends of the John A. Burns Medical School have elected state Rep. Kirk Caldwell and businesswoman Christine Lau as the newest directors. Caldwell represents Manoa-Moililii and also works as a private attorney. Lau operates Island Veterinary Care with her husband and served as co-chairwoman of the 2004 Punahou Carnival.
NATION
Boyd to spend $4B on resort complex
Boyd Gaming Corp.
said it will spend $4 billion to revamp the 63-acre site of the Stardust casino on the Las Vegas Strip and build a resort complex that will open early in 2010.
Echelon Place will combine with Echelon Resort, which is wholly owned by Boyd, the company said today in a statement. It will work with Shangri-La Hotels Bhd and Morgans Hotel Group Co. to manage three hotels. Boyd also plans to build a 350,000-square-foot retail promenade on the site.
With land values in Las Vegas rising, casino companies are building more than just resorts on the Strip, a four-mile stretch of Las Vegas Boulevard that's the center of the world's largest gaming market. MGM Mirage, the world's No. 2 casino company, has said it will build condos, hotels and a casino on 66 acres it owns on the Strip.
Stardust, which opened in 1958, will operate through 2006, Boyd said in the statement.
Manhattan apartment sales dive
Apartment sales in Manhattan, the priciest urban neighborhood in the country, toppled 27 percent to a 10-year low in the final three months of 2005 as rising mortgage rates muted a four-year boom. The cooperatives and condominiums that did sell generally went for higher prices as bonus-rich Wall Street executives spent lavishly on luxury units.
The number of units sold fell to 1,574 from 2,161 a year earlier, according to a report today by appraiser Miller Samuel Inc. and brokerage Prudential Douglas Elliman. That's the fewest since the second quarter of 1996, the end of a six-year slump that cut values by 26 percent. The average sales price was $1.19 million, up 20 percent.
New Yorkers who marveled when the average price of all apartments sold hit a record $1.32 million in June are now talking about how far values may fall in the largest U.S. city, says Paul Purcell, a partner at real estate consultants Braddock & Purcell LLC in New York.
"Real estate comes before sex as the No. 1 topic at any Manhattan cocktail party," Purcell says. Yesterday, he sold his one-bedroom apartment for $1.7 million after cutting the asking price 8 percent in December. "Now everyone is talking about prices dropping."
Microsoft preparing fix for Windows flaw
SEATTLE »
Microsoft Corp.
says it will be at least a week before it issues a fix to a recently discovered vulnerability that could let an attacker take control of an Internet-connected computer.
Microsoft said yesterday it has created a patch for the flaw in its Windows operating system but needs to test it first. The software giant said it hopes to release the patch as part of its regular monthly security updates next Tuesday.
The Redmond company confirmed late last week that some people were trying to take advantage of a flaw in an element of Windows that is used to view images. If a user is tricked into viewing an image, such as on a malicious Web site or within an e-mail attachment, that person's computer could be attacked.
In other news ...
Walt Disney Co.
plans to sell condensed video versions of four college football bowl games on
Apple Computer Inc.
's
iTunes Music Store
.
Videos of the Sugar, Fiesta, Orange and Rose bowls will cost $1.99 each. Disney will add other shows to the video programs it sells through iTunes later this month, the Burbank, Calif.-based company said yesterday in a statement.
WORLD
World's biggest bank debuts in Japan
TOKYO » The
Bank of Tokyo-Mitsubishi UFJ
, which just became the world's largest bank, opened for business today with a tape-cutting ceremony at Tokyo headquarters.
The merger of Mitsubishi Tokyo Financial Group Inc. and UFJ Holdings Inc. was completed Sunday, creating the world's largest financial group by assets at around $1.6 trillion, topping U.S.-based Citigroup Inc.'s $1.55 trillion, based on the most recent company figures.
The Japanese financial giants merged Oct. 1 to become Mitsubishi UFJ Financial Group Inc., but the merger of the group's core banks had been pushed back as engineers rushed to integrate their computer systems and automated teller machines.