---
[ FAST FACTS HAWAII ]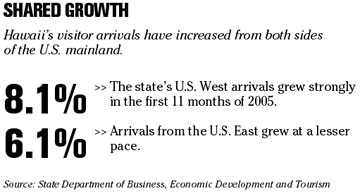 ---
BACK TO TOP


|


NATION
ACS near deal to sell for $8B
A consortium of investment firms is nearing a deal to buy
Affiliated Computer Services
, a technology outsourcing company, for more than $8 billion as negotiations continued through the holiday week, people involved in the talks said yesterday.
A deal could be reached by the end of the week, the executives said, though they warned that while the negotiations had so far been successful, it was still possible that talks could collapse. It was also possible that another suitor could emerge.
The investor group is being led by the Texas Pacific Group and includes Bain Capital and the Blackstone Group, these people said. The group is prepared to pay as much as $65 a share, these people said. That would represent a 9.8 percent premium above Affiliated's stock price of $59.18 on Friday and about a 12 percent premium above the share price before news of the talks was reported Dec. 23.
Appetite for hot IPOs subsides
U.S. companies backed by venture capital raised 48 percent less from initial public offerings in the fourth quarter than a year earlier, as a lackluster stock market reduced demand for new share sales, a survey found.
Seventeen venture-backed companies raised $1.57 billion through IPOs, down from 27 companies raising $2.99 billion a year earlier, according to a report from New York-based Thomson Venture Economics and the National Venture Capital Association, a trade group based in Arlington, Virginia.
A stagnant stock market -- the Standard & Poor's 500 Index rose less than 3 percent during the past year -- and the costs to comply with stricter corporate-governance rules for public companies have combined to make it less attractive for companies to sell shares to the public in recent years.
WORLD
Starbucks wins trademark dispute
BEIJING » A Chinese court has sided with Starbucks in a trademark dispute, fining a Shanghai coffee house company and ordering it to change its name because it's too similar to the American company's, according to news reports.
The Shanghai No. 2 Intermediate People's Court said Shanghai Xingbake Cafe Corp. engaged in "illegitimate competition" by using Starbucks' Chinese name and imitating the design of its cafes, the China Daily said. Xing (pronounced "shing") means star, and bake, or "bah kuh," sounds like bucks.
Judge Lu Guoqiang's ruling Saturday also ordered Shanghai Xingbake to pay Seattle-based Starbucks Corp. 500,000 yuan, or $62,000, in damages, the China Daily and the Shanghai Daily reported.
Starbucks opened its first cafe in China in 1999. It later caused a stir by adding outlets in Beijing's imperial palace and at the Great Wall, north of the Chinese capital.
Partners drop bid to build first casino
SINGAPORE »Macau casino magnate Stanley Ho and the media and gaming empire headed by Australia's Packer family have abandoned their joint bid to build Singapore's first casino, Ho's company said today.
Ho's Melco International Development Ltd. said in a legal notice that it and Australia's Publishing & Broadcasting Ltd. were pulling out because of high capital costs and low expected returns for the planned casino resort at Marina Bay, just outside Singapore's downtown business district.
PBL head Kerry Packer died last week at age 68, setting the stage for the elder of his two children -- James Packer, 38 -- to become the fourth generation of the Packer dynasty to run the family business.
The scrapping of plans to build a new casino is the first major business decision announced by PBL since Kerry Packer's death.
Prices of natural gas decrease
SINGAPORE » Natural gas prices dropped today, seemingly unaffected by a pricing dispute between Russia's Gazprom and Ukraine that threatened European gas supplies, though the Russian monopoly has promised to maintain deliveries.
Natural gas was down 46.5 cents to $10.76 on the New York Mercantile Exchange in Asian electronic trading in the early afternoon in Singapore.
One analyst said Russian state-controlled OAO Gazprom's efforts to restore gas flow had helped ease upward pressure on prices.
Singapore GDP jumps 9.7 percent in quarter
Singapore's economy expanded faster than expected in the fourth quarter, led by exports of electronics and pharmaceuticals. Stocks rose.
Southeast Asia's fourth-largest economy grew an annualized 9.7 percent in the final three months of 2005 following a revised increase of 8.6 percent in the third quarter, the trade ministry said in a report today. The median forecast in a Bloomberg survey of seven economists was a 7.5 percent gain.
Rising global demand for electronics goods is spurring sales for Singapore companies including Chartered Semiconductor Manufacturing Ltd. and helping lift growth in the city-state and other Asian exporters such as Malaysia, South Korea and Taiwan. Singapore's $107 billion economy is also benefiting from higher output from drugs companies such as Schering-Plough Corp.