10 TO WATCH IN '06
Johnson is on track for Grammy
To say it's been a whirlwind year for Jack Johnson would be an understatement.
The local surfer-documentarian became a major national musical figure in 2005, even though some music writers on the mainland have been, well, bemused by the popularity of his laid-back batch of tunes.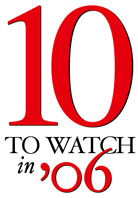 The Star-Bulletin's list of predicted movers and shakers for 2006 starts with singer, songwriter, surfer and environmentalist Jack Johnson.
Still, his fan base has expanded from its natural, jam-band roots to make his album "In Between Dreams," released in February, his biggest seller to date.
Johnson's musical career also received a tremendous boost when he was showcased on "Saturday Night Live" a month after "Dreams" came out.
The one writer who "gets" what Johnson's about is the New York Times' Kelefa Sanneh. In a review of Johnson's two sold-out concerts in Central Park, Sanneh summed up Johnson's artistry in one opening line: "Jack Johnson's temperament perfectly matches the ocean he loves so much."
He also embodies the tropical island ethos we, as locals, grew up with: Hang loose, kick back and be enraptured by the embrace of the Pacific Ocean.
Johnson broadened the "local boy makes good" scenario by keeping close to his North Shore roots, and actively gives back to the people and environment.
He and his wife co-founded the Kokua Hawai'i Foundation and hosted an immensely successful second annual festival at the Waikiki Shell in April. The deftly planned mixture of guests ranged from activist-performers Jackson Browne and Ozomatli, to groove compatriots G. Love & Special Sauce, to sympathetic local acts such as John Cruz and Kawika Kahiapo & Kaukahi.
While his status in the islands is assured, Johnson's national profile continues to grow. Last month, a dual-disc DVD was released nationally, documenting his summer tours in Northern California and Japan.
And '06 starts with promise. Johnson could take home a Grammy Award -- or two. He is up for the Male Pop Vocal Performance accolade for "Sitting, Waiting, Wishing," the lead single on "Dreams." And, with the Black Eyed Peas, he's in contention for the Pop Collaboration with Vocals Grammy for "Gone Going." His music will also be heard in theaters in early February, on the score for the animated feature "Curious George."