TOP 10 STORIES OF '05
Little leaguers loomed large in 2005
1. Ewa Beach wins title: No other local sports story produced the drama of the Little League team from Ewa Beach. For a 10-day stretch in August, these youngsters captured the hearts and minds of local baseball and non-baseball fans alike. Not only did they defeat defending champion Curacao, but they demonstrated a flair for the dramatic with Michael Memea's game-winning homer in the bottom of the seventh to secure the 7-6 win.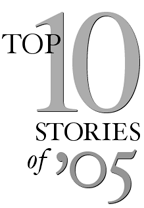 2. Viloria gets a belt: Waipahu native Brian Viloria is the newest edition of the Hawaiian Punch. His crushing knockout of Eric Ortiz to bring home the World Boxing Council light flyweight belt was quite an accomplishment for the Olympic fighter. He defends his title next month in Las Vegas, where he hopes to continue a promising career with promoter Bob Arum.
3. Wie turns pro: Teen golfer Michelle Wie turned pro in the fall to become the $10 million baby. Since signing deals with Nike and Sony, Wie has played in two pro events. She was DQ'd in the first and missed the cut in the second. But they are only small detours in a promising career.
4. UH stuns Spartans: Opening the season with a blowout win over then-No. 4-ranked Michigan State has left the Hawaii basketball team in need of an encore. Still, on that November afternoon, veteran basketball coach Riley Wallace was king of the courts.
5. Clay gets the gold: Bryan Clay first showed that good things come in small packages when he captured the silver medal in the decathlon at the 2004 Olympics. He came back a year later to win the gold at the World Track and Field Championships, and celebrated by running around the track draped in the American flag.
6. Kahuku wins again: Those who were there at Aloha Stadium to watch Kahuku rally to beat Punahou for the state championship in football will not forget it. Fans yelled, the stands swayed and the Red Raiders rallied to break the hearts of the Buffanblu.
7. Iolani makes it four: Derrick Low may have left the building, but the Raiders didn't miss a beat as they won their fourth consecutive title in boys basketball. Kyle Pape scored 27 points in the win over Kahuku.
8. Lee does it again: Even though he moved up in weight, it didn't keep Cornell's Travis Lee from winning his second national championship in wrestling. The former Saint Louis star is the only wrestler from Hawaii to manage that feat.
9. Irwin wins five straight: In all the golf tournaments in all the world, only Hale Irwin has won the same event five consecutive times. He whipped Dana Quigley by five shots in the Turtle Bay Championship.
10. Kono also: Stephanie Kono proved Wie isn't the only talented golfer in the islands by winning the PGA Junior title this summer in Westfield, Ohio.