TOP 10 STORIES OF '05
Brush fires, gas cap top isle headlines
1. West Oahu brush fires: Shrouded in a dark cloud of smoke, the brush fire season arrived early, bringing stinging misery to tens of thousands of residents, mostly in West Oahu. The fires closed schools and a health clinic, disrupted people's lives, burned thousands of acres and cost tens of thousands of dollars to fight, making them the top story of 2005.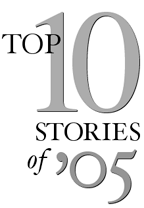 2. The gasoline cap: Lawmakers argued for years about its merits before the law finally went into effect on Sept. 1. Hurricane Katrina injected wild fluctuations into local fuel prices.
3. Iraq: The war remained a major concern for Hawaii, a state that has contributed heavily to the effort. 2005 had its share of deaths: a National Guardsman, an Army Reserve sergeant, 26 Kaneohe Marines and a Pearl Harbor sailor.
4. Kamehameha Schools: It withstood intense pressure for its 117-year-old policy of restricting admission to native Hawaiians. But on Aug. 2 a panel of the 9th U.S. Circuit Court of Appeals ruled 2-1 that the admission policy is "unlawful race discrimination." Kamehameha is petitioning for a rehearing.
5. Tsunami relief: Residents poured their aloha by the bucketful, raising money and supplies for tsunami relief in southern Asia. Many others traveled to aid in recovery and reconstruction.
6. Hui Malama I Na Kupuna O Hawaii Nei: The group's leader, Eddie Ayau, was sent to jail earlier this week, capping the latest chapter in a saga that has divided native Hawaiians when he refused to disclose where 83 artifacts were reburied in caves on the Big Island.
7. Fees and taxes: Already facing increases, residents will see the general excise tax on Oahu rise to 4.5 percent from 4 percent in 2007 to help pay for a mass-transit system.
8. Peter Kema files: In an unprecedented move, the Department of Human Services released secret files on Peter Boy Kema Jr., who was 6 when he disappeared in 1997, hoping to generate new leads and to stimulate discussion on its policies.
9. Traffic deaths: With 77 fatalities through Thursday, Oahu has already surpassed 2004's total of 71. And pedestrians have carried a heavy burden, with 34 pedestrian fatalities through Thursday -- 12 struck while in a crosswalk -- despite a new state pedestrian law that went into effect in May.
10. Beverly Harbin: Gov. Linda Lingle's appointment to the state House proved controversial after the media uncovered that she failed to disclose misdemeanor criminal convictions and $125,000 in state tax debts. Harbin refused to resign.