TOP 10 STORIES OF '05
'Lost' leads show-biz news in isles
1. "Lost": The ABC series, made in Hawaii, won television's Emmy Award for Dramatic Series in its freshman year. Co-creator J.J. Abrams also snagged an Emmy for directing the pilot, the most expensive in TV history. The series' sophomore year started out with new characters, and a number of actors not dealing well with Hawaii's speed limits.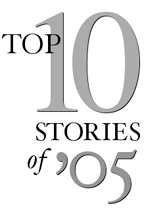 2. The Hawaii International Film Festival: The festival turned 25, a quarter-century after Jeannette Paulson, the "Story Lady of Kaimuki," hit on this cinematic way of publicizing the East-West Center's mission. Since then the festival has become a major market for Asian films.
3. Don Ho: The entertainer who not only crashed an airplane while serving as an Air Force pilot, but also survived Waikiki night life in the swinging '60s finally had trouble with his heart. He made history by undergoing an experimental medical procedure in Thailand.
4. Bishop Museum: After years of false starts, the museum finally completed its Science Learning Center, another step in becoming a world-class lifelong-learning facility.
5. The Grammy Awards: The Grammys introduced a category of Best Hawaiian Music. The winner of the first-ever award was "Slack Key Guitar, Volume 2" -- over favorites Keali'i Reichel and the Brothers Cazimero.
6. Eagles: It was a monster tour, with monster ticket prices, but the Eagles' reunion gig at Blaisdell Arena gave local fans a peaceful, easy feeling.
7. Duane "Dog" Chapman: The bounty hunter put Hawaii's small-time bail jumpers on the map with a hugely successful "Bounty Hunter" reality TV show on A&E, spinning off bounty-hunter expertise on other networks as well.
8. "Red Party": Ala Moana Center's fashion-and-food extravaganza that drew notable "fashionistas" from around the world.
9. Jack Johnson and Jake Shimabukuro: Forget J.J. Abrams, the double-J's this year were Jack and Jake. Writer/performer Johnson scored two Grammy nominations, and uke whiz Shimabukuro's performance on Conan O'Brien helped goose the international profile of these two local artists.
10. Yoshitomo Nara art exhibit: The Contemporary Museum exhibit introduced a cultish Japanese artist outside the Home Islands, a melding of pop aestheticism and childlike -- not childish -- wonder.