TOP 10 STORIES OF '05
Real estate, tourism make big headlines
1. Tourism: Hawaii's visitor industry, which brought in a benchmark 7 million visitors in 2005, has left residents and professionals asking, "What next?" As the industry moves into 2006, there's talk that the economic engine could be stalled by poor airport and harbor infrastructure, a lack of quality hotel rooms and airplane seats. The Hawaii Tourism Authority says the solution is to attract a greater quality of arrivals, not quantity. Time will tell.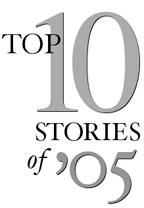 2. Real estate: Could Hawaii's record-shattering property market -- a boon to homeowners and the real estate industry, but a bane to renters and frustrated home buyers -- finally be ready to slow down? The low mortgage rates of recent years have put homes within the financial reach of more Hawaii residents, but rates are coming up along with home prices.
3. Unemployment: Hawaii's robust economy and strong job creation made history in August, when the unemployment level dropped to 2.6 percent -- its lowest in 15 years.
4. Controversy on the waterfront: Alexander & Baldwin won the right to develop a $650 million "urban village" on the Kakaako waterfront in partnership with the state. A&B scaled back its plans, but a potential fight looms in the Legislature.
5. Flying out of bankruptcy: After a tumultuous 26 months, Hawaiian Airlines emerged from bankruptcy in June, but an 11th-hour appeal from a federal pension agency kept competitor Aloha Airlines from emerging from bankruptcy before the end of the year as planned.
6. Less room at the inn: Hot sales of condominiums and lagging demand for budget hotel rooms are fueling a cycle of condominium and time-share conversions. Roughly 5,000 of the roughly 70,000 rooms in the state have been converted or slated for conversion since 2000.
7. Interisland: Mesa Air Group Inc. announced plans to start interisland flights in Hawaii, putting more pressure on Aloha and Hawaiian airlines and thwarting another company that had also planned to initiate interisland service.
8. New phone number: After acquiring Verizon Hawaii's telephone lines, the Carlyle Group rebranded the assets as Hawaiian Telcom. But the company has continued to lose wire-line customers, following a national trend.
9. College flunks: The Hawaii College of Pharmacy was shut down after the state said school administrators illegally misled students about the college's accreditation status and affiliations, and accused the college's dean of wrongfully intimidating students who sought redress.
10. General Growth makes waves: Ala Moana Center is the top-performing shopping center by total sales of the 209 malls owned and managed by Chicago-based General Growth Properties Inc. in 44 states.