The Bloomberg /
Star-Bulletin Index
---
The Bloomberg / Star-Bulletin Index is a price-weighted index designed to measure the performance of Hawaii-based companies. The index was developed with a base value of 100 as of December 31, 1999. A chart of the index which shows the weekly performance of its members is published weekly in the Honolulu Star-Bulletin.
Hot year for Barnwell
Barnwell Industries Inc
. was the top-performing stock in the Bloomberg Honolulu Star-Bulletin index this week, gaining 24 percent.
It was a fitting finish for the water- and oil-drilling company, which is also the best performing stock in the index for the year, with a 103 percent gain. Its close yesterday at $25.10 brings it near its Nov. 15 high of $27.80.
Coming in second for the second week in a row was Cyanotech Corp., gaining just over 6 percent for the week, closing at $0.65. However, Cyanotech remains the worst-performing stock in the index this year, down 55 percent.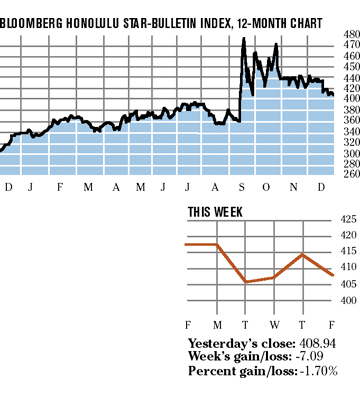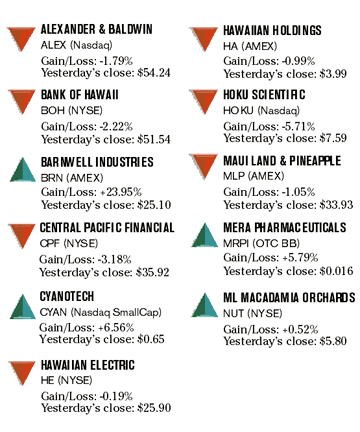 SOURCE: BLOOMBERG NEWS
STAR-BULLETIN GRAPHIC