---
[ FAST FACTS HAWAII ]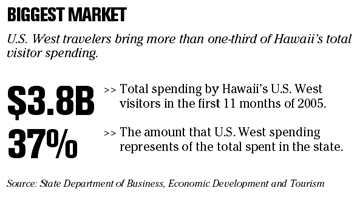 ---
BACK TO TOP


|


HAWAII
Isle banker named to S.F. Fed position
The Federal Reserve Bank of San Francisco has appointed Honolulu resident Cathy Luke to its advisory council, along with two other business executives from California and Oregon.
Luke is president of Loyalty Enterprises Ltd., a property management and investment firm. She serves on advisory boards for Hawaii National Bank and Punahou School's Luke Center for Public Service; is a member of the board of governors of the Hawaii Community Foundation and Mayor Mufi Hannemann's Economic Development Committee.
Also named to the council were Grace Evans Cherashore, president and chief executive of Evans Hotels in San Diego and Roderick C. Wendt, president and chief executive of JELD-WEN Inc. in Oregon.
The San Francisco Federal Reserve Bank provides wholesale banking services to financial institutions in nine western states.
New law drove bankruptcy filings up 47 percent in '05
Bankruptcies in Hawaii rose 47 percent in 2005 over the previous year, with hundreds of people rushing to seek protection from creditors before a stricter bankruptcy law took effect.
As of late yesterday, 4,652 people had filed for bankruptcy protection in U.S. Bankruptcy Court in Honolulu in 2005. That compared with 3,164 in 2004. Many of 2005's filings came in October, before the new federal bankruptcy law went into effect Oct. 17.
Between Oct. 1 and Oct. 16, bankruptcy records show, 1,459 people or companies filed for protection. That was nearly the half of the total filings for all of 2004.
Jobs to be offered to displaced nut workers
Eight Hawaii workers whose jobs will be terminated as a result of
Hershey Co.
's acquisition of Mauna Loa Macadamia Nut Holdings Inc. will be offered the chance to work for a Hershey contractor, a company spokesman said.
Although Hershey will eliminate the product demonstrator jobs, effective today, Seville said the workers will be able to work for the contractor. Seville could not identify the contractor or say whether any of the workers had decided to take up the offer.
Kirk Seville, a spokesman for the candy giant in Hershey, Pa., said Hershey as a policy does not employ workers to pass out free samples of its products, but instead relies on subcontractors, who employ the product demonstrators.
The terminated employees will receive severance packages with full wages and benefits for 60 days.
NATION
Northwest mechanics vote to stay on strike
MINNEAPOLIS » A strike by mechanics at
Northwest Airlines Corp.
entered its 133rd day yesterday with no end in sight, after the rank-and-file rejected what one union leader called "the worst contract in the history of airline labor."
The vote was not expected to have any effect on the operations of the bankrupt airline, which has been flying for weeks with 880 replacement mechanics as well outside vendors.
Union leaders lobbied against the offer, which would not have brought back any of the 4,400 members who went on strike Aug. 19. Instead, it would have reclassified them as laid-off and made those without new jobs eligible for unemployment benefits.
The contract was rejected 57 percent to 43 percent by the 2,223 members of the Aircraft Mechanics Fraternal Association who voted, the union said.
Viacom pays $5.4 billion dividend to CBS
Viacom Inc.
paid a $5.4 billion special dividend to
CBS Corp.
as the entertainment company controlled by Sumner Redstone splits in two.
Viacom, which owns the MTV cable television business and the Paramount Pictures studio, used a $6 billion loan to fund the payment, the New York-based company said in a filing yesterday with the Securities and Exchange Commission. CBS used the money to repay debt.
The dividend is part of a Dec. 19 agreement that governs the breakup, engineered by Redstone to boost the stock by separating faster-growing Viacom from CBS, which owns radio and television networks. The shares begin trading separately on the New York Stock Exchange on Tuesday, after changing hands on a when-issued basis since Dec. 5.
Redstone, 82, separately signed an employment agreement with CBS calling for an annual salary of $1.75 million and deferred compensation of $1.3 million a year. His bonus for 2005 will be split by CBS and Viacom. For 2006 and later years, his target bonus from CBS will be double his salary and deferred pay.
WORLD
Thailand faces 'severe shortage' of sugar
Thailand, the world's second-biggest exporter of sugar, is facing a "severe shortage" of the commodity and will crack down on hoarding and illegal exports to shore-up supplies, Prime Minister Thaksin Shinawatra said today.
The government will also fix domestic prices, the premier said in his weekly radio address. He said he has ordered an investigation into warehouses suspected of hoarding sugar meant for domestic consumption with the aim of selling overseas where prices are higher. Farmers and traders will have to accommodate lower prices, Thaksin said.
"There has been a severe shortage of sugar in many provinces," Thaksin said via radio from Chiang Mai in Thailand's north. "We have set up several special teams to investigate possible warehouses that have been used to hoard sugar. The domestic price is lower than the overseas market, causing some traders to ship domestic portions of sugar to neighboring countries."