---
[ FAST FACTS HAWAII ]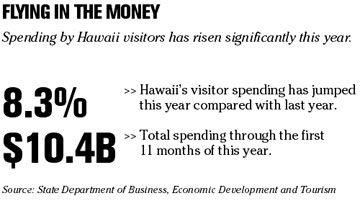 ---
BACK TO TOP


|


HAWAII INC.
NEW JOBS
»
Hawaiian Telcom
has appointed
Jay Higa
and
Paul Kainoa
as retail district managers to oversee the company's eight retail stores on Oahu, Maui, Kauai and the Big Island. Both have extensive experience in sales and retail management. Higa is responsible for the downtown, Windward Mall, Kauai and Maui locations while Kainoa is responsible for the Pearlridge Center, Mililani Shopping Center, Ward Warehouse and Hilo stores.
» Empowered Internet Solutions LLC has hired Gaylene Clark as executive administrative assistant. Her responsibilities include enhancing executives' effectiveness in providing information management support. Clark previously worked at the American Cancer Society Hawaii Pacific Inc. as a childhood cancer programs assistant and has more than 10 years of experience as a senior administration assistant.
>> Island of Lanai Properties has hired Sue Murray as the broker in charge for the luxury communities at Koele and Manele Bay. She will be responsible for the sales of Castle & Cooke's luxury communities ranging from condominium townhomes to single-family residences. Murray has over 28 years of experience including ownership of a property management company and serving as broker in charge of resort real estate sales, partner/vice president of Maui operations at Prudential locations.
» ResortQuest Hawaii has appointed Tracy Fukuda information technology systems trainer. Fukuda will be responsible for providing basic computer hardware and software training throughout all of ResortQuest Hawaii's 28 properties. Most recently she was a business analyst with the Kapiolani Medical Center for Women & Children, where she was responsible for new user training and support of the computerized charting system.
NATION
Mesa Air aims to bid for Continental work
Mesa Air Group Inc.
said it would bid to become a commuter carrier for
Continental Airlines Inc.
if Continental proceeds with a plan to hire a new partner.
Mesa Chief Executive Jonathan Ornstein said in an interview that his Phoenix-based company would be "very competitive" in seeking to provide the service. Mesa's stock rose, as did shares of SkyWest Inc. and Republic Airways Holdings Inc., two other potential bidders for the business.
Continental said yesterday that it plans to take back 69 small jets from ExpressJet Holdings Inc., now the sole provider of the Continental Express service, and seek a lower-cost operator. Continental would be shifting 25 percent of the 274 planes purchased or leased for the commuter operation. The company didn't specify which carriers it would ask for bids.
Mandarin selling New York hotel
Mandarin Oriental International Ltd., the luxury hotel arm of
Jardine Matheson Holdings Ltd.
, agreed to sell the Mark in New York for $150 million, and may use the money to expand or cut debt.
The sale to developers Izak Senbahar and Simon Elias will bring an after-tax gain of $35 million to be booked in 2006, Mandarin Corporate Finance Director Stuart Dickie said today in a phone interview in Hong Kong. The company is based in Hong Kong and listed in Singapore.
Mandarin bought the Mark in 2000 as part of the $142.5 million acquisition of Rafael Group. The sale leaves the company with one hotel in New York, the Mandarin Oriental, which opened in 2003 near Central Park.
The disposal is the second by Mandarin in 2005. In July it completed the $94 million sale of its 40 percent stake in Kahala Mandarin Oriental Hotel on Oahu, Dickie said. Mandarin has hotels under construction in Prague, Boston, Chicago, Las Vegas, Mexico, Grand Cayman and Macau, China.
Speculation over Fed drives down dollar
The dollar fell today in Tokyo on speculation minutes from the Federal Reserve's Dec. 13 meeting will signal policy makers' support for an end to rising interest rates.
The Fed stopped saying in its statement issued at the meeting that rates were at a level that would stimulate growth, suggesting it is closer to ending a policy that boosted rates to a four-year high. U.S. rates that are higher than in Europe and Japan fueled the dollar's 14 percent gain this year against the euro and yen.
"The market is focusing on how many more times the Fed will raise rates, and paying close attention to the minutes," said Masafumi Yamamoto, a currency strategist at Nikko Citigroup Ltd. in Tokyo and a former foreign-exchange dealer at the Bank of Japan. "If the minutes suggest an early end to rate increases, that will surely trigger selling of the dollar."
The dollar declined to 117.27 yen in Tokyo, the biggest drop in more than a week, from 117.86 late yesterday in New York, according to EBS, an electronic foreign-exchange dealing system. It was at $1.1888 per euro from $1.1840 yesterday, weakening the most since Dec. 14.
WORLD
Crude oil prices stay above $60 a barrel
SINGAPORE » Oil prices held above $60 today after the U.S. government released data showing a significant drop in domestic gasoline inventories.
Light, sweet crude for February delivery dropped 16 cents to $60.16 a barrel in electronic trading on the New York Mercantile Exchange by midafternoon in Singapore. Oil had surged 50 cents on the previous day.
The U.S. Department of Energy said yesterday that the supply of gasoline declined by 1.2 million barrels last week to 202.9 million barrels, or 6 percent below year-ago levels. Gasoline futures traded on the New York Mercantile Exchange climbed 6.13 cents to settle at $1.624 per gallon.
Oil companies returning to Libya
DALLAS » Three U.S. oil companies said yesterday they will end a 19-year absence in Libya and pay $1.83 billion to resume oil production.
ConocoPhillips, Marathon Oil Corp. and Amerada Hess Corp. will share the production from a 350,000 barrel a day operation with the Libyan National Oil Corp.
The return to Libya reflects renewed U.S. interests in the North African country after the U.S. government last year lifted nearly two decades of economic sanctions.
In a February 2005 report, the U.S. Department of Energy said Libya is ready to become a major oil exporter again, especially to Europe.
ConocoPhillips and Marathon, both of Houston, will have slightly more than 16 percent interest each; New York-based Hess will have about 8 percent; Libya's NOC will have 59 percent.
Thai Air's passenger count falls
Thai Airways International Pcl
, the country's biggest airline, carried fewer passengers in November as demand for air travel on its domestic, Australia and Europe flights decreased.
The number of passengers in November fell 6.4 percent to 1.56 million from last year, according to the Bangkok-based company's Web site. The airline filled 73 percent of seats with paying passengers in November, compared with 74.9 percent a year earlier, it said.
Thai Airways, which gets more than 80 percent of sales from international routes, is trying to recover from a tsunami last December which killed 5,400 people in Thailand, half of which were overseas tourists. The airline also faces mounting domestic competition from Thai AirAsia Co. Ltd., a venture between Malaysia-based AirAsia Bhd. and Bangkok-based Shin Corp.