---
[ FAST FACTS HAWAII ]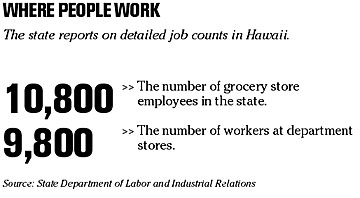 ---
BACK TO TOP


|


HAWAII
Waikiki will lose a McDonald's
McDonald's Restaurants
will close its store at 2164 Kalia Road this Saturday and move its 35 employees to other locations.
The company-owned store, across from the Outrigger Reef on the Beach, is closing as part of Outrigger Hotels & Resorts' $800 million Waikiki Beach Walk redevelopment project.
There are presently no plans to reopen the within the redeveloped complex, said spokeswoman Jackie Smythe.
The other two McDonald's stores in Waikiki, at 2476 Kalakaua Ave. and 2237 Kuhio Ave., will remain open.
NATION
Qwest exec turns against Nacchio
DENVER » Former Qwest Communications executive Marc Weisberg pleaded guilty yesterday to wire fraud and agreed to cooperate with federal prosecutors trying to convict former Chief Executive Joseph Nacchio of illegally dumping more than $100 million in stock.
Weisberg, a former senior vice president who oversaw investments, mergers and acquisitions for Denver-based Qwest Communications International Inc., pleaded guilty to a single count of fraud. He had faced eight counts of wire fraud and three counts of money laundering.
The plea came a week after Nacchio was indicted on 42 counts of insider trading and on the same day that Enron's former top accountant, Richard Causey, pleaded guilty to securities fraud and agreed to cooperate with prosecutors investigating the Houston company.
Report picks apart Sept. 11 loans
WASHINGTON » Most companies interviewed about the government-backed Sept. 11 loans they received have told investigators they weren't hurt by the suicide attacks and didn't know they were getting terrorism assistance, an internal government investigation found.
The Small Business Administration's inspector general also reported yesterday that lenders who doled out billions of dollars in such loans failed -- 85 percent of the time -- to document that recipients were actually hurt by the terrorism attacks and therefore eligible for the federal aid.
The inspector general, the agency's internal watchdog, concluded only nine loan recipients in the 59 cases sampled appeared to be qualified for the special disaster loans. The report said SBA officials told lenders they would not be questioned on how they gave out money.
HealthSouth rejects Scrushy's suit
HealthSouth Corp.
, the biggest U.S. operator of rehabilitation hospitals, rejected founder Richard Scrushy's demand for more than $100 million, accusing him of overseeing a multibillion-dollar fraud at the company.
Scrushy, 53, sued HealthSouth this month, saying a 2002 employment contract entitles him to $70 million severance pay and bonuses after he was acquitted in June of orchestrating a $2.7 billion accounting fraud. He was fired by HealthSouth in March 2003 and quit the board Dec. 5. He is fighting dozens of civil suits and fraud claims by the Securities and Exchange Commission.
Delta Air pilots vote 58% to OK pay cuts
ATLANTA » Pilots bought cash-strapped
Delta Air Lines
some financial breathing room yesterday by ratifying a second round of wage cuts, but a deadline for a more comprehensive and potentially divisive labor deal still looms.
Rank-and-file pilots approved the union-backed measure by a margin of 58 percent to 42 percent. It immediately slashes pilot pay 14 percent and saves Delta $143 million a year. The latest concession is part of $3 billion in annual savings Delta is seeking to emerge from Chapter 11 bankruptcy court protection. It comes on top of a 32.5 percent pilot wage drop last year.
Delta pilots, once the most highly paid in the airline industry, now trail cargo carriers FedEx and UPS, and mid-career Delta 737 captains are likely to earn less than pilots flying similar planes at cross-concourse rival AirTran, according to AIR Inc., a pilot consulting service that closely tracks pay rates. Average pay among Delta's 6,000 pilots now falls to $146,000 from $170,000.
WORLD
Bank of China to sell shares in Hong Kong
SHANGHAI, China »
Bank of China
, the country's third-largest lender, will apply to list its shares on the Hong Kong Stock Exchange early next year, the state-run China Securities Journal reported today.
The long anticipated move follows the approval of a purchase of a 5 percent stake in the bank by Singaporean government investment company Temasek Holdings Pte. Ltd., the report said.
"Preparations for listing application materials have been completed and the bank will submit its listing application to the Hong Kong Stock Exchange in early 2006," according to the report by the government-run newspaper, which cited an unnamed source at the bank.