Harmony in a Bowl
Ozoni, a traditional Japanese dish, begins the new year with peace and balance
ON SUNDAY, thousands of Hawaii households will be serving ozoni, the traditional meal for Japanese families on New Year's Day. This honorable dish, featuring mochi in a broth, is an auspicious way to begin the year in harmony and balance.
In creating this time-honored dish, the ingredients, their preparation, how it is served and how it nourishes the body are meant to be considered by the cook, exhibiting the principles of the Japanese culinary philosophy of washoku or the harmony of food. It is a way of cooking ingrained in Japanese cooks, according to Elizabeth Andoh, author of "Washoku: Recipes from the Japanese Home Kitchen" (Ten Speed Press, 2005, $35).
ABOUT THE AUTHOR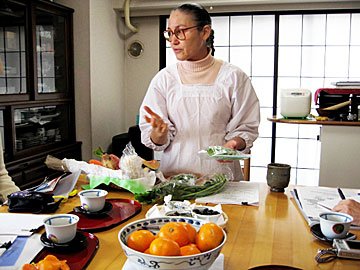 "You don't have to be Japanese to appreciate or make it," Andoh said in her home in Futako, a suburb of Tokyo. "Anyone, anywhere in the world, can prepare handsome, wholesome food following washoku guidelines.
Being mindful of washoku principles involves the balance of five colors, five flavors and five cooking methods. Each meal or meal-in-a-dish would exhibit these 15 elements.
The colors: red, yellow, green, black and white. The flavors: salty, sour, sweet, bitter and spicy. The cooking methods could be raw, simmered, stewed, grilled, steamed, broiled, fried, seared -- choosing among a variety of methods limits the amount of sugar, salt and oil consumed. By incorporating these elements, the meal provides a variety of foods that make for a nutritionally balanced and aesthetically pleasing experience.
While it may sound complicated, the concept of washoku can also apply to Western cuisine, Andoh points out in her book. A soup-and-sandwich lunch of potato-leek soup garnished with chives and minced parsley alongside tuna salad on toasted whole-grain bread, accompanied by a lemon wedge, cherry tomatoes, crisp radish sprouts and pitted black olives adheres to the concept -- and also achieves nutritional balance and visual interest.
ABOUT THE BOOK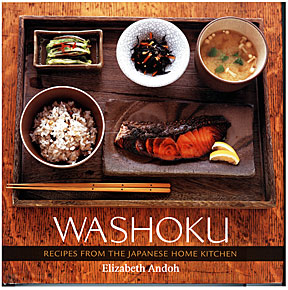 WHEN IT comes to ozoni, the 15 elements can be found within a single bowl. "The key variables are the kind and shape of mochi (round and boiled, or square and toasted), the type of broth (clear or miso-thickened) and the choice of other ingredients from both the land and the sea," said Andoh. Those "other ingredients" also illustrate the idea of including seasonal and regional specialties within a dish or meal, another key concept of Japanese cuisine.
In Japanese calligraphy the O is honorific, zo stands for miscellany and ni for simmer. "Ozoni is a happy culinary hodgepodge, a stew-like assortment showcasing local delicacies with mochi in broth," explained Andoh.
Andoh provided two recipes for ozoni incorporating island fish, purple sweet potato and watercress -- one in a clear broth, the other in a miso broth.
Note: Ozoni is usually served in ozoni wan, a special wide-but-shallow bowl with a lid that helps to hold in both heat and aroma. But you could use a pre-heated American-style soup bowl, serving the dish immediately after adding the piping-hot broth. Drink the soup from the bowl. Use chopsticks to eat the large chunks of rice taffy, fish and vegetables.
Hawaiian Paradise Ozoni
4 to 6 squares mochi
4 to 6 pieces onaga fillet, each about 3 ounces, cleaned and scaled, skin on
2 tablespoons sake
1 tablespoon cornstarch
1 small purple sweet potato, peeled and sliced into 1/8-inch thick circles (12, 15 or 18 slices)
Oil for deep-frying
4 or 5 cups dashi (basic sea stock; recipe follows)
2 tablespoons mirin (syrupy rice wine)
3 tablespoons soy sauce, preferably light-colored usukuchi shoyu
1 bunch watercress, washed and trimmed
Zest from 1/2 lemon
Toast mochi squares on a fine-mesh grill directly over medium heat (outdoor grill or stovetop), until mochi is lightly crusted and puffy, about 2 minutes. Turn and flip, continuing to toast another minute or so. Or, toast mochi in a toaster oven or under the broiler for 2 minutes, turning once. Place 1 piece of toasted mochi in each of 4 to 6 large, individual soup bowls.
Combine sake and cornstarch. Coat fish fillets with mixture and let marinate 5 minutes to 2 hours, refrigerated.
Fill a skillet or wok with vegetable oil at least 2-inches deep; heat to 370 degrees. Fry potato chips in batches. Ideally chips will sink slightly, rise immediately, and begin to sizzle on surface, coloring very slowly. Flip chips after 2 minutes and fry another minute until tender (a toothpick will easily pierce center). Drain well and arrange 3 chips on each square of mochi.
In a 3-quart saucepan, heat sea stock until a few bubbles appear at edges. Season with mirin and soy sauce. Remove fish from marinade and gently poach pieces, one at a time, in stock. When fish is firm and opaque, remove with slotted spoon and place next to potato chips in individual bowls. Skim broth to remove froth. Keep hot over low flame.
Garnish each bowl with watercress sprig and lemon zest. Just before serving, carefully ladle broth around mochi and other ingredients until they barely float. Serves 4 to 6.
Approximate nutritional analysis, per serving (based on 6 servings): 240 calories, 4.5 total fat, no saturated fat, 30 mg cholesterol, 530 mg sodium, 25 g carbohydrate, 1 g fiber, 5 g sugar, 20 g protein.
Bounty of the South Seas Ozoni
4 to 6 white, round, mochi
4 to 6 pieces, each about 3 ounces, opakapaka fillet (cleaned and scaled, skin on)
1 tablespoon sake
1 teaspoon salt
1 small carrot, scraped and cut into 1/8-inch thick batons (12, 15 or 18 pieces)
1 small yam, peeled and cut into 1/8-inch thick batons (12, 15, or 18 pieces)
4 or 5 cups dashi (basic sea stock; recipe follows)
3 tablespoons Saikyo shiro miso (sweet, light-colored miso)
Small bunch chives, trimmed and snipped
1/2 sheet toasted nori, in threadlike slivers
Place mochi in small saucepan filled with warm water. Slowly heat until mochi softens (try not to let water boil or mochi will lose its shape). Remove mochi; place one piece in each of 4 to 6 large, individual soup bowls.
Sprinkle fish with sake, then salt. Let sit 2 to 3 minutes while you preheat broiler or grill to medium-high. Cook fish, skin-side down, until skin blisters and colors slightly. Flip fish and cook until flesh is firm and opaque. Arrange a piece, skin-side up, on top of mochi in each bowl.
In a 3-quart saucepan, heat dashi and poach carrot and yam batons 3 minutes, until tender. Remove batons and divide among bowls. Skim stock to remove froth; keep hot over low flame.
Dissolve miso in broth. Heat soup, being careful not to let boil. Ladle soup around contents in each bowl. Garnish with chives and toasted nori; serve immediately. Serves 4 to 6.
Approximate nutritional analysis, per serving (based on 6 servings): 230 calories, 2g total fat, no saturated fat, 30 mg cholesterol, 750 mg sodium, 30 g carbohydrate, 1 g fiber, 1 g sugar, 21 g protein.
Dashi (Basic Sea Stock)
15 to 20 square inches kombu
4 1/4 cups cold water, preferably filtered or spring water
1/2 cup loosely packed bonito flakes
Place kombu in pot with water. Let soak 10 to 15 minutes before placing pot over medium heat. Remove pot from heat as soon as small bubbles begin to break on surface of water.
Add bonito flakes, scattering across water. Strain stock 3 to 4 minutes after adding bonito. Reserve kombu and discard solids. Stock can be made ahead and kept refrigerated 3 to 4 days. Makes about 1 quart.
---
Nutritional analyses by Joannie Dobbs, Ph.D., C.N.S.