---
[ FAST FACTS HAWAII ]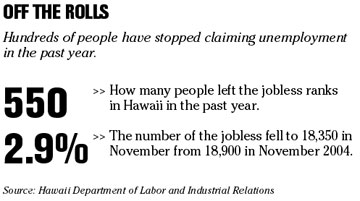 ---
BACK TO TOP


|


NATION
Warner Bros., Fox triumph in off year
LOS ANGELES » In a year when box office revenue will decline for the first time in more than a decade, venerable Hollywood movie studios
Warner Bros.
and
20th Century Fox
-- both more than 80 years old -- have managed to stand above the fray to achieve record years.
Speculation abounds over why ticket sales are more than 5 percent behind 2004 levels but executives at Warner Bros. and Fox have spent much of the year with mostly big smiles on their faces when receiving their weekend box office estimates.
As of Monday, first-place Warner Bros. had reached $1.32 billion in domestic ticket sales compared with the $1.29 billion earned by second-place Fox, according to Box Office Mojo. Warner Bros. has now grossed $1 billion or more for three consecutive years and exceeded 2001 totals, the studio's previous best.
Warner Bros. was the only studio to have three films gross more than $200 million at the box office. Its successes were led by "Harry Potter and the Goblet of Fire," the third movie in a series based on the popular books by J.K. Rowling.
Spitzer subpoenas music firms
ALBANY, N.Y. » State investigators have subpoenaed several major music companies as part of a preliminary inquiry into whether the digital music services have engaged in any illegal price-fixing activity.
Darren Dopp, a spokesman for state Attorney General Eliot Spitzer, said the office was seeking information on wholesale prices the music labels charge for digital music files that can be downloaded. Dopp said yesterday that it would take months for the office to launch a full investigation, if one is warranted.
Sharp to boost production capacity
Sharp Corp.
, the world's biggest maker of liquid-crystal display televisions, will expand production capacity by more than 10 percent to meet demand driven by soccer's World Cup and the Winter Olympics, according to executives involved in the plan.
The company plans to increase monthly capacity of glass sheets to at least 56,000 units as early as March from 51,000 now, the executives said. Sharp had forecast in August that it would process 54,000 glass sheets, which can be cut into eight 37-inch screens. Sharp's public relations office declined to comment.
Anheuser, Pepsi may raise prices
Anheuser-Busch Cos.
, the world's largest brewer, plans to toast the New Year with higher prices for Budweiser and Michelob.
Pepsi Bottling Group Inc.
may drink to that too.
Companies such as DuPont Co. and Clorox Co. are joining the party with price markups of their own, celebrating the return of pricing power after a year in which many struggled to recover higher costs for energy and raw materials, and some were forced to discount.
Economists say U.S. businesses stand a better chance of getting higher prices in 2006 because unemployment is low and factories are operating near capacity. That already has the Federal Reserve on watch for production bottlenecks that might heat up inflation.