ALL-STATE VOLLEYBALL
Indisputable League of Honors
Led by the boys and girls state champions, the ILH dominates the Star-Bulletin's All-State volleyball teams
Punahou's leaders deflect praise after receiving awards
IN the eyes of Peter Balding and Spencer McLachlin, earning postseason honors is almost negligible.
Instead of basking in his sharing coach-of-the-year honor, Balding shakes his head gently and points to assistant Rick Tune as an equal partner in Punahou's state championship march.
Player of the year
» Spencer McLachlin,
Punahou
Co-coaches of the year
» Peter Balding,
Punahou
» Mike Among,
Iolani
Second Team
OH: Mana Guerreiro,
Kalaheo, 5-10, Sr.
OH: Will Ehrman,
Punahou, 6-1, Sr.
MB: Brian Mitsunaga,
Iolani, 6-2, Sr.
MB: (tie) Tyler Caswell,
Kalaheo, 6-6, Jr.
MB: (tie) Chase Moses,
Kalaheo, 6-4, Jr.
MB: (tie) Arthur Fanene,
Waipahu, 6-3, Sr.
S: Riley McKibbin,
Punahou, 6-3, Jr.
DS: Troy Tokuhama,
Iolani, 5-6, Sr.
Honorable Mention
Outside Hitter: Pili Taitin, Aiea; Tye Perdido, Seabury Hall; Elias David, Kalaheo; Brad Lawson, Iolani; Jacob Naki, Kamehameha-Hawaii; Okesene Ale, Kahuku
Middle Blocker: Kealii Bertlemann, Castle; Lyndon Pascual, Kapaa; Josh Starbuck, Iolani
Setter: Jordan Inafuku, Kamehameha; Daniel Rodrick, Kapaa; Chris Tumaneng, Kalaheo
Defensive Specialist: None*
* Only two players received votes at this position
McLachlin, voted player of the year for a second time, winces at the notion of his setter, Riley McKibbin, not being voted to the all-state squad. But he smiles at the prospect of seeing the sometimes-forgotten Matthew Brown listed.
All in all, Punahou has plenty to celebrate after a 19-0 season, enduring the state's toughest volleyball league. Better yet, the Buffanblu had a big bull's-eye on their backs after winning the state title a year ago.
Instead of lingering in contentment, Balding took initiative.
"In the beginning of the season, we were a little complacent at practice," said McLachlin, a 6-foot-7 junior. "This season was a tribute to him, getting us out of that bad habit."
Balding's obsession with perfection wasn't always overt. He picked his spots well.
"Every day, in every drill, I wanted to make it highly competitive," the longtime Buffanblu coach said. "Rick and I worked every day to make it challenging. I couldn't do it without Rick."
The results speak for themselves. Coaches and media voted Balding, along with Iolani guru Mike Among, as co-coaches of the year. Among's squad didn't have the vast arsenal of Punahou, but pushed the Buffanblu to three sets in the state championship finals.
"I think he's more deserving. I think he did a better job with what he had to work with," Balding said of Among.
Kalaheo coach Sivan Leoni, who guided his squad to another Oahu Interscholastic Association crown, was third in the COY voting.
Punahou's terminator, Spencer McLachlin won POY honors in close balloting over Iolani's acrobatic Kawika Shoji.
"I didn't have to do as much as he did," McLachlin said of Shoji. "He's definitely a more versatile player than I am."
In the end, it came down to the championship. McLachlin pounded 14 kills (.444) in the final, a wrecking crew that no foe could stop. Shoji was in fine form in the title match, as well, with eight kills, 10 assists and eight digs.
Shoji made the first team as a setter, though his prowess extended to several positions, including outside hitter. The Stanford-bound senior was, without question, volleyball's version of Magic Johnson, able to turn bad passes into perfect sets.
Joining McLachlin on the first team are teammates and middle blockers Kealii Frank and Brown, and defensive specialist Erik Shoji.
"This was a different team, but it was equally as fun as last year," Brown said.
Shoji, younger brother of Kawika, found his niche and is the only sophomore on the first team.
"Last year, it was a little overwhelming. I felt like I had a key role by midseason," said Shoji, who gave a high-powered Punahou squad stability in the back row.
Rounding out the first team is Kahuku's stellar outside hitter, Charles Bell. He also received a significant number of votes as a middle. He was the rock on a team that endured a mass exodus by a number of players after the OIA playoffs. The high-leaping senior, along with his old and new teammates, helped Kahuku reach the semifinals of the state tourney.
Boys First Team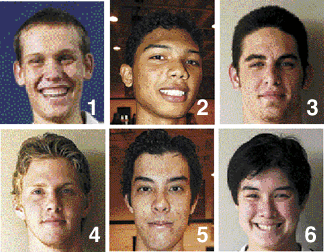 1. Spencer Mclachlin

pos.
school
ht.
class

OH
Punahou
6-7
Jr.
2. Charles Bell

pos.
school
ht.
class

OH
Kahuku
6-2
Sr.
3. Kealii Frank

pos.
school
ht.
class

MB
Punahou
6-6
Sr.
4. Matthew Brown

pos.
school
ht.
class

MB
Punahou
6-5
Sr.
5. Kawika Shoji

pos.
school
ht.
class

S
Iolani
6-4
Sr.
6. Erik Shoji

pos.
school
ht.
class

DS
Punahou
5-11
So.
---
BACK TO TOP
|
All-State team loaded with talent from Kamehameha
THE storms of Kamehameha's season tested every player and coach.
"The team's success comes from his support. He's always calm, and that's what the girls like about him. It helps us to communicate in the game."
Kanani Herring
Kamehameha outside hitter,
on coach Chris Blake.
With a state championship in hand, it is safe to say that the Warriors prevailed on the sunny side. After Kamehameha won its first state crown since 1999, coaches and media voted coach Chris Blake and Kanani Herring, along with three of Herring's teammates, to top honors in the Honolulu Star-Bulletin All-State selections.
Blake was elected coach of the year, and Herring was selected player of the year. Kamehameha began the season as a team still hurting from last year's loss to Punahou in the state championship final. A roster heavy in talent but short on chemistry required plenty of master craftsmanship by Blake and his staff.
"The team's success comes from his support," Herring said. "He's always calm, and that's what the girls like about him. It helps us to communicate in the game."
Player of the year
» Kanani Herring,
Kamehameha
Coach of the year
» Chris Blake,
Kamehameha
Second Team
OH: Camilla Ah-Hoy,
Kahuku, 5-10, Sr.
OH: Liz Ka'aihue,
Punahou, 5-8, Jr.
MB: Megan Burton,
Iolani, 6-2, Sr.
MB: Kawena Cubi-Otineru,
St. Francis, 5-11, Sr.
S: Kapua Kamana'o,
Iolani, 5-7, Jr.
DS: Kristal Tsukano,
Kamehameha, 5-6, Sr.
Honorable Mention
Outside Hitter: Kaleinani Kabalis, Moanalua; Lauren Minkel, Iolani; Careena Onosai, Word of Life; Emily Maeda, Roosevelt; Amanda Misa, Waipahu; Alexis Robins, Kamehameha; Ane Vea, Kahuku; Tatiana Santiago, Kamehameha
Middle Blocker: Puni Krueger, Kamehameha-Maui; Corona Morris, Waiakea; Justiana Kalilimoku, Roosevelt; Kaniu Hernandez, Kamehameha-Hawaii
Setter: Hoku Oleole, Roosevelt; Danielle Mafua, Mid-Pacific; Brittany Awai, Kamehameha-Maui
Defensive Specialist: Michelle Shiroma, Aiea; Krystie Vea, Kalani; Sydney Yogi, Punahou
Blake was a solid choice by the panel, followed by Roosevelt veteran Bryan Camello and Luis Ramirez of state runner-up Iolani.
In addition, the intense competition of the Interscholastic League of Honolulu helped forge a better Kamehameha squad.
"That one (regular-season) loss to Iolani was a lesson for us," setter Kealohilani Kea said. "We had to work even harder."
Herring led the POY voting by a comfortable margin, outpointing teammate Kea and Kahuku's versatile Camilla Ah-Hoy. Herring, a 5-foot-8 sophomore, was simply explosive and diverse in her many talents on the court. Her team-first attitude, however, completely belies her youth.
"I love being with my teammates. Nobody can win without teammates," Herring said. "The toughest thing was keeping everything together, but we stayed together. We conquered that. We had an incredible bond, and that pulls us through to the championships we got."
Kea, a junior, mastered Blake's multi-layered offense as the season went on. There was no other attack as prolific or varied as the one at Kapalama Heights.
"Passing-wise, I didn't have to run for any balls. If I made a bad set, they'd get it. They saved my butt, basically," Kea said.
Middle blockers Deven Bukoski and Bekah Torres of Kamehameha joined Herring and Kea on the first team. Bukoski was one of the lightning rods on a team loaded with underclassmen. The 5-11 senior was certainly the calm in the storm.
"I think people don't realize how close we all are. We bonded in different ways," said Bukoski, who will play at Cal State Fullerton next season. "In the end, it all showed on the court."
Iolani senior Megan Burton was close behind in the voting for first-team middle blockers.
Torres, only a sophomore, saved some of her best volleyball for the state championships. She overcame early-season academic issues to become a powerful force at the net.
"I realized school was what I needed to take care of," Torres said.
Aiea's powerful outside hitter, Lelani Kleman-Maeva, was voted to the first team. Bound for the University of Nevada, Kleman-Maeva was the cornerstone of Aiea's resurgent program.
Iolani freshman Kelly Pang rounded out the first team, earning a wide margin of votes ahead of Kamehameha standout Kristal Tsukano. "It's a surprise," she said.
Girls First Team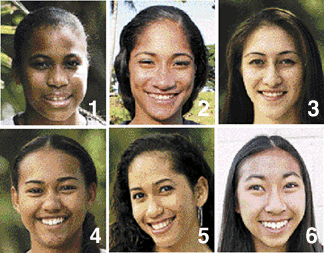 1. Kanani Herring

pos.
school
ht.
class

OH
Kam.
5-9
So.
2. Lelani Kleman-Maeva

pos.
school
ht.
class

OH
Aiea
5-11
Sr.
3. Deven Bukoski

pos.
school
ht.
class

MB
Kam.
5-11
Sr.
4. Bekah Torres

pos.
school
ht.
class

MB
Kam.
5-10
So.
5. Kealohilani Kea

pos.
school
ht.
class

S
Kam.
5-7
Jr.
6. Kelly Pang

pos.
school
ht.
class

DS
Iolani
5-4
Fr.