HAWAII'S CORAL REEFS
Amazing creature melds plant, animal and mineral
CORAL biologist Cynthia Hunter knows there's some confusion about her favorite creature.
"Is coral an animal, a plant or a mineral," she asked people attending one of the Waikiki Aquarium's "Coral Spawning and Reef Romance" educational events.
Most who dared an answer said "animal." Some said "plant."
Hunter smiled slyly and said, "Ahhhh, it's all three."
But except for a brief larval period when they are free-swimming, each coral polyp lives planted in a cup-like depression (a calyx, or calices plural) in the calcium carbonate external skeleton of the coral colony. Each new generation of coral polyps literally lives on the bones of its ancestors.
The Hawaiian creation hymn, the Kumulipo, mentions coral early in its description of the formation of the islands, saying: "Born the coral polyp, born of him a coral colony emerged."
The rock-like reefs are a basic building block of a tropical underwater ecosystem.
Inside all reef-building coral lives a tiny, single-celled alga called zooxanthellae. In a mutually cooperative agreement that meets both creatures' needs, the algae photosynthesizes its own food from the sun's energy and has enough left over to nourish the coral animal.
Though coral has "no organs -- no heart, no liver, no brain, no lungs," Hunter said. "It has survived hundreds of millions of years with the simplest of body forms."
Yet, despite its simplicity, coral is an astonishing time-keeper.
For example, at 9:15 p.m., two to four days after a new moon in summer, the rice coral in the Waikiki Aquarium spawn. As recently as the 1980s, "no one knew how corals reproduced," said Hunter, a University of Hawaii professor and former acting director of the Waikiki Aquarium.
Hunter is among scientists who -- over the past 25 years -- have discerned down to the day and hour, when to expect coral spawning events for all of Hawaii's major coral species.
Hunter said she still finds: "These simple creatures are infinitely fascinating!"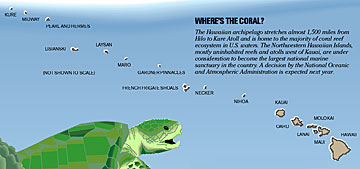 WHERE'S THE CORAL?
The Hawaiian archipelago stretches almost 1,500 miles from Hilo to Kure Atoll and is home to the majority of coral reef ecosystem in U.S. waters. The Northwestern Hawaiian Islands, mostly uninhabited reefs and atolls west of Kauai, are under consideration to become the largest national marine sanctuary in the country. A decision by the National Oceanic and Atmospheric Administration is expected next year.
HAWAII'S DOMINANT CORALS
The three corals depicted here are the most frequently seen in the Main Hawaiian Islands. The common English name is given, followed by the Hawaiian name and the scientific name.
1. Lobe coral
Pohaku puna / Porites lobata
Forms encrusting or massive forms from the intertidal zone to depths of more than 180 feet. Long, narrow cracks often found on this coral are produced by a type of shrimp. Living colonies range in color from yellowish-green to brown and sometimes blue.
2. Finger coral
Ko'a / Porites compressa
Most common in wave protected areas like bays or deeper reef slopes to depths of about 150 feet. It has many growth forms, but all of them show some sort of fingerlike branching. Color of live colonies ranges from light brown to light yellowish-green.
3. Cauliflower or rose coral
Ko'a / Pocillopora meandrina
Prefers wave-agitated environments, and is found at depths down to about 150 feet. Colonies form heads about 10 to 20 inches in diameter. Branches are heavy and leaf-like, and fork bluntly near the ends. Color of living colonies ranges from brown to pink.
CREATURES OF THE REEF
The marine creatures shown in this illustration are but a fraction of the more than 5,000 species that inhabit Hawaii waters. One in four of Hawaii marine species are found nowhere else in the world. The animals here were selected as representative of those that casual divers and snorkelers in the main Hawaiian Islands are likely to see.
4. Green sea turtle
Honu / Chelonia mydas
5. Convict tang
Manini / Acanthurus triostegus
6. Long-nosed butterflyfish
Lauwiliwilinukunuku'oi'oi / Forcipiger longirostris
7. Soldierfish (Mempachi)
'U'u / Myripristis amaena
8. Whitemouth moray eel
Puhi 'oni'o / Gymnothorax meleagris
9. Banded coral shrimp
'Opae huna / Stenopus hispidus
10. Featherduster worm
Kio 'po'apo'ai / Sabellastarte spectabilis
11. Needle-spined urchin
Wana/ Echinostrephus aciculatus
12. Banded spiny lobster
'Ula / Panulirus marginatus
13. Bullethead parrotfish
Uhu / Chlorurus sordidus
Please see the PDF file for corresponding illustrations.
Not shown to scale or in terms of their location in relation to other species.