| | |
| --- | --- |
| | Newswatch |
---
Box jellyfish arrival likely over weekend
Just in time for Christmas, box jellyfish are due to arrive in Oahu waters today and tomorrow, and lifeguards advise beachgoers to stay out of the water to avoid getting stung.
Lifeguards will post warnings on beaches where box jellyfish are found. Waikiki and Ala Moana beaches are typically affected, and box jellies have also been known to turn up at Hanauma Bay, Pokai Bay, Makaha Surfing Beach and Waimea Bay.
People who are stung by box jellyfish should flush the area with lots of white vinegar. Anyone with breathing difficulty, muscle spasms or persistent pain should seek immediate medical help.
A recorded report on ocean conditions and warnings from the city Ocean Safety Division is available 24 hours a day at 922-3888, ext. 51.
UH-Hilo pharmacy school gets first dean
The dean of Purdue University's College of Pharmacy, Nursing and Health Sciences has been appointed as the first dean of the University of Hawaii at Hilo's College of Pharmacy.
John Pezzuto, who also holds the rank of professor of medicinal chemistry and molecular pharmacology, will assume his new duties on June 1.
"The opportunity at Hilo is very exciting and highly unique," said Pezzuto in a news release. "We have a once-in-a-lifetime opportunity to establish a world-class college of pharmacy that will dramatically improve the profession in this region of the world."
"Dr. Pezzuto's extensive experience as an administrator and researcher will enable him to hit the ground running in creating this new college," said UH-Hilo Chancellor Rose Tseng.
TAKING NOTICE
Grants
» The
Beaumont Foundation of America
has awarded $65,000 worth of Internet-enabled laptop computers and equipment to
Blanche Pope Elementary School
in Waimanalo.
» Outrigger Enterprises Inc. has donated $10,000 to the Nature Conservancy's Corporate Council for the Environment, a coalition of businesses that have given more than $3 million to protect Hawaii's environment. The Cades Foundation, founded by two partners of the law firm Cades Schutte Fleming & Wright, also has awarded $5,000 to the Nature Conservancy's council.
» First Hawaiian Bank Foundation has awarded the following grants:
» $7,000 to Sacred Hearts Academy to provide educational programs on girls' financial literacy, technology and science.
» $5,000 to the Waipahu Community Association, which will run a festival market with vendors offering fresh vegetables, seafood, ethnic arts and crafts, and entertainment.
» $20,000 to the Hawaii Youth Symphony for its 2005 winter concert, "Hands Across the Sea," held Dec. 4 at the Blaisdell Concert Hall.
» $7,500 to Hawaii Literacy, which provides literacy and lifelong learning services.
» $25,000 to Hualalai Academy for its financial aid fund.
>>$15,000 to Variety School of Hawaii for construction improvements over three years.
» The Hawaii Medical Service Association has given $1,000 to the American Lung Association of Hawaii's New Year Smoking Resolution project by providing quit-smoking kits.
» Maui Beach Resort LP, developer of Honua Kai in West Maui, has donated $100,000 to the Lahainaluna High School Foundation. The partnership has pledged to contribute an additional $100,000 in four annual installments.
» The Office of Hawaiian Affairs has awarded $24,365 to 'Ahahui O Na Kauka, the Association of Native Hawaiian Physicians, to encourage mentorship, community service and continuing education activities.
Academic Awards
» Realtor Josh Jerman of Wailuku has sponsored two $1,000 scholarships for the 2005-2006 school year to college-bound
Destinie
Corpuz
of Maui High and
Noela Oliveira
of Hana High & Elementary. The winners were chosen for their vision of returning to the island to work and help the community, the mission of the Josh Jerman Realtor Maui Scholarship Fund.
» Brandon Arakaki, a fifth-grader from Waikoloa and the state winner of the 2005 Tar Wars poster contest, placed fourth in the national contest in Washington, D.C. The contest is a tobacco use prevention program, sponsored by the American Academy of Family Physicians, that brings local health-care providers into schools to teach about the effects of tobacco on the body.
» David Paul's Lahaina Grill awarded its Maui Chef Scholarship of $2,000 to Amber Werner, a Baldwin High School graduate now attending Maui Community College.
---
Police, Fire, Courts




By Star-Bulletin staff



WEST OAHU
Public help sought identifying robber
Police are seeking the public's help in identifying and finding a man who robbed a Kunia bank on Thursday.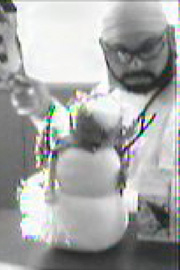 The man entered the Royal Kunia branch of Central Pacific Bank at 94-615 Kupuohi St. at 2:44 p.m., demanded money from the teller and left with an undisclosed amount of cash, police said. The man did not display a weapon.
He then fled on foot to the back of the Royal Kunia Shopping Center, police said.
The suspect is described as a man in his 20s to 30s, about 5 feet 8 inches tall and weighing about 160 pounds.
He wore a fake beard, do-rag, dark-colored hard hat, white long-sleeved T-shirt, long pants, orange-and-yellow safety vest, sunglasses and gloves.
Anyone with information is asked to call CrimeStoppers at 955-8300 or *CRIME on a cell phone.
HONOLULU
Woman is arrested in attack with needle
A 39-year-old homeless woman was arrested for second-degree assault on Thursday after she allegedly assaulted a man with a hypodermic needle.
Police said the victim, a 37-year-old man, was working at a job site in Honolulu when he found the woman with some of the contractor's equipment. He and other employees confronted her and got the items back.
Before the man left, the woman lunged at him and stabbed him in the chest with a hypodermic needle, police said.
The woman fled and the man sought medical treatment, police said. Then he returned to the job site and called police.
While he was reporting the incident, the woman returned to the scene, where she was identified and arrested.
She was released yesterday pending further investigation.
Police nab 2 men, seek 3rd in stabbing, beating
Police arrested two men and were looking for a third after they allegedly beat and stabbed another man in Kalihi yesterday.
Police said the 39-year-old victim approached the suspects and tried to sell them some cigarettes near North King Street and Dillingham Boulevard at about 2:15 p.m. Police said the suspects became angry at the man and one of them swung his golf clubs at him.
Another suspect began punching the victim and then stabbed him in twice in the back with a knife, police said. All three suspects then began punching the victim several times, police said.
Police arrested a 44-year-old man for investigation of second-degree assault and a 38-year-old man for investigation of first-degree terroristic threatening and third-degree assault.
WAIKIKI
Attack with barbecue spit ends in arrest
Police arrested a 57-year-old man after he allegedly assaulted another man with a barbecue spit Thursday at the victim's workplace in Waikiki.
The suspect allegedly went to the victim's workplace at about 2 p.m. to look for another employee. When he was told the victim did not know where the employee was, the suspect became irritated and pushed the victim, who pushed the suspect back, according to police.
When the victim turned to leave, the suspect allegedly hit him in the face with a barbecue spit and injured him. Police later arrested the suspect for investigation of second-degree assault.
EAST OAHU
Teen dies after swim at Sandy Beach
An 18-year-old man died yesterday after a swim at Sandy Beach.
Police said he was swimming with friends when he was discovered unconscious at about 3:30 p.m. Emergency Medical Services personnel responded to the scene, but the man never recovered.
The case is pending an investigation by the Homicide Detail.
WINDWARD OAHU
Police identify pedestrian killed
The Honolulu Medical Examiner's Office identified an 89-year-old man who died after being hit by a pickup truck Thursday as William Kobashigawa of Kaneohe.
Police said Kobashigawa was in a crosswalk along Kamehameha Highway between Windward Mall and the Kaneohe Bay Shopping Center when he was hit at about 5:45 a.m.
Kobashigawa was pronounced dead at Castle Medical Center.
Police said the driver of the pickup, a 26-year-old Kaneohe man, might have been speeding.