Ho comes to terms with getting older
The Hawaii icon says he was once dragged off a stage because of his heart
The humor is still there, and so is the glibness and the cool -- but the voice is a bit frail.
Don Ho has just returned from a lifesaving journey that not only has changed his life, but, it seems, his attitude.
"I was going to be a goner," Ho said yesterday. "Only 30 percent of my ticker was working, and getting worse. No choice, man. Had to get on that plane."
The entertainer, a Hawaii icon, arrived in Honolulu on Monday after spending some three weeks in Thailand undergoing a last-ditch experimental stem-cell procedure for his ailing heart.
"I never bothered about my age," Ho said, then laughed at his own naivete. "I walked around this planet like I was 40 forever. But when this whole thing happened to me, someone said, 'You know, you're 75,' and it dawned on me that I wasn't 40 anymore.
---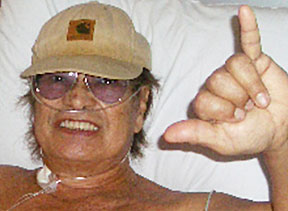 "I was going to be a goner. Only 30 percent of my ticker was working, and getting worse. No choice, man. Had to get on that plane."
Don Ho
Isle entertainer
---
"Getting older happens to everybody, so why did I think I was exempt?"
After hearing about the stem cell procedure, one of Ho's daughters did an Internet search for information. "Then we called the hospital in Thailand, and the doctors said I qualified," Ho said. He called it the "easiest decision I've ever made."
Dr. Amit Patel, a heart surgeon from the University of Pittsburgh Medical Center, oversaw the procedure in Bangkok, Ho said.
The treatment, which has not been approved in the United States, involves multiplying stem cells taken from the patient's own blood, then injecting them into the heart to strengthen the organ. The procedure was developed by TheraVitae Co., which has offices in Thailand and laboratories in Israel.
Ho said he is among the first patients with nonischemic cardiomyopathy -- a weakened heart muscle not caused by coronary artery blockages -- selected for the VesCell adult stem cell therapy.
Ho, who had a pacemaker implanted earlier this year, was admitted to a hospital in August with shortness of breath and treated for an abnormal heart rhythm.
About a month before he left for Thailand, he had been treated 12 times for "episodes" that caused his pacemaker to go off.
Once, Ho's pacemaker "went haywire" in the middle of his Waikiki show before an audience of about 300. The entertainer said he "flew off the chair."
"I couldn't say anything; I just slumped over," Ho said. "They had to drag me off the stage. That sorta tells you something is really wrong."
But it was an at-home incident that "sealed the deal" to seek treatment out of the country.
"I had climbed up on my roof to do some repairs, and all of a sudden my heart just took off and I wanted to slow it down but I couldn't," he said. "I learned that when your heart is only working at 30 percent, you're not supposed to make those kind of moves."
Dr. Edward Shen, Ho's cardiologist, called the Bangkok hospital where the stem cell procedure was done to talk to the physicians.
If there are no complications within six weeks -- ending Jan. 20 -- Ho's heart should be back to 75 percent capacity.
"Actually, I feel great right now, like Superman," Ho said. "But I've been told not to overexercise and give my heart a chance to adjust. I won't be repairing the roof for a while."
Instead, Ho is taking short walks, including one late Wednesday night in Waikiki. "It was beautiful with just me and the beach."
Ho doesn't know when he'll perform again and doesn't plan to push things. "I'll have to play it by ear. There's no rush. There's a market out there, and when I'm in good health I'll be back."
In the meantime his focus is health, family and friends. This year's Christmas celebration will be extra-special.
"My family and all the kids will be here," he said. "We'll all decorate the tree; that's been our tradition since they were little kids, though they're not little kids anymore.
"Time waits for no one. I am very, very focused on staying healthy and appreciating the moment."
Ho also has another mission.
"I want to get all the information out that I can about this stem cell procedure and try in some way to get the cost down so everyone can afford it," he said. "It's a miracle -- and I'm living proof."
TO WRITE
Fans who want to send Don Ho a message can write to P.O. Box 90039, Honolulu 96835.