---
[ FAST FACTS HAWAII ]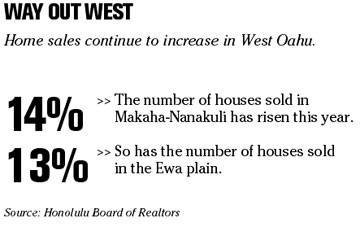 ---
BACK TO TOP


|


[HAWAII INC.]
NEW JOBS
» The Girl Scout Council of Hawaii has appointed
Reyna Kaneko
and
Tammy Sumida Yamanoha
as director of product to market and director of communications. Kaneko has more than 30 years of sales and marketing experience. In her new position she will oversee the product marketing and development for the Girl Scouts, including the organization's statewide cookie campaign. Yamanoha will be responsible for the overall communications aspects, including internal and external communication, public relations, advocacy, media and crisis communications.
» First Hawaiian Bank has appointed several officers. Sandy J. Mochida has been appointed credit and risk management officer, BankCard Credit & Risk Management. Mochida joined the company in 1991 as an assistant supervisor. Paula A. Ogimi has been named personal banking officer, Waipahu Branch. Ogimi joined the company in 2003 as a personal banker. John A. Rios has been appointed assistant vice president and business banking officer of the Maite Banking Center in Guam. Rios previously worked as an executive director of the Guam Legislature.
ON THE BOARD
» Samaritan Counseling Center of Hawaii has elected its 2006 board of directors:
James Tam
, president;
Terry H. Fisher
, vice president;
Alan Goto
, secretary;
Frank Fuller
, treasurer.
AWARDS
» The Maaco Milestone Award was presented to
Andy
and
Carol Riley Prier
for $2 million in annual sales. The Pearl City collision repair facility was among six in the 465-center chain to surpass that milestone this year.
NATION
Wal-Mart must pay $172M over denied meal breaks
Wal-Mart Stores Inc.
, the world's largest retailer, was told to pay $172.3 million by a California jury that found the company illegally prevented workers from taking meal breaks.
The verdict today from a jury in Oakland, Calif., came after a three-month trial in a lawsuit accusing Wal-Mart of failing to give as many as 116,000 current and former employees lunch breaks or compensation for not taking them between 2001 and 2005. The jury awarded $115 million in punitive damages and $57.3 million in compensatory damages to the workers.
The verdict is the second in more than forty similar suits pending against Wal-Mart across the country and will give company critics ammunition in attacks on the company's labor practices. Wal-Mart also faces a sexual discrimination lawsuit filed on behalf of as many as 1.6 million female workers.
Maytag shareholders approve sale
NEWTON, Iowa >>
Maytag Corp.
shareholders yesterday approved the company's sale to rival appliance-maker
Whirlpool Corp.
, marking the end of independence for the iconic home appliance maker that failed to overcome cheaper competitors and a waning of its trademark image for dependability.
If authorized by the government, Whirlpool will buy Maytag, founded in 1893 by farm tool maker Fred Maytag, for about $1.79 billion in cash and stock.
The Maytag brand was a television fixture for decades in commercials featuring "Ol' Lonely," the repairman with nothing to do because the company's appliances were so dependable.
Taser wins stun-gun safety suit
PHOENIX » An Arizona jury rejected claims yesterday that
Taser International Inc.
failed to adequately warn users of its stun guns' potential dangers.
The lawsuit, brought by an injured sheriff's deputy, was the first to go to trial among some three dozen personal injury, wrongful death or excessive use of force lawsuits that have been filed against Scottsdale-based Taser. A handful of other cases have been dismissed.
"We think this is a critical milestone to have won this case," Taser CEO Rick Smith said. "It just doubles our resolve on those other cases."
Retired Maricopa County Sheriff's Deputy Samuel Powers sued the nation's largest stun gun manufacturer after he was injured in a 2002 training exercise. He suffered what doctors testified was a compress fracture in his spine after being shocked with a Taser.
Tequila maker says it owns rights to 'naked'
A planned campaign by
Brown-Forman Corp.
, distiller of Jack Daniel's Tennessee Whiskey, to market its Finlandia brand as "Naked Vodka," has sparked a lawsuit by a Maine tequila maker that says it created the nude spirits idea.
Naked Tequila Co. says it's owned the company name as a trademark since 2002 and in 2004 filed an application with the U.S. Patent and Trademark Office to cover use of the word "naked" for all "distilled spirits." The suit, filed Dec. 19 in federal court in Portland, Maine, seeks a court order blocking Brown-Forman from using "naked" in its ad campaign.
Brown-Forman plans to pitch Finlandia with the phrase "Naked Vodka" because, according to an ad in Vanity Fair magazine, it's "made from pure glacial spring water, untouched, untainted and unspoiled." The campaign is designed to separate Finlandia from bigger rivals including Gray Goose and Absolut, as consumers switch to liquor and wine from beer.
Fairmont says Icahn's offer is inadequate
Fairmont Hotels & Resorts Inc.
, the owner of 88 luxury hotels, urged investors to reject billionaire Carl Icahn's $1.19 billion bid for about 41 percent of its shares, saying the company may find other buyers.
Icahn's unsolicited bid of $40 a share is "inadequate" and not in the best interest of investors, Toronto-based Fairmont said. The company, owner of the Savoy in London, is reviewing "alternatives" that may lead to a sale.
Icahn's offer, about 3.1 percent higher than the Dec. 1 closing price in New York, is too low, Fairmont said. Icahn made the offer Dec. 2 to boost his stake to 51 percent from about 10 percent. He then plans to sell Fairmont to a bigger hotel chain to improve operations.
Rates decline from 2-year high
WASHINGTON » Rates on 30-year mortgages dipped for a second week as financial markets responded to signals of lower inflation.
Mortgage giant Freddie Mac reported yesterday that rates on 30-year, fixed-rate mortgages averaged 6.26 percent this week, down slightly from 6.3 percent last week.
Rates on 30-year mortgages had hit a two-year high of 6.37 on Nov. 17 but have declined in four of the past five weeks.
Economists said the trend is still for rates to move higher as the Federal Reserve keeps pushing interest rates up to make sure that surging energy prices do not trigger more widespread inflation problems.
Many analysts believe the Fed will raise rates for a 14th time at Alan Greenspan's last meeting on Jan. 31 and then once more on March 28.