---
[ FAST FACTS HAWAII ]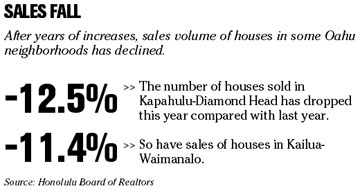 ---
BACK TO TOP


|


NATION
Spyware suit against Sony BMG expanded
AUSTIN » Texas Attorney General Greg Abbott expanded his lawsuit against
Sony BMG Music Entertainment
yesterday, alleging that a second form of anti-piracy technology used by the label violates the state's spyware and deceptive trade practices laws.
Abbott sued Sony BMG in November, saying the world's second-largest music label surreptitiously included spyware on millions of CDs through technology known as XCP. That technology, included on 52 Sony BMG titles, could leave computers vulnerable to hackers, he said.
The new allegations involve an unrelated CD copy-protection technology known as MediaMax, which was loaded on 27 Sony BMG titles, including Alicia Keys' "Unplugged" and Cassidy's "I'm a Hustla."
BMG officials said in a statement that they are working with Abbott's office and believe they can prove they have responded appropriately to his concerns.
Calpine Corp. files Chapter 11 protection
Troubled Calpine Corp.
, the nation's biggest owner of natural gas-fired power plants, filed for Chapter 11 bankruptcy protection, effectively ending the wholesale-power developer's major ambitions to expand in Florida and other states.
The San Jose, Calif., company became the latest in a string of independent power producers that have gone bankrupt. The companies contributed to a frenzy of power-plant construction during the past decade that resulted in a glut of generation capacity which, in turn, pushed down wholesale electricity prices.
Employers froze 1 in 10 pension plans in 2003
WASHINGTON » Employers froze nearly one in 10 pension plans insured by the federal Pension Benefit Guaranty Corp. in 2003, according to a study released yesterday.
The Pension Benefit Guaranty Corp., the federal agency that guarantees worker pension benefits, said 9.4 percent of the 29,000 plans it insures and for which it had data were "hard-frozen" in 2003, the most recent year for which numbers were available. Hard-frozen means employees can no longer accrue benefits under a pension plan.
The study, however, found that as of 2003 the frozen plans covered just 2.5 percent of all workers in insured plans. Most of the more than 2,700 plans hard-frozen in 2003 had fewer than 100 participants, it said.
The study comes amid a steady stream of headlines about companies freezing pensions to cut costs. Among the latest was Verizon Communications Inc., which recently said it would freeze the pensions of 50,500 managers.
Coke to seek severance approvals
ATLANTA » The
Coca-Cola Co.
has quietly heeded shareholders' demands that the world's largest beverage maker seek their approval before awarding big severance packages to executives who leave.
The International Brotherhood of Teamsters General Fund had sponsored a shareholder proposal on the issue at the Atlanta-based company's annual meeting in April, but it failed with only 40 percent of votes.
Even so, Coke continued to discuss the issue internally, and its board decided in October to adopt the proposal that all future executive severance agreements that amount to more than 2.99 times annual salary plus bonus be approved by shareholders.
Albertson's rejects $9.6B bid
Albertson's Inc.
, the giant supermarket chain, terminated talks last night with a consortium of investors that had been the leading bidder in an auction for the company, people involved in the talks said.
The decision came at the 11th hour during a board meeting at which directors were planning to approve the sale of the company for about $9.6 billion in cash and stock.
The consortium included the CVS drugstore chain, SuperValu supermarkets, Cerberus Capital Management, an investment fund, and Kimco Realty, a real estate investment company.
Boeing wins discrimination case
SEATTLE » Dealing a victory to the
Boeing Co.
, a federal jury decided yesterday that the airplane maker had not discriminated against black employees in promotions, as plaintiffs in a class-action lawsuit contended.
The lawsuit returned was returned to a U.S. District Court in Seattle earlier this month after the 9th U.S. Circuit Court of Appeals threw out a high-profile settlement brokered in 1999 by the Rev. Jesse Jackson.
WORLD
Japan Air's holiday bookings fall
Japan Airlines Corp.
, Asia's largest carrier by sales, reported a 2 percent drop in holiday travel bookings after reports of a series of safety lapses. Its closest competitor
All Nippon Airways Co.
reported a gain in reservations.
Japan Airlines' overseas flight bookings between Dec. 28 and Jan. 9 fell to 290,525 while reservations for domestic travel fell 1.1 percent to 1.6 million, the Tokyo-based airline said.
All Nippon said its overseas booking rose 0.6 percent to 166,223 while reservations on domestic routes rose by the same percentage to 1.62 million.