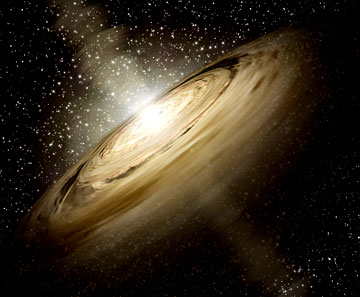 This artist's concept illustrates a solar system much younger than our own. Astronomers spotted some of the raw ingredients for DNA and protein in a dusty disk belonging to a star called IRS 46. The elements were detected in the star's inner disk, the region where scientists believe Earth-like planets would most likely form.
Building blocks of life orbit star
Mauna Kea astronomers help discover precursors to DNA in space dust
WAIMEA, Hawaii » Circling around a nearby star are large concentrations of chemicals that could serve as the building blocks of life, a team using the NASA Spitzer Space Telescope has discovered, assisted by the Keck and James Clerk Maxwell observatories on Mauna Kea.
The chemicals have familiar but uninviting names like acetylene, a welding gas, and hydrogen cyanide, a poison. Combined with water, the chemicals have been shown to be able to recombine into the building blocks of proteins, including DNA, said Keck astronomer Geoffrey Blake.
The chemicals are known to exist in our solar system in the large gaseous planets like Jupiter and Saturn.
Using the Spitzer telescope, which studies infrared light, a team of astronomers discovered the chemicals in a dust cloud around a young star called IRS 46 (for "infrared spectrometry"), 375 light years from Earth. The discoveries were in mid-2004 to early this year, with a follow-up in June.
This was the first time that large amounts of the chemicals had been found outside of our solar system, a NASA statement said.
The findings of the team headed by Dutch astronomer Fred Lahuis are to be published soon in Astrophysical Journal Letters.
The Spitzer telescope was used to look at more than 100 young stars before it discovered the chemicals in IRS 46, which happened to be tilted at just the right angle to allow infrared light to escape through dust and travel to earth, a Keck statement said.
The studies found hydrogen cyanide in an abundance 10,000 greater than among the scattered molecules between stars, the Keck statement said.
And in normally frigid space, the dust, gases, and chemicals around IRS 46 are hot. "The gases are very warm, close to or somewhat above the boiling point of water on Earth," said astronomer Adwin Boogert of the California Institute of Technology, one of the agencies that manages the Keck Observatory.
Keck astronomer Marc Kassis said the discovery of the chemicals provides "exciting clues about where life may form in the universe."