---
[ FAST FACTS HAWAII ]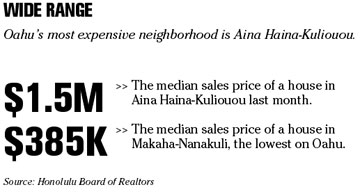 ---
BACK TO TOP


|


HAWAII
Hoku to reap $260K from new contract
Local fuel-cell technology company
Hoku Scientific Inc.
said
Sanyo Electric Co.
has agreed to test Hoku's products next year in Japan in a seven-month contract worth $260,415 to Hoku.
Hoku previously had a contract with Osaka-based Sanyo to jointly develop a process integrating a Hoku product into Sanyo's residential fuel-cell systems. In February, Sanyo agreed that Hoku had satisfied all of its performance milestones, and the two companies have since tested Hoku's products, bearing their own costs.
The new agreement, which Hoku reported yesterday to the Securities and Exchange Commission, runs from Jan. 1 through July 31. It formalizes the next step toward ultimately integrating Hoku's products into Sanyo's fuel cells.
Sanyo, the world's biggest maker of rechargeable batteries, is the fourth-worst performing company on the Nikkei 225 Stock Average this year. The electronics maker needs cash to pay for a three-year plan to cut 15 percent of its work force, close factories and invest in environment-related business such as solar panels and batteries.
[HAWAII INC.]
NEW JOBS
» Kauai Beach Hotel & Resort has appointed
John Kiszla
as director of sales and marketing for the 347-room resort on Kauai's eastern shore. Kiszla most recently held the position of director of sales & marketing for the Pan Pacific Hotel in San Francisco. He has over 20 years experience in hotel sales and marketing.
» The Oceanic Institute has named Scott Larson chief financial officer. Larson will oversee the institute's finances and supervise financial and accounting functions. Previous positions Larson has held include chief financial officer at Moana Technologies LLC and vice president and chief financial officer at the Bank of the Federated States of Micronesia.
» The John A. Burns School of Medicine has appointed Dr. Mary Ann Antonelli as the director of student affairs. She also is director of the school's Women in Biomedical Program. Her responsibilities include playing a key role in helping prepare students for careers in medicine and research. Antonelli has been on the faculty since 2000, and from 1979-86.
>> Continental Airlines has named Jeff Moken as the new Honolulu general manager. Moken has been affiliated with Continental since 1998, beginning as a terminal operations manager in Ft. Lauderdale, Fla., and most recently project manager of Alliance Operations at Continental headquarters in Houston.
NATION
Former Qwest CEO indicted
DENVER » Former
Qwest Communications
CEO Joseph Nacchio was indicted yesterday on 42 counts of insider trading accusing him of illegally selling off $101 million in stock after privately learning the company might not meet its financial goals.
Nacchio, 56, appeared in court a few hours after the indictment was announced and pleaded not guilty before being led away in handcuffs. Freed a short time later on $2 million bond, he told reporters he was relieved to finally see details of the case against him.
Billionaire Kerkorian reduces stake in GM
Billionaire investor Kirk Kerkorian, in a surprise move, said yesterday evening he has sold 12 million
General Motors Corp.
shares, cutting his stake in the troubled automaker to 7.8 percent.
The sale was revealed a week after Kerkorian's private investment firm, Tracinda Corp., and GM failed to reach an agreement that would have given the Las Vegas investor a representative on the company's board.
GM shares fell $1.20, or 5.7 percent, to $19.85 yesterday. It was its lowest close since October 1982 and came the same day Toyota Motor Corp. announced production estimates that could allow it to pass GM as the world's No. 1 automaker next year. GM's stock continued to fall in after-hours trading last night.
Experts skeptical spam is on decline
WASHINGTON » Those annoying "spam" e-mails for Viagra or low-rate mortgages that clog computer users' mailboxes appear to be on the decline, federal regulators said yesterday.
In a report to Congress, the Federal Trade Commission said the anti-spam law that took effect two years ago has helped curb unsolicited e-mail. The report also credits advances in technology, such as better spam filters that weed out junk e-mail.
The report was met with some skepticism. "For us, we have not seen one single instance where spam has actually gone down," said Jordan Ritter, co-founder of Cloudmark, an e-mail security firm.
WORLD
Tokyo exchange's leader resigns
TOKYO » The president of the Tokyo Stock Exchange, Takuo Tsurushima, resigned yesterday to assume responsibility for a computer error that contributed to a $350 million trading loss and raised doubts about the exchange's ability to handle increasingly heavy volume.
Struggling to restore confidence in the exchange, Tsurushima, 67, told a hastily called news conference that he and two other executives, one the director in charge of the exchange's computer systems, would step down for failing to prevent the mistake.
The error at the exchange, the world's second-largest after the New York Stock Exchange, was the second major computer failure in two months: on Nov. 1, a malfunction shut trading for most of the day.